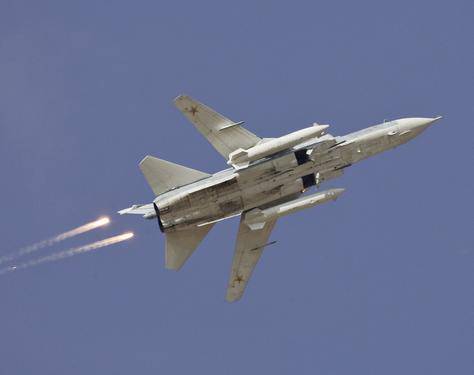 It is unlikely that the flight of two formidable Russian military aircraft Su-24 near the territory of Latvia with a refusal to identify themselves could convince anyone of the Kremlin's desire to form a more productive dialogue with NATO. And it will be impossible to start the creation of a new joint security system with such measures. If only because such obviously "unfriendly" flights, as recognized by the Ministry of Defense of Latvia, do not occur by chance. Moreover, in an authoritarian state like Russia. Fully mutually exclusive items - an armed flight along the Latvian border and Dmitry Medvedev's statement about the decision to take part in the NATO summit in Lisbon in November in order to facilitate a better dialogue between Russia and the alliance.
You can find out what danger the aircraft hiding their identities can be by asking Chechens and Georgians who survived the dropping of bombs from aircraft of "unknown" affiliation. Such events took place both in Chechnya belonging to Russia and in independent Georgia. These two countries, unlike Latvia's NATO member state, of course, did not have air support and the Allied forces flew up in the air. It is for these reasons that Russia, with unsurpassed cynicism, refused to recognize the planes as its own. Dozens of journalists from various countries honestly reported such dishonest behavior, but this has never seemed relevant enough to the international community. There were no investigations or protests. Only sometimes, for example, in a stream of daily
News
scanty information quickly flashed about the next plane of "unknown affiliation", which dropped bombs near a Georgian mountain village.
Of course, there is no need to give unnecessarily great uniqueness to such "blind" flights, since it is sometimes located in different countries
aviation
the alliance flies up to escort too close Russian military pilots. There is no doubt that this time the choice of the Su-24 flight day is directly related to the joint exercises of the armies of the Baltic states, Poland and the USA Saber strike, which have just begun in Adazi. Nevertheless, I have to admit - the flight was a success, because once again the need for Latvia's participation in NATO was confirmed.