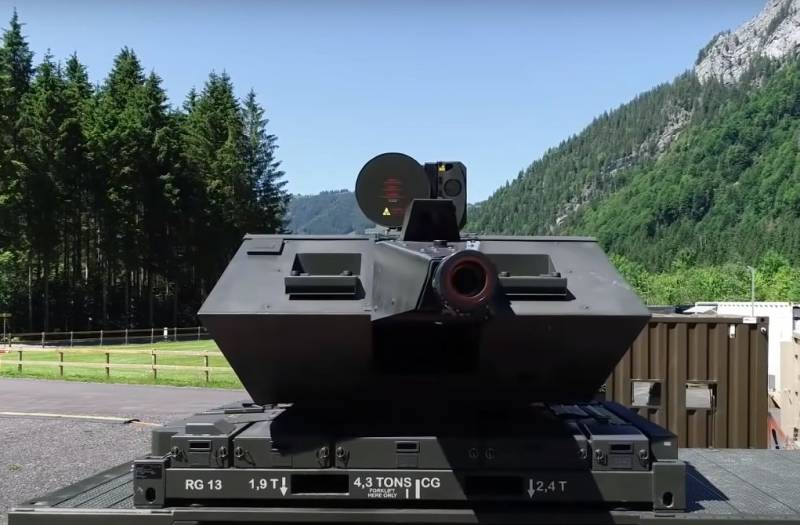 The Skynex system is one of the novelties in the world of short-range anti-aircraft systems. It is being built by Rheinmetall Air Defense. The system was first introduced in 2016. Its core is a 35-mm automatic cannon Oerlikon Revolver Gun Mk3 with a rate of fire of 1000 rounds per minute, which uses special "programmable" ammunition.
With the help of the Skynex system, it is possible to hit targets at a distance of up to 4 km, which include aircraft, helicopters, AGM-88 HARM missiles or anti-ship missiles and unmanned aerial vehicles. Growth in use
drones
in modern wars and conflicts has forced the armies of the world to look for cheap and affordable ways to deal with
drones
. The presented system is one of such methods.
AHEAD programmable ammunition detonates at a strictly defined distance. Using a rangefinder, the distance to the target is determined, after which the ammunition is configured to self-destruct at a given distance. The anti-aircraft system with a stock of 252 ammunition and a radar is located in a remotely controlled module that can be installed on the chassis of an armored personnel carrier or a truck. A marine version of the system can be installed on ships.
Rheinmetall Air Defense showed in 2016 a variant of the installation of a 30 kW laser on one tower. According to the company, this decision could be the next step in the process of developing methods and means of combating unmanned aerial vehicles.
Footage of Skynex fighting in Switzerland against a drone swarm and causing damage to the swarm: