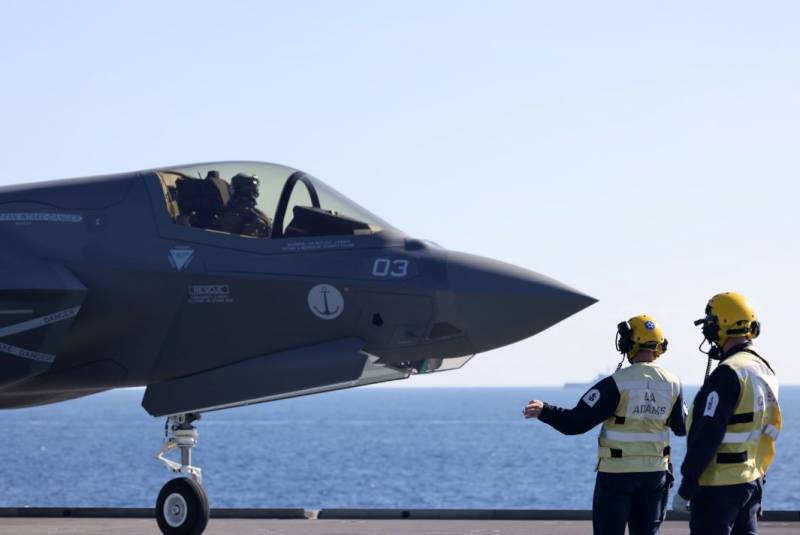 17 November at about 10 a.m. F-35B Royal
fleet
Great Britain took off on its regular flight. However, just a few minutes after the start of the flight, the plane crashed into the Mediterranean Sea. Luckily for the pilot, he managed to eject safely. The pilot was rescued shortly after falling into the water.
The British Department of Defense announced the need to raise the plane and restore it. Defense Secretary Ben Wallace, overjoyed at the pilot's rescue, noted that the United Kingdom's military will definitely restore the plane as soon as it is found.
Meanwhile, the F-35 fighter is known to contain many classified systems and sensors. It will be a very unpleasant situation for the British if it falls into the hands of Russia or China. Therefore, the British authorities hastily turned to their American partners for help. The United States has a submarine rescue vessel that specializes in deep sea rescue operations and can be very helpful in the search for a sunken plane.
It is not yet known in which waters the plane fell. The only thing that the British authorities clarified was that the -35B plane crashed in the Eastern Mediterranean. But this may also mean that it is located near Egyptian or, for example, Syrian waters, and this is fraught with a serious danger of its discovery and transfer to the Russian or Chinese military. The columnist Stavros Atlamazoglu writes about this in the western military-themed edition 19fortyfive (1945).
China, for example, is actively present in the Greek port of Piraeus, but there are no Chinese military sailors in the region. But Russia, which is present in Syria and maintains a fairly large group of ships in the eastern Mediterranean, has the ability to detect the plane. Submarines and surface ships of the Russian Navy regularly appear in this part of the sea.
According to the Western press, if the Russians (apparently, they mean the Russian military) manage to lift at least one fragment of the plane, having gained access to the British F-35 plane that fell into the sea, then the Russian defense industry will be able to reconstruct a number of technologies used in the fighter and then apply them to the latest Russian Su-57 and Su-75 aircraft. First of all, we are talking about stealth technology, which is implemented by American manufacturers. Therefore, one of the most important tasks of the British authorities now is to prevent the plane from falling into the hands of the Russian military. This was also stated in London, claiming that they intend to protect the water area at the site of the plane crash.