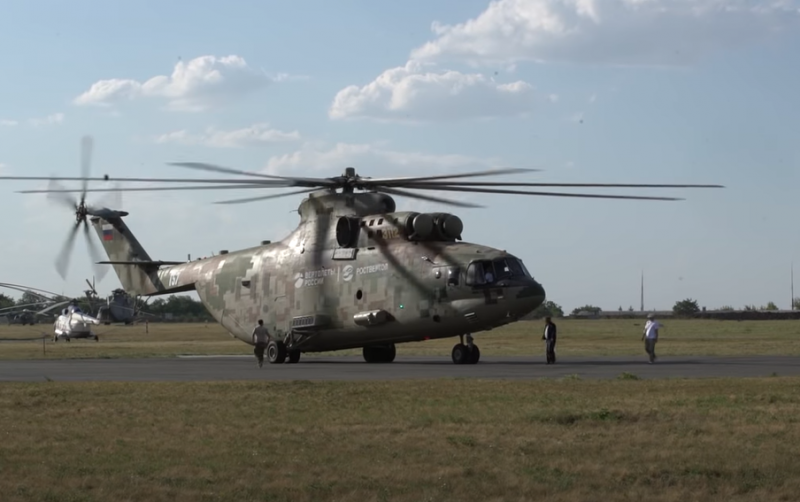 Serial production of the Mi-26T2V heavy military transport helicopter will begin next year, the first deliveries of the upgraded helicopter to the troops have already been made. Andrey Boginsky, General Director of the Russian Helicopters holding, spoke about this.
According to him, by the end of this year, the holding plans to complete flight tests of the Mi-26T2V helicopter and obtain permission for serial production of the helicopter. At the same time, the first deliveries of helicopters to the troops have already been carried out.
TASS
... This all concerns the basic version, there is no information about the Arctic one yet.
The first flight of the upgraded Mi-26T2V helicopter took place in August 2018, and preliminary tests, which confirmed the characteristics of the vehicle, were completed in January 2019. At the same time, plans were announced to create an Arctic version of the Mi-26, it was planned to start work on it after the completion of work on the Mi-26T2V.
The new Mi-26Т2В helicopter differs from the basic Mi-26 model by the presence of an integrated on-board radio-electronic equipment complex, which is able to automatically perform en-route flight, exit to a predetermined point, landing approach, as well as preparatory maneuvering and return to the main or alternate aerodromes. In addition, the helicopter is equipped with a digital aerobatic complex, an onboard defense complex "Vitebsk".
With a maximum take-off weight of up to 56 tons, the helicopter can lift 20 tons of cargo into the air, both inside the cabin and on the external sling. The Ministry of Defense intends to purchase at least 10 Mi-26T2V.