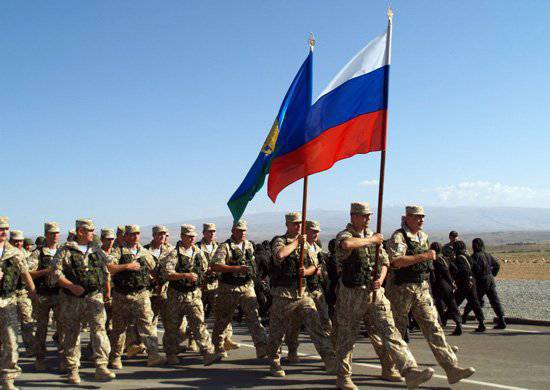 On September 15, the official opening ceremony of the Joint Interaction-2012 exercise with the Collective Rapid Reaction Forces (CRRF) of the Collective Security Treaty Organization (CSTO) member states took place on the Bagramyan test site of the Armed Forces of the Republic of Armenia.
The opening meeting was attended by the head of the exercise - Minister of Defense of the Republic of Armenia Seyran Ohanyan, adviser to the Office of CSTO military security problems, Anatoly Timoshenkov, head of the CSTO joint headquarters, Major General Anatoly Yakovlev, heads of military contingents of the CSTO countries participating in the exercise high-ranking officials of the Ministry of Defense of Armenia.
In his speech, Seyran Ohanyan stressed that Armenia accepts the CORF exercise in the jubilee year - the 20 anniversary of the signing by the independent states of the Collective Security Treaty and the 10 anniversary of the creation of the Collective Security Treaty Organization, and all these milestones are particularly important for Armenia as well. countries from the first day of joining the Organization.
The officials of the joint headquarters of the CSTO and the leaders of the military contingents and special forces then spoke of the excellent state of the training and material base of the test site, the high level of social conditions created for the military in the field by the host country.
Lieutenant-General Alexander Lentsov, deputy head of the military contingent of the Russian Federation - Deputy Commander of the Airborne Forces paid special attention to the growing need to increase interaction between the armed forces of the CSTO member countries, taking into account the continuing instability and tension not only in the Caucasus region, but also in the world.
The opening ceremony was decorated with demonstration performances by Russian parachutists, who performed parachute acrobatics in the air with the state flags of the CSTO member countries, the airborne forces flag and a blue panel with a portrait of the legendary commander of the airborne forces, Army General V.F. Margelov. And then in the sky above the test site, two paratroopers deployed the State Flag of Russia the size of a volleyball court (9 x 16 m).
The performance of the song and dance ensemble of the General Staff of the Armed Forces of Armenia could not leave anyone indifferent.
At the end of the opening ceremony, the leadership of the CORR redeployment was redeployed to the Central Command Point, where planning for the upcoming joint operation began.