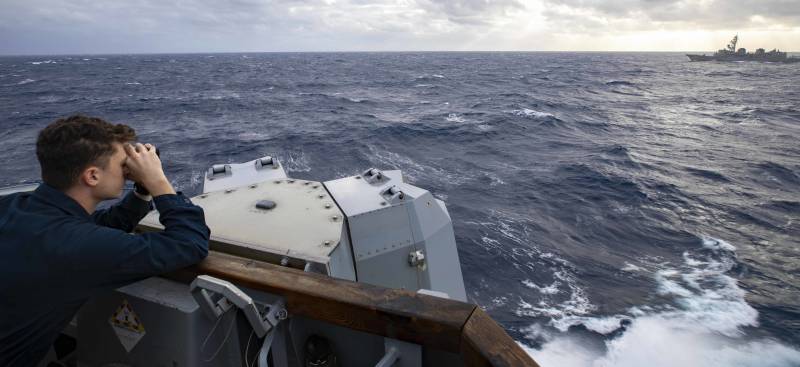 British surface ships and submarines are guarding the crash site of the F-35B carrier-based fighter that was part of the aircraft carrier HMS Queen Elizabeth's wing, but the Navy needs to move faster before the Russians can reach the plane. Writes about this the author of an article for the British edition of the Daily Mail.
Fleet
it is necessary to act more quickly, the author writes, and to lift the fallen F-35B fighter from the bottom of the Mediterranean Sea, otherwise the Russians will get to it, and all the secrets so guarded by the Americans will get them. From the moment the plane crashed in the Mediterranean Sea, a race has unfolded, the winner of which will receive a fifth-generation aircraft, the author assures.
If the Russians find the plane and can lift it, then they will get their hands on top-secret technologies that allow the F-35 to fly unnoticed by radar, writes Mark Nichol. However, the British navy has already located the crash site and has organized a guard. Divers and bathyscaphes are already working there.
At the moment, the British military has definitely excluded "hostile activity" from the causes of the plane's crash, leaving the human factor and technical malfunction. But British Defense Secretary Ben Wallace is sure that the Russians were closely watching the aircraft carrier and does not exclude the influence of this factor on the plane's crash.
According to him, Russian ships and aircraft constantly circled alongside the aircraft carrier HMS Queen Elizabeth while it was in the Mediterranean Sea. At the same time, he admitted that this is "common practice" and that the British military is watching the Russians in the same way. But he refused to answer the question about Russian submarines that may be in the area of ​​the fall of the British F-35B.
Traditionally, the publication was commented on by the readers of the Daily Mail, who noticed that there was no sign of a Russian trace "there," and the article was clearly ordered. Some have criticized the American plane for not actually being invisible. And one of the readers joked that for the price the British paid for this plane, it should "pop up on its own."