According to the statements of psychologists, it turns out that the success of a person as a politician is determined not only by his professional qualities. Such a thing as a psychological portrait plays a more important role here. Not that it would be charisma ... At the same time, the most surprising thing is that greater success can be accompanied by politics if his psychological portrait is not the most adequate from the point of view of medicine. In other words, if a politician has certain mental problems, it will be much easier for him not only to grab the electorate's attention, but it's also easier to tune this electorate to his support, to make him applaud (even if he is twisting his finger at his temple),
Time
.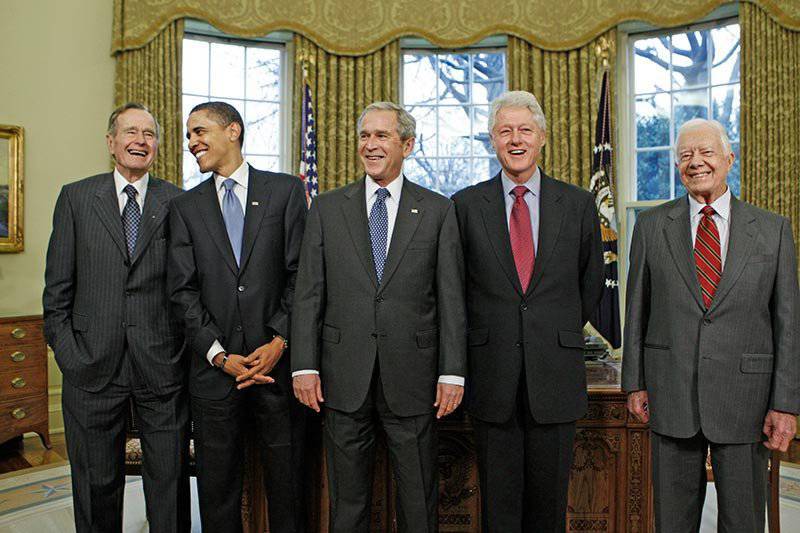 This is particularly true of American social psychology specialists, who conducted a comprehensive study of the speeches and actions of several American presidents at once, according to a study published in the Journal of Personality and Social Psychology. According to American psychologists and sociologists, here you need to enter a special rating - the rating of "abnormal fearlessness", which determines the political strength of one or another American leader. The meaning of this unusual concept is that a politician can take such a risk that no adequate person would even dare. It is in this way that American psychologists, in a peculiar manner, find excuses for the unleashing of adventurous military campaigns on the part of the United States. If we are guided by the very rating of "abnormal fearlessness" from American specialists, then we can say that the most prominent American presidents (according to the same psychologists, sociologists and psychiatrists) are such individuals as Theodore Roosevelt, John Kennedy, Franklin Roosevelt, Ronald Reagan, Bill Clinton and George W. Bush.
It is easy to notice that the current American leader, Barack Obama, is not included in the list of people with obvious inadequacy, which American experts call one of the main components of political success. And over the past half century, United States presidents such as Democrats Lyndon Johnson, Jimmy Carter and Republicans Richard Nixon, Gerald Ford and George W. Bush are out of the "list of abnormals". It turns out that these gentlemen, judging based solely on the opinion of American psychologists, were more adequate in terms of the manifestation of mental characteristics than those mentioned above. It turns out that Bush Sr. is still more adequate than Bush Sr., and John Kennedy is inadequate, for example, Gerald Ford. But if the Americans themselves invented such a scale for their political leaders, then, as they say, they have the cards in hand, who and what places on this scale should they have.
We are still much more interested in the problem of the adequacy of political forces in modern Russia. And it can interest us in the sense of how political adventurism, multiplied by the psychological parameters of a politician, can attract positive attention from the Russian public, and how much the country's authorities are ready to use it.
If such a topic has been touched upon, then you need to consider a person who, according to the Constitution, is the country's main politician, I mean President Vladimir Putin. Guided by the rules of drawing up a psychological portrait of a politician, it is necessary to deal with such issues as character, which manifests itself in various situations, including extreme ones, self-esteem, level of intelligence and intelligence, ability to control one's own emotions.
From a psychological point of view, Vladimir Putin can be considered a man who, due to circumstances, was used to winning and was used to the fact that most Russians consider him a real leader. As they say, you get used to good things quickly ... However, the same psychological stereotype often plays against the current president. The fact is that the habit of winning dulls the feeling of a conscious understanding of real political weight. Even if this weight decreases at certain points in time, then the person tries either not to notice this and demonstrate to others and, mostly to himself, that this is not true, or to build a kind of psychological defense wall.
In Vladimir Putin, the construction of such a wall was manifested earlier and is now apparent. The manifestation is that the president, responding to criticism of opponents and questions that are, say, inconvenient, translates the conversation into a familiar plane. In this regard, the favorite method of Vladimir Putin is the following: in the first step, the president tries to reduce the essence of the question either to a joke, or to make the answer itself so that it destroys all the possible seriousness of the question. Using his rather pronounced sense of humor, Putin is at this moment turning to his side, those who are not ready at the moment to decide on which side he is on — Putin's side or on the side of the person asking a rather sharp, or even frankly provocative question . If Vladimir Putin notices that his favorite trump card does not pass, then he uses the classical rule: the best defense is attack. Many experts in the field of psychology, and even quite ordinary people, have noticed that according to all laws of the political genre, it is extremely difficult for the president to wait for direct and unequivocal answers to a question, especially if such questions in their subtext (or directly) can potentially lead to an answer one way or another to discredit the policy of the authorities. Putin may simply ignore the question itself, but instead goes on the offensive against the person who is asking such a question. And the longer and flatter the president's response, the more it becomes clear that he is trying to hide behind a wall of words, often realizing that his position in this case is very controversial and slippery.
Of course, this can be reproached to the president, but on the other hand, the president is a politician. If we assume that a politician will constantly demonstrate his weakness to those who are trying to attack him, then the days of such a person, just as a politician, will be numbered (the "complex" questions themselves are well aware of this). The people themselves will require changes in power, because the softness in this case is not forgiven. Someone can call it charisma, someone can talk about the president's psychological obscurity, someone to praise harshness, and someone else to criticize her, but it is the laws of psychology that say politicians are tough and quite straightforward at all times supported more people than those who walked along the lines of "today is one thing, tomorrow you can try something else".
If we talk about using the term American psychologists, namely, about "abnormal fearlessness," then, perhaps, Putin, so to speak, is hardly correct to endow with an epithet. Putin, with all the desire of a certain circle of people (both supporters and, incidentally, opponents) is not always aimed at an unequivocal end result. Apparently, the president himself sometimes says to himself that it is time to roll up his sleeves and solve this or that painful problem, but then, when it turns out that this problem is stronger than him, he either tries to transfer his activity to other rails, or postpones this kind of solution until better times.
Supporters of the president want his words to always be combined with real deeds, while opponents are looking for any reason to testify that Putin's words and deeds have diverged in a certain case. Vladimir Putin himself, if we analyze his public speeches (and, naturally, we have no opportunity to analyze the other side), in this regard, he tries to suppress the often manifested social negative with his intellectual potentials. But he is not ready to chop off the shoulder. Putin, apparently due to his work in the special services, is trying to look calm enough, which, admittedly, most often turns out. If he made a mistake, then it is certainly difficult for him to admit it. For all those years when he was at the helm of Russian politics, the number of such confessions can be counted on the fingers of one hand. Naturally, this is another psychological ring, the scope of which is under pressure on Vladimir Putin, because he understands that recognizing even a minor personal mistake is a reason for his opponents to deliver a pinpoint blow to the entire vertical line. And the reluctance to admit mistakes increases the number of his opponents. Such a political fork.
Putin is quite predictable, but at the same time, like any Russian, due to his characteristic features, he rather slowly reacts to external changes. As the saying goes, it takes a long time to get by, but it's going fast, which is often expressed in making very extravagant decisions on issues that seem to require much less zeal on the part of the president.
The strength of Putin's psychology is that it is far from political insanity and shy from side to side. But, if not strange, this has its own share of weakness. The fact is that a person walking along a previously predicted path can be expected in advance by a prepared barrier. Those who have caught a kind of psychological inertness and straightforwardness, which has a place to be with the current Russian authorities, can take advantage of this inertness. If Vladimir Putin does not want to meet in front of insurmountable barriers, then a certain pinch of political adventurism will obviously not hurt him.
Materials used:
http://www.vesti.ru/doc.html?id=904966