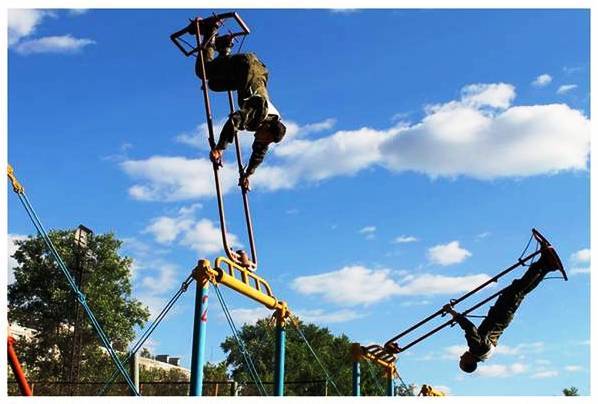 I have never been a great athlete, despite the fact that I managed to get a little familiar with the "sport of high achievements". After my father was transferred to Lugansk, to the school of navigators, our parents began to make up for everything that my brother and I were not given during our service in the Arctic Circle. Mother bought a piano and sent us to a music school, in spite of our complete lack of ear for music. Father put us in the athletics section.
And the hard labor began. From 8:00 to 10:00 - athletics, from 11:00 to 12:30 - music, from 13:30 - school. We quickly said goodbye to music, after a year and a half of communication with us, the teachers realized that we would not be pianists, and insistently recommended doing something else.
But I had to tinker with athletics, and it took more than five years. The track and field coach turned out to be some honored coach of the USSR, we, tall and thin, "looked" to him, and he undertook to train us to be Olympic champions in middle distance running - 800, 1 ... And he took it so seriously that we cursed all this athletics, including middle distance running. But, be that as it may, we achieved some results and not only fulfilled the discharge standards, but also received the issuance of free running shoes - we were given "spikes".
Knowing full well that we will be officers of the naval
aviation
, after 5 years, we realized that we would not have to run on the plane and abruptly stopped going to trainings, despite the demands of our father to pursue a sports career. My father understood something in sports, in his younger years he was a "first-class" in ten sports, played ice hockey and ball for the national teams of the Aviation of the Northern
fleet
... In short, we gave up athletics, there was only a pronounced deep aversion to sports. It was with this sporting baggage that we entered VVVASH.
Physical training (physical) at the school consisted of two main elements - morning exercises and planned classes. In the morning exercises, we were engaged in jogging, sports complexes, exercises on the horizontal bar. There were no special problems with running, the previous practice affected, only boots and stray footcloths in them strongly interfered. A set of sports exercises is like in kindergarten, but the crossbar was not always given, there were problems with the "lifting upside down".
In the planned classes, we were prepared for passing the standards for loping, running, "lifting upside-down", "corner in support", exercises on the uneven bars. Everything seemed to be going well, but there were problems with the damned "coup d'etat", did not understand the technique, and the relationship with the teacher did not work out.
In the first lesson, the teacher "Barbarian" built us up in the gym and began an introductory speech about the fact that if we are serious about physo, then we will become ... Then I saw the manager of the department, an old and bent old man emerge from the door behind the teacher's back about seventy years old, and, of course, I could not restrain myself and interrupted the teacher with a question: "Will we become like him?" Well, you understand that I had problems with passing physo for the entire period of study.
The "Barbarian" mocked me as he wanted, and before passing the test in fizo, the prospect of staying on vacation in fizo loomed in front of me. I plucked up impudence, went to "Varvara" and asked what he was trying to achieve, what else I needed to do to pass physo. "And" Barbarian "bluntly said:" You have the data, but the equipment is lame, "and I can only hand over the physo to him when I screw that idiotic slogan that I put into the headline on the fence of the stadium.
After assessing the possible threats to my vacation, I agreed. They gave me a rusty hand drill, the dumbest drill, bolts and the slogan itself, each letter of which was written on a separate sheet of some kind of aircraft iron, measuring a meter by meter. And I had to screw all this to the fence of the stadium, made of pipes. After assessing the amount of work to be done, I realized that it is almost impossible to do all this.
So what to do?
And I began to drill ... First, each letter in the corners, then try on this letter to the pipes, then drill the pipes, then connect it all. After attaching a couple of letters to the pipes, I rubbed my hands into blood and got so angry that I threw all this nonsense into the closet, went to the gym, and in front of "Barbarian" and other teachers, demonstratively did not only the required number of "coup lifts", but also slightly overlapped the standard.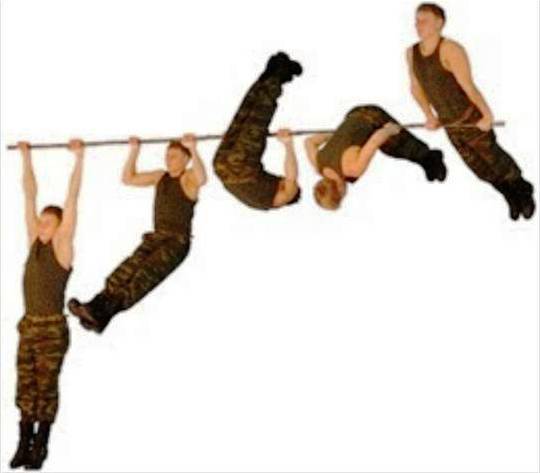 Glancing from under his brows at "Barbarian", I said that he could do with me whatever he wanted, but I would not write a slogan on the fence. Assessing the situation, and everything was happening in the presence of other teachers, "Barbarian" muttered: "I passed it." So I said goodbye to Fizo at the school and came to the regiment with hatred for all this sport.
From the first day in the regiment, I realized that they take sports very seriously, but it was this attitude that made me very happy. The senior navigator of the regiment introduced us, the graduates of the school, to the regiment commander, told about our achievements in flight work and for the sake of completeness, asked the question: "Maybe someone has hidden talents, maybe there are athletes?"
We hadn't even had time to figure out what to lie in return, when the regiment commander jumped up, became very excited and shouted: "What other, the hell, athletes? Yes, I will burn these damned athletes with a hot iron! They, bastards, ride in competitions, but I have no one to fly! " So I realized that "big sport" no longer threatens me, and with pleasure I took up what I loved - flying work.
No, we were happy to chase the ball on a snow-covered football field near the training building, knee-deep in snow, in heavy flying boots, and even after the regiment commander was hit in the face with the ball, these games did not stop and every preliminary preparation for flights was carried out.
They usually played with all the flight personnel of the regiment, dividing into two teams, "navigator" and "wooden", the number of players in the teams did not matter. They gathered for the game by shouting in the educational building: "Who didn't flog the wooden ones?" Nobody was interested in the result, the process itself was important here.
And on Sundays everyone went to watch hockey, there were several teams in the garrison, in each regiment and in some units. After the game, everyone drank in the locker room, out of grief or joy, depending on the result. But the game of hockey gradually came to naught, and here the case played a role, which had an interesting continuation.
The commander of the Tu-16 ship Vovka "Yashukha" broke his jaw with a puck. It's a common thing, the jaw is fastened with paper clips and grows together within a month, but you can't talk and with food is a problem. But ... Vova was a young, "non-ready" (NBG) ship commander, he had to fly two or three flight shifts a week in order to get into service faster, they reported on each of his flights up to Moscow, this is not a joke, the commander of the nuclear missiles, and here such a bummer, a month without flights, these are lost skills, you will have to start all over again.
The regiment commander howled like a beluga, swore at Vova, forgetting that he was defending the regiment's honor, and all this hockey. Yes, and Vova himself was upset, in our times being an NBG was considered by real guys "not comme il faut". The people began to think ...
Vova is a bachelor, but he cannot eat in the dining room, his mouth does not open. They asked him to give him a jet ration for a month in our hands, we transferred all this to the hostel, shoved it outside the windows and into refrigerators, and Pravak, the same bachelor, prepared broths, porridge for Vova, grinded chicken meat, taught Vova to drink through a straw. Do not think bad, we didn't give him vodka, we were afraid that if there was a backlash, he would choke with his teeth fastened together.
Vova could not really speak, he wrote everything on a piece of paper and helped with his hands. Having learned to eat, Vova wrote a report with a request to be allowed to fly, they say, he will only fly, and all the conversations for the commander will be led by pravak. It is strictly forbidden what kind of commander he is if he cannot say a word.
But Vova wanted to fly so much, and the regiment commander wanted so much to get a trained pilot on time that Pravak was tortured with tests in his ability to speak "command" words and give all "command" commands in time, and decided to try. And everything worked out, although it was forbidden, they began to continue without advertising, Vova got up on time. Although it was very funny to listen to how the Pravak gives himself the command: "Remove the chassis" and himself reports: "I remove the chassis." This is how they used to take care of the combat readiness of individual ship commanders and the defense capability of the Motherland as a whole.
Let's go back to sports.
For 26 years of service in two regiments, I have never passed tests in "fizo", for this there is a chief of physical training of the regiment, a whole major, in order to fill out the sheets correctly. I literally did sports twice during my entire service, quite deliberately, on a dare, and both times I won a bottle of vodka.
First, I argued with my squadron navigator that in a month I would pull up 10 times, bought a sliding bar, fixed it in the doorway of the apartment and, passing by, pulled myself up. A month later, I won the first bottle.
Saddened by this failure, the same navigator of the squadron expressed doubt that I would be able to ski 5 kilometers. Despite the fact that the last time I skied about twenty years ago, back in Severomorsk, I bravely embarked on the track and earned another bottle of vodka.
After these exploits, I gave up sports forever, reasonably reasoning that you can just go to the store for vodka without straining at all. Well that's all about sports, in short.