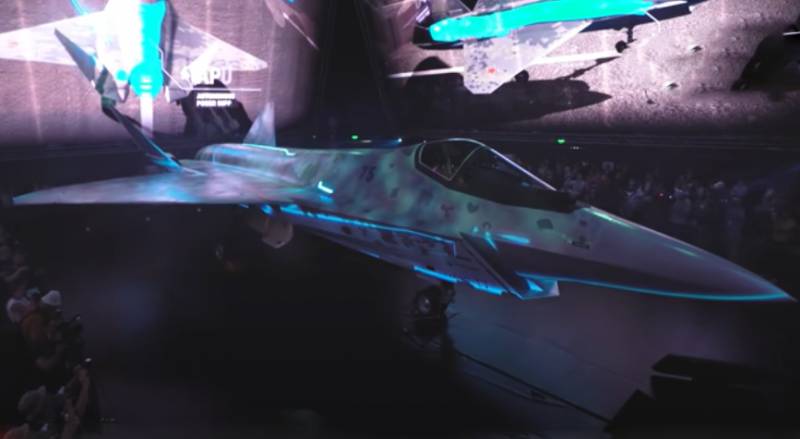 Foreign experts speak after the presentation of the promising fifth-generation fighter Su-75 The Checkmate, which took place the day before at an exhibition in the UAE (in the city of Dubai). For the presentation, a special exhibition hangar was mounted on the territory of the airport.
During the presentation, information was announced that the first such fighter would take off in 2023. The Su-75 The Checkmate is designed according to the principle of the so-called open architecture, which allows the use of equipment from various manufacturers on board.
Foreign experts drew attention to this point in the presentation of the Su-75 Checkmate. It is noted that Russian developers, attracting the attention of potential customers, use a weighty argument. The ability to place equipment from different manufacturers on board was called "a factor of eliminating customer dependence on components from one manufacturer." At the same time, the comparison was made with the F-35 program, where it is impossible to use the equipment of those manufacturers that are not registered in this program. In this regard, the Russian program The Checkmate has great prospects.
An additional topic for discussion of The Checkmate in the expert environment was the words expressed about the intelligent pilot support system. In fact, we are talking about the implementation of the concept of artificial intelligence, which will become, as noted, the "co-pilot". The AI ​​system will provide and help analyze the situation about probable targets and threats.
Thanks to the weapons control system (and the total weight of the fighter's combat load is 7,4 tons), as well as thanks to the AFAR radar, the aircraft can simultaneously track up to three dozen targets and attack up to 6 of them.
A statement is also being discussed about such a design feature of the Su-75, thanks to which a person is not needed for pre-flight control. Also, this design makes it extremely easy to access the airfield equipment to the aircraft systems.
Experts believe that this is an additional plus, a "trump card" for The Checkmate program, because a potential customer will not have to rebuild the airfield infrastructure and change logistics to provide service for a Russian-designed fighter.
The characteristics of the Su-75 in terms of flight are also named. The maximum speed is 1,8 M, the flight range without PTB (outboard fuel tanks) is at least 2800 km.