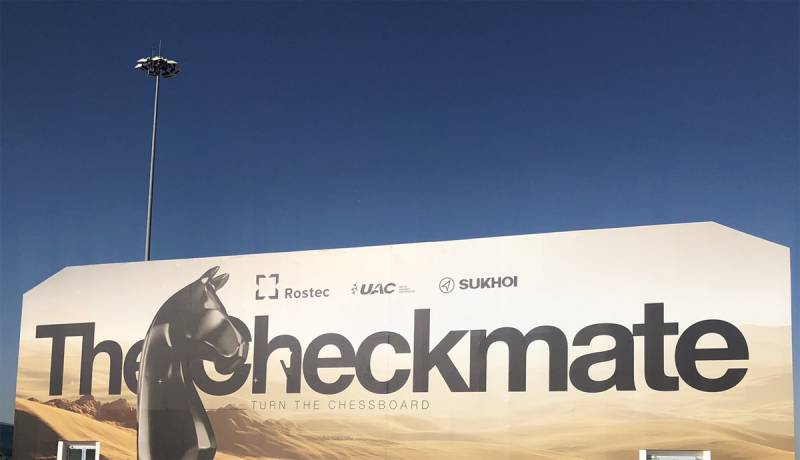 The network is evaluating the interest that was aroused by the appearance of a pavilion with a layout of the promising Russian fighter Su-75 The Checkmate at the Dubai Airshow 2021. Recall that the Su-75 is being demonstrated abroad for the first time in the United Arab Emirates. For him, a special pavilion was built on the territory of the airport with the English name of the program of the fifth generation light single-engine fighter. Earlier, the layout of this promising fighter was exhibited at the international exhibition of arms and military equipment in the Moscow region.
It is noted that today Dubai is one of the few places where you can see US and Russian military aircraft next to each other. In the photographs that are published on the network, you can see the military transport aircraft of the US Air Force, UAE Air Force (US production) adjacent to the pavilion where the model of the Russian Su-75 is exhibited.
The official presentation will take place tonight (Moscow time), while sources share information that several delegations from Arab countries have already visited the Russian exhibition pavilion, where The Checkmate is on display.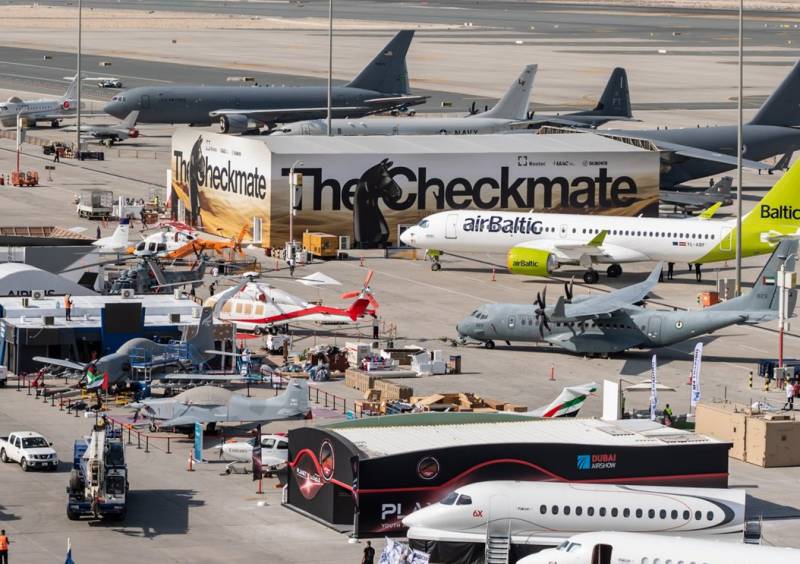 It is noted that representatives of the UAE authorities are interested in the development of Russian specialists from the Sukhoi company. And this is due to the difficulties that suddenly arose before the UAE Air Force in terms of acquiring American fifth-generation F-35 fighters. Let us remind you that the deal with the United States is currently actually "frozen". And the main reason for this is called the tough position that Israel has taken. Israel is against the sale of American F-35s to neighbors in the region.
Military experts from the United Arab Emirates, who visit the exhibition in Dubai in large numbers, note that for the United Arab Emirates Air Force, interest in The Checkmate project is associated with the desire to obtain a modern multipurpose aircraft that would be distinguished by air superiority and would reliably protect the country's air borders. At the same time, such an aircraft should be distinguished by the possibility of using the most modern weapons against ground targets. Earlier it was reported that the Su-75 could eventually become a carrier of a hypersonic
weapons
.