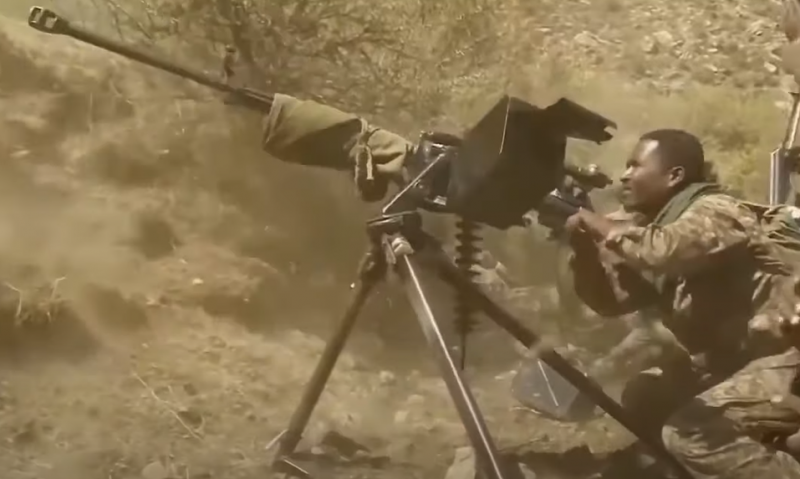 In Ethiopia, intense fighting continues between government forces and units of the Popular Front for the Liberation of Tigray. The rebels managed to shoot down another attack helicopter of the Ethiopian army. We are talking about the Mi-35.
The knocked down helicopter was announced by the official representative of the NFOT, Getachev Reda, who made a corresponding entry on Twitter. It is alleged that this happened on November 11, confirmation from other sources has not been received, except for one video. On the other hand, since the beginning of the conflict, the rebels have already managed to shoot down one Mi-35 of government forces, as well as a MiG-23 fighter and a military transport S-130.
Earlier it was reported that the rebels could take possession of the anti-aircraft complexes of the Ethiopian army, most likely MANPADS and anti-aircraft artillery. The lack of normal air defense is explained by the small number of shot down
aviation
government forces with its very intensive use in the conflict.
Ethiopia's civil war erupted in 2020, when the Tigray region, in the north of the country, with a population of about 5 million, declared its independence. Since then, government forces and NPLT insurgents have fought with heavy military equipment, including
Tanks
... The government army actively uses aviation, the NFOT has no aviation, but it has a certain number of anti-aircraft systems.
In recent days, fierce fighting has been going on in the area of ​​the city of Millet, the NFOT has managed to stop a powerful offensive by government forces and launched its own, advancing towards Addis Ababa. As stated in the command of the front, the task of the offensive is to capture the capital. Detachments of the Oromo Liberation Front began to operate in the rear of the Ethiopian army.
The PNLF, the Oromo Liberation Front and several other small rebel movements have formed an alliance to oppose government forces with Eritrea on their side.