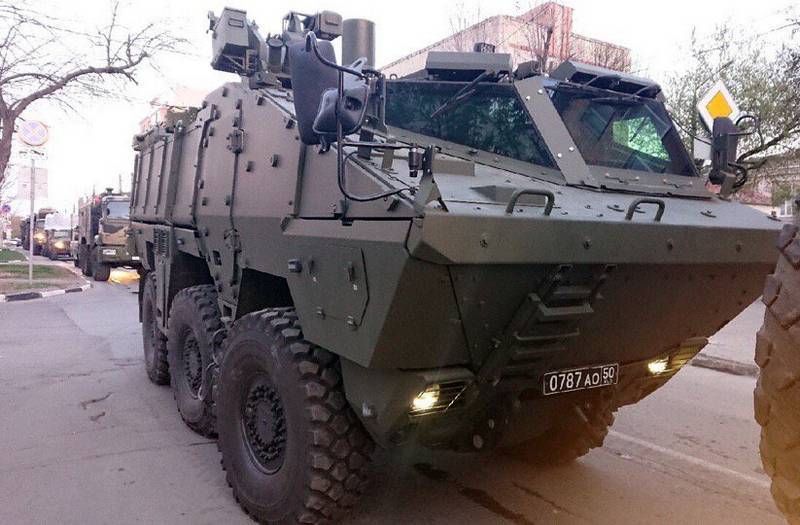 The newest radiation, chemical and biological reconnaissance vehicle RHM-9, developed in Tula, will soon begin to enter the troops. This was announced by the head of the RChBZ troops, Lieutenant General Igor Kirillov.
The general did not name a specific date for the start of deliveries of the new RKhBZ vehicle, but noted that this would happen in the "coming years." In all likelihood, the equipment is currently undergoing tests, since the completion of work on its creation was reported only at the beginning of this year, although prototypes were demonstrated during a closed display at the International Military-Technical Forum "Army-2018" and during the Victory Parade in Tula in 2019.
The new RCB reconnaissance vehicle was created on the basis of the KamAZ-63969 Typhoon armored vehicle as part of the Bogomaz R&D project at the Tula Plant PJSC, which specializes in mobile radiation, chemical and biological reconnaissance vehicles.
RHM-9 is designed to conduct radiation, chemical and biological reconnaissance on the battlefield. At the same time, the design of the vehicle allows data collection without the crew leaving the vehicle. In terms of efficiency, it is twice as high as the RCB reconnaissance vehicles of previous generations.
At the same time, the mobile multipurpose robotic complex MRK-RKhBZ entered the preliminary testing stage. It includes two ground robots and two Orlan-10 drones. The timing of the completion of the tests and the acceptance of the complex into service has not yet been reported.