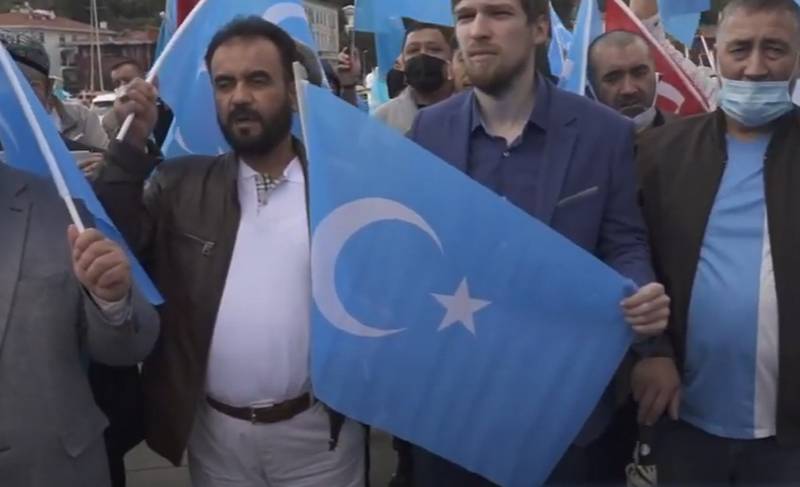 The West uses the Czech Republic as a kind of provocateur state in relations not only with Russia, but also with China. Well-known are the Czech demarches with repeated expulsions of Russian diplomats, accusations against the Russian Federation that Moscow is allegedly behind the explosions at the warehouses in Vrbetica. Now the official Prague, having decided that confrontation with Russia alone will not be enough, obviously at the behest of the "senior partners" decided to "put pressure on the sore spot" of the People's Republic of China.
The Czech press writes that the republic has decided to hold a congress of Uighurs living in Eastern Europe. The main message of the congress is that "the Uighurs in China are an oppressed people, and therefore were forced to flee to the Czech Republic and other European countries." At the same time, in Prague, the Uighurs will create a "government in exile."
It is reported that the Chinese Uyghurs allegedly chose Prague as the venue for the event themselves. The reasoning is as follows (on the pages of the Czech press):
Hundreds of Uyghurs gathered for the convention in Prague. Chinese Uyghurs consider the capital of the Czech Republic one of the centers for the protection and promotion of human rights.
The Uyghurs themselves call the Prague meeting the "World Uyghur Congress."
At the same time, as it turns out, there are also those politicians in the Czech Republic who are not delighted that this congress will take place in their country. In particular, disagreements between individual senators of the republic and the Ministry of Foreign Affairs showed themselves.
The holding of the Uyghur congress in Prague is supported by the mayor of this city, Zdenek Grib (Grzyb). This is the same person who at one time asked the Czech Ministry of Internal Affairs for additional protection in connection with "fear for his life" after the demolition of the monument to Soviet Marshal Konev. The same person came into direct conflict with the Chinese ambassador, who was invited to the event at the same time as the representative of Taiwan, which is not recognized by Beijing as an independent state.
If Czech diplomats say that China may now have a harsh reaction to the holding of the Uyghur congress in Prague, then the city hall of the Czech capital said literally the following:
Relations with the PRC are already in the freezing stage. We need to focus on protecting human rights, which is our priority.
Earlier, the performances of the Uyghurs took place in Turkey. The main requirement is "independent Turkestan". In China, these speeches were called a provocation and called on Ankara to abandon support for separatist sentiments, unequivocally hinting that Turkey itself has serious problems with separatism (meaning the Kurdish issue).