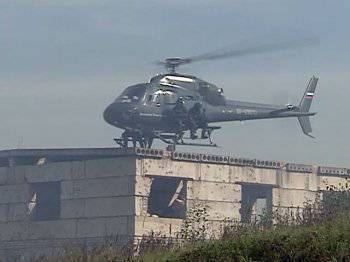 The international operational-tactical exercises "GROM-2012" started in the Moscow region. The anti-drug services and police units of the CSTO member countries are taking part in them. During the exercise, the men practiced the seizure of a gang of drug traffickers. Training in the Moscow region - only the first stage. Joint actions of the unit will continue in a week in Armenia.
Everything here, as in life - military equipment, explosions, and even international drug trafficking with kilograms of heroin. Such large operational tactical exercises were held for the first time in all
history
existence of the Collective Security Treaty Organization. Twenty years ago, six countries of the CIS countries agreed on a joint fight against drug trafficking. But the problem has not lost its relevance so far.
"This kind of activity is highly demanded, because caravans with heroin from Afghanistan are moving around the clock through our states towards the Russian Federation by mountain trails in difficult conditions of rough terrain. And, of course, working out our concerted actions is important so that the criminal does not leave" , Says Viktor Ivanov, director of the Federal Drug Control Service of the Russian Federation.
According to the scenario of the exercise, an extremist organization penetrates the territory of our state, and the goal of the peacekeeping forces is to stop them. The first task is to capture the column, for this a blocking group is advanced. Next you need to detect and neutralize the village, disguised in rough terrain. It is especially hard to work here - the territory is mined. To avoid casualties, the drone takes off for help - it determines the coordinates of the place to be attacked. For each operation - a few minutes, there should be no errors, the slightest deviation from the plan can end in failure.
But now the most important and final operation has begun: in this building for intelligence information there is the leader of a large international drug group, along with it are two militants and a large consignment of drugs. Therefore, an assault group arrived here, penetration into the building goes in several directions at once.
From the roof and through the windows, as soon as they manage to break into the building, they eliminate the militants, and prepare a consignment of drugs for destruction. Everything worked out.
The participant of the teachings Andrei Shubin has been struggling with drug addiction for almost 20 years. "The gangster, even the maniac Chikatilo, will kill — well, the 80 person. The person who sold a kilogram of heroin will kill a thousand. The cost of our work is an order of magnitude more than the anti-terror unit," he says.
This completes only the first stage of the exercise. A week later, the strategic exercises of the rapid reaction forces will begin in Armenia, and in a month - the training tasks near Almaty.