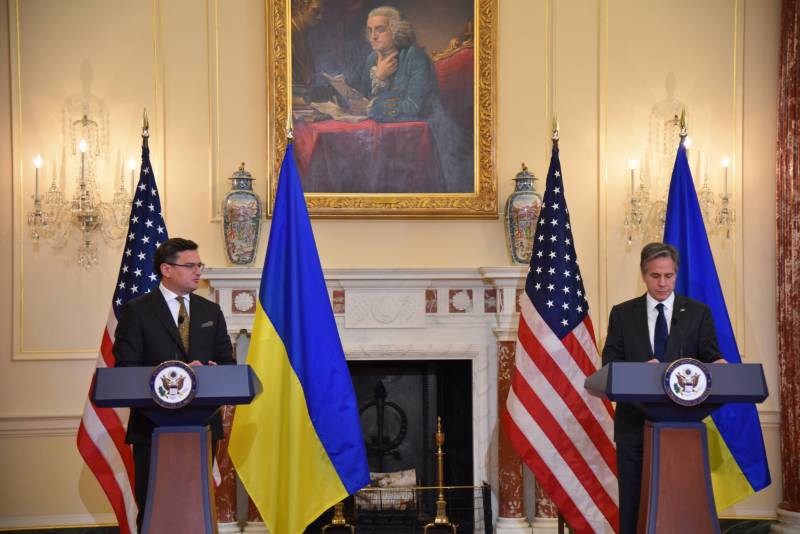 Russia should not repeat the "mistake of 2014" and attack Ukraine under the guise of statements of provocation, the United States and its allies are closely monitoring the situation. This was stated by the head of the US State Department Anthony Blinken at a joint briefing with Ukrainian Foreign Minister Dmitry Kuleba.
The Ukrainian minister arrived in Washington, where he held a series of meetings with American officials, including Blinken. Accordingly, after the meeting of the two ministers, a joint briefing followed, where the head of the American State Department had traditionally made promises to Kuleba.
The speech covered several topics, but the main one was Russia and its actions, allegedly directed against Ukraine. The head of the State Department first of all warned Russia about the consequences of the attack on Ukraine, saying that since "it was in 2014" it will not work. At the same time, he did not tell how it would turn out.
Blinken stressed that in 2014 Russia invaded the territory of Ukraine under the guise of a lie about a provocation, but at the present time all provocations come from Moscow, while Kiev is "holding back" at this time. For which he praised the satisfied Kuleba.
According to him, Russia continues to concentrate forces on the Ukrainian border with the aim of attacking. The American minister promised to continue to advocate for the sovereignty and territorial integrity of Ukraine, to closely monitor this region and to consult with allies and partners. And of course, periodically "express concern" about Russia's actions.