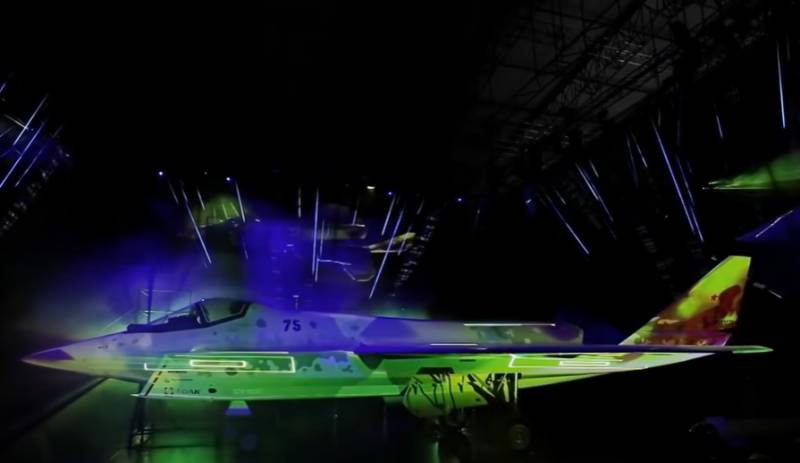 The foreign press discusses the demonstration at an exhibition of weapons and military equipment in the United Arab Emirates of the promising Russian light fighter Su-75 The Checkmate. A mockup of this new generation aircraft is presented at Dubai Airshow 2021.
Western reporters are trying to answer the question of why Russia, having failed to order such a fighter from the Sukhoi company for its own Aerospace Forces, is promoting the aircraft at an international exhibition. This question is rather strange, because the developers do not hide the fact that they want to attract foreign investment in the project of a new generation aircraft. And such investments will come in the event that one or more foreign countries become interested in the Su-75 fighter as a prospect for their own air force.
Polish observer Juliusz Sabak writes that Russia "is trying to influence the UAE in a peculiar way, which wants to acquire American-made F-35 fighters." From Juliusz Sabak's material in the Polish press:
Moscow hopes that the UAE, due to certain problems with the purchase of American F-35s, can choose a different version of the fighter.
The Polish press notes that this option is offered by Russia. This is the Su-75 The Checkmate, which was brought as a model to Dubai.
Sabak:
Russia is trying to publicize as widely as possible the demonstration in the UAE of the layout of its nonexistent Su-75 fighter. The Russians hope that the authorities of the United Arab Emirates will decide to buy and actually finance the development and construction of this aircraft.
The author writes that difficulties for the UAE in acquiring fifty F-35s from the United States are related to Israel's position. The Israeli authorities sent a letter to the United States saying that "they would not want the monarchies of the Gulf to have a military advantage over Israel." That is why the Biden administration has so far hampered the implementation of the agreements that were previously reached with the UAE by the Trump administration.
But today the UAE is determined to restore political relations with Israel at all levels.
Polish columnist:
If the Russians do manage to convince the UAE to buy the Su-75 Checkmate, it will be another blow to the US image and position in the Middle East.
The Polish author notes that the United States itself is in a difficult situation when it is necessary not to quarrel with its allies and at the same time try to maintain the balance of power in an acceptable version for itself.