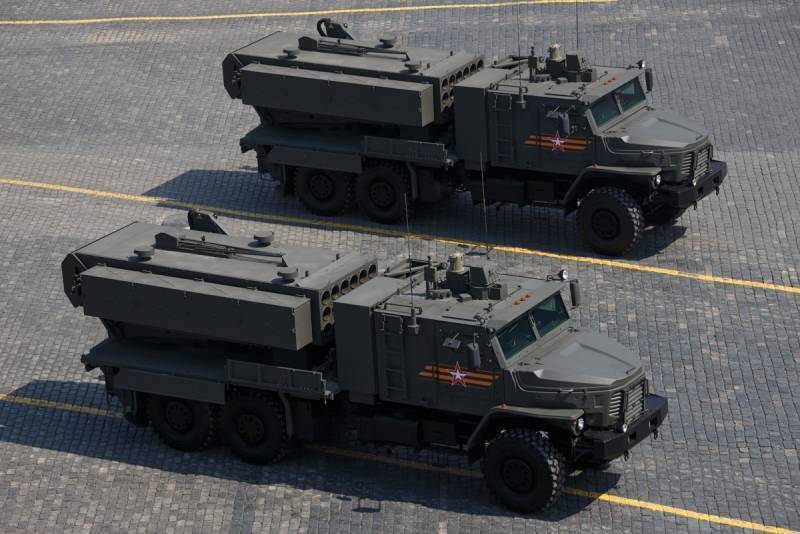 State tests of the newest heavy flamethrower system TOS-2 ("Tosochka") are being completed, at the same time the first batch of serial machines is being manufactured within the framework of the signed contract with the Ministry of Defense.
Tula NPO Splav is completing state tests of TOS-2, the first vehicles will enter the troops by the end of this year. As explained by the director general of the NGO, Alexander Smirnov, within the framework of the state tests, there were literally formalities, the completion of testing is expected by the end of this week.
As the
"Interfax"
With reference to the press service of the NPO Splav, deliveries of the first TOS-2 complexes to the troops will begin this year, the production of the first batch proceeded simultaneously with state tests. The contract for heavy flamethrower systems was signed in August this year as part of the Army-2021 forum. The company refused to disclose the details of the contract; the production of TOS-2 will be carried out on the basis of Motovilikhinskiye Zavody, where a separate subdivision of NPO Splav has been created.
The TOS-2 heavy flamethrower system was created on the basis of the TOS-1 "Buratino" and TOS-1A "Solntsepek", but unlike them, it has a wheelbase and improved tactical and technical characteristics. The machine was created taking into account the experience of using such weapons in the course of hostilities in the Middle East.
For TOS-2, new ammunition has been developed, which, in parallel with the complex, are undergoing state tests. The new shells for TOS-2, in contrast to those used earlier, have an increased range and increased power, allowing the Tosochka firing range to be increased to 15 km, as opposed to 6 km for the TOS-1 Buratino and TOS-1A Solntsepek systems. ...