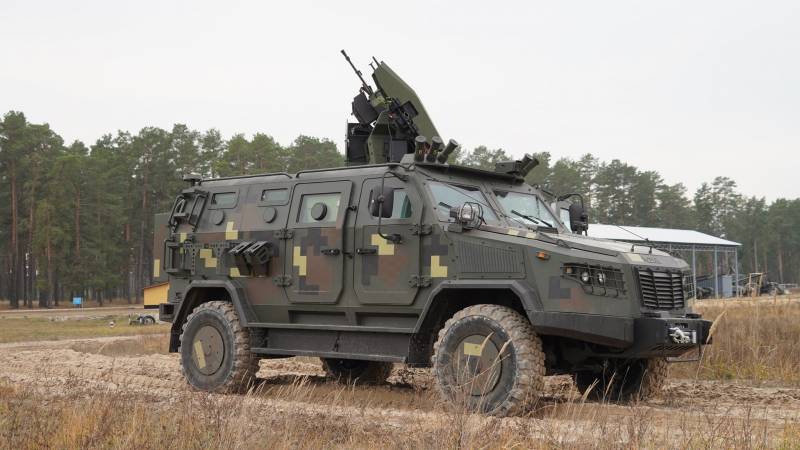 In Ukraine, tests of the Ukrainian armored vehicle "Kozak-2M1" with installed Turkish weapons have begun. The armored car has already passed the stage of factory tests, and, as reported, quite successfully.
The first stage of factory tests of an armored car with installed combat modules of the Turkish company Aselsan took place at one of the military training grounds of the Armed Forces of Ukraine in the Desna training center. The military of the Armed Forces of Ukraine, representatives of the NGO Praktika and a Turkish company took part in the tests.
It is reported that armored vehicles with installed weapons "have covered hundreds of kilometers" day and night marches and have shown excellent results "in overcoming obstacles." In addition, control firing was carried out on the move and in static. The tests were recognized as successful, and nothing has been reported about the next stages.
Earlier it was reported that the Ukrainian armored cars "Kozak-2M1" will be equipped with Sarp combat modules manufactured by Aselsan. It was about two modules - Sarp Dual and Sarp Zafer. Both BM allow you to control weapons while inside the armored car. At the same time, Sarp Dual allows you to simultaneously control two types
weapons
installed on the module, for example, with two machine guns of 7,62 and 12,7 mm caliber at once. Or one machine gun and an automatic grenade launcher. The weapon mounted on the Sarp Zafer BM can be reloaded from inside the armored car.
The final decision on the purchase of Turkish combat modules will be made based on the results of their tests.