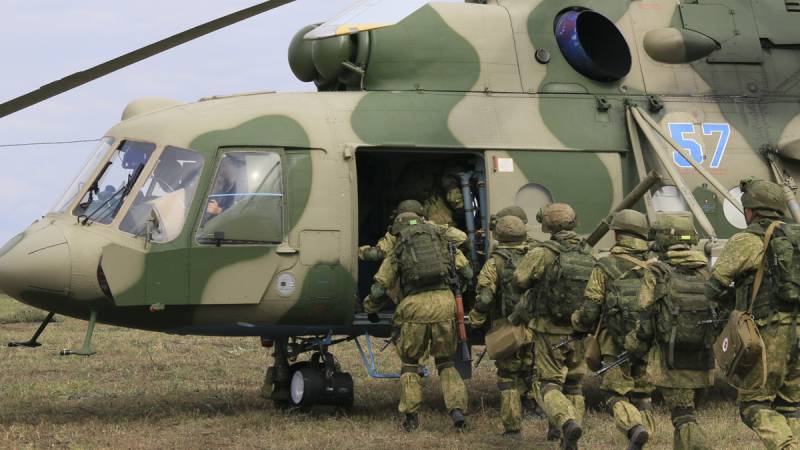 The airborne troops will receive a transport-combat helicopter capable of transferring troops and providing fire support on the battlefield.
The promising "flying airborne combat vehicle" is described in an article published in the magazine
"Arsenal of the Fatherland"
.
In the future, the Airborne Forces will receive a new helicopter, developed specifically for the landing force, which should provide landing troops, fire support on the battlefield and transport combat reconnaissance buggies used by the landing force as light vehicles.
The tactics of using helicopters as "flying BMDs" were practiced during the Zapad-2021 exercises. In this capacity were Mi-8AMTSh helicopters, which, within the framework of the exercises, landed troops, and also transported the Sarmat combat buggies both on the external sling and in the cockpit. The exercises were recognized as successful.
While the development of a special helicopter for the Airborne Forces is just underway, the Mi-8AMTSh-VN transport-combat helicopter has been proposed as the main flying combat vehicle, which has confirmed its strike and assault capabilities. In December last year, a prototype of the helicopter was tested using a complex of guided and unguided missile weapons.
The Mi-8AMTSh-VN helicopter is an improved version of the Mi-8/17 helicopter, created taking into account the Syrian experience. The machine is equipped with VK-2500-03 gas turbine engines with an upgraded transmission and improved climatic characteristics and a new carrier system. The armament complex has been updated, it includes guided air-to-ground missiles, NAR, two course machine guns of 12,7 mm caliber, mounted on the sides of the helicopter. The cockpit and main units are covered with titanium alloy armor, and the cockpit floor and sides up to the windows are covered with removable Kevlar armor.
The helicopter is equipped with new flight and navigation equipment. To increase the combat survivability, the principle of a combination of a "glass cockpit" and reliable analog instruments was applied. The machine is adapted for use at night. The Mi-8AMTSh-VN is equipped with the LSZ-8VN defense complex, which automatically recognizes the launch of missiles at a helicopter, interferes with their guidance heads and throws out false thermal targets.