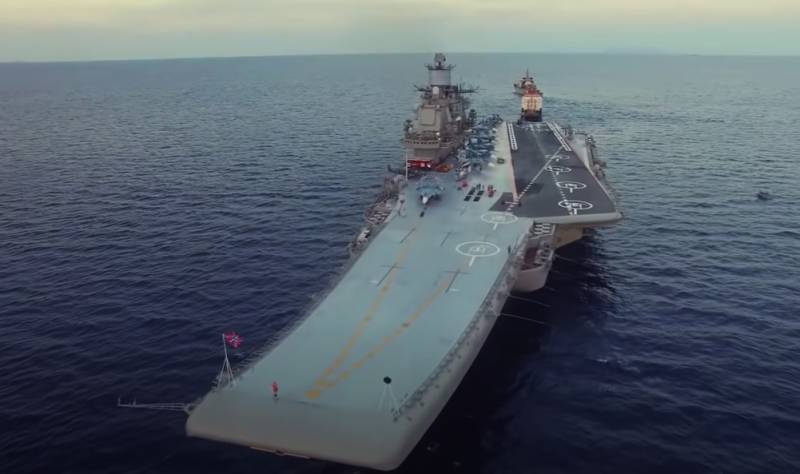 There are data on plans to continue the repair of the only Russian aircraft carrier (aircraft-carrying cruiser) "Admiral Kuznetsov". Recall that during the repair and modernization measures at one time, the TAVKR was damaged due to the flooding of the PD-50 floating dock at the 82nd shipyard in the Murmansk region. The cranes fell to the deck of the aircraft carrier, badly damaging it. The incident was then explained by problems with the provision of electricity at the time of the withdrawal of "Admiral Kuznetsov" from the floating dock.
According to TASS, in the summer of 2022 it is planned to place the aircraft-carrying cruiser in dry dock at the 35th shipyard belonging to the Zvyozdochka Center. This dock, according to the news agency, citing sources, has undergone modernization and reconstruction.
After being placed in a dry dock, a propeller-steering group will be installed on the warship, and work on the hull is also planned.
At the same time, it is added that the deadlines for the commissioning of "Admiral Kuznetsov" after the repair will be shifted to 2023. It is planned that it will be able to return to service by about the summer of that year.
The question arose as to why it was necessary to wait for next summer to put the aircraft carrier in the finished modernized dry dock. A source
TASS
from the defense industry sphere explained the reason, noting that until the summer this procedure was postponed due to the need for docking in "stable weather, in warm weather." In the autumn-winter period, such a procedure is associated with high risks.
The reconstruction of the two-chamber dry dock was carried out by the specialists of the Orgenergostroy company.
Earlier it was planned to hand over the TAVKR "Admiral Kuznetsov" after renovation, first in 2021, then in 2022. As you can see, the terms have to be shifted for various reasons.