The Polish subsidiary PZL-Swidnik of the Italian company Agusta Westland begins its own development of a sea-based helicopter called the W-3PL / N. Polish designers will develop a naval helicopter based on the latest modification of the W-3PL helicopter - the W-3PL Gluszec. The Italian company will provide all possible assistance to the Poles for the implementation of their own development.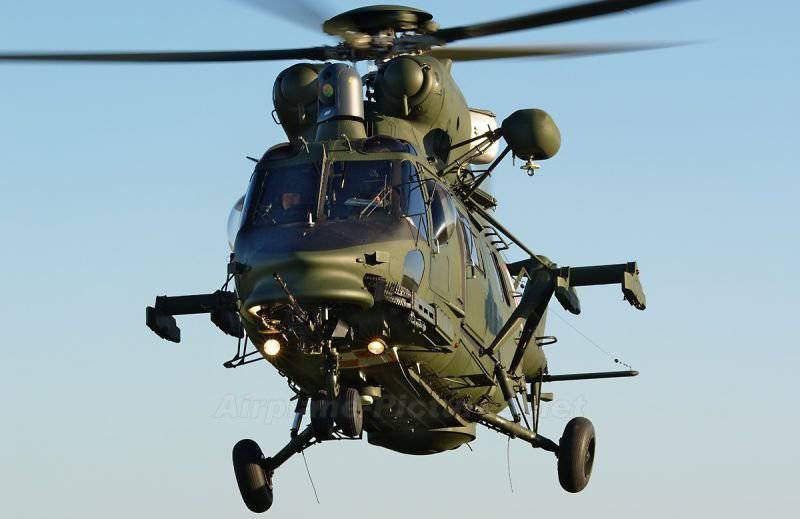 The new W-3PL / N will be equipped with a powerful radar, infrared sensors, sonar and sonar buoys. For placement on sea carriers (ship hangar) the helicopter will be equipped with a folding screw.
The armament of the helicopter will depend on the tasks performed or on the requirements of the customer. He can carry torpedo, small and rocket (air-to-surface) weapons. The main destination for the helicopter "W-3PL / N" will be the fight against submarines and combat swimmers. In addition, he will be able to take part in various military operations, carry out search and rescue operations and transport people and various cargoes. Of the main characteristics of the helicopter, while it is known about the possibility of the helicopter to overcome the distance in 740 kilometers, to pick up speed to 260 km / h. and transport to 10 people.
Last year, the Polish company PZL-Świdnik delivered four W-3PL Głuszec helicopters to its own armed forces as fire support vehicles. The W-3PL Głuszec is the latest modification of the Falcon multipurpose helicopter. Today, half a dozen civilian modifications and a dozen military modifications are known.
The Wood-Grouse, as a modification of the Falcon, was shown to the public in 2007. It was created using the experience of the fighting of the Polish peacekeepers in Iraq. Much equipment and units have been upgraded (from easy to deep). Expanded the possibility of using a helicopter. Strengthened seats, doors and floor armored plates.
one of the modifications of the Falcon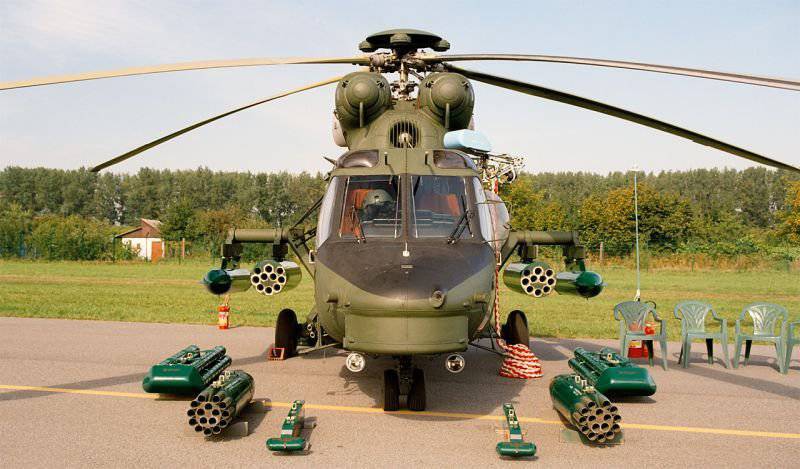 PZL-Świdnik received a four-channel autopilot, FADEC (electronic control) engines, a glass cabin with modern displays, displaying a moving map. Navigation is represented by an integrated system with GPS, DME, VOR / ILS and Tacan. A laser rangefinder and a FLIR infrared camera were installed on the helicopter. Control, communications, navigation and armament systems are combined in a single onboard complex. Airborne equipment includes active / passive defense systems (NATO standard). A set of equipment for the warning system for laser irradiation is installed, and REB facilities are installed.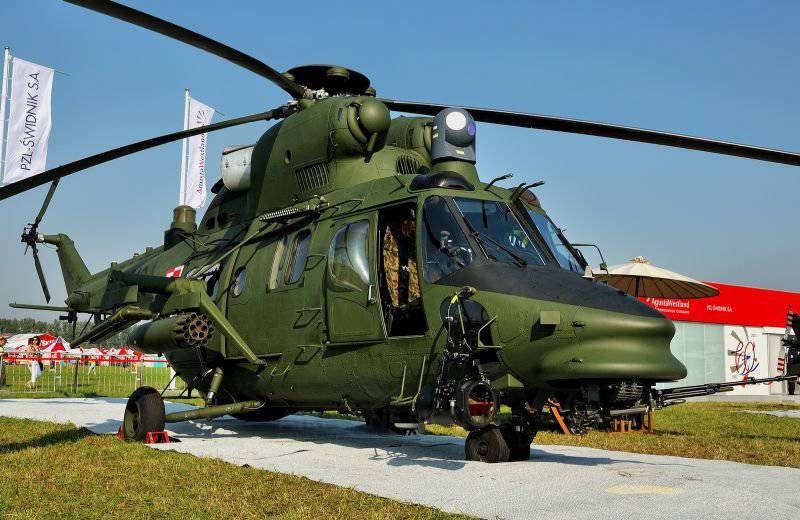 The onboard armament includes automatic gun caliber 23mm, machine gun 12.7mm, rockets unmanaged type and the NATO system of min.
There is a transport option "W-3PL Głuszec". The main purpose is to transport a dozen equipped infantrymen or paratroopers. The transport compartment is equipped with folding seats and a modern display (unit commander). When performing rescue operations, it is equipped with a transport-lifting mechanism, a powerful searchlight and medical equipment. The capacity of the helicopter during rescue operations is up to four stretchers.
Information sources:
http://www.helicopter.su/press-centr/novosti/gluxar_dlya_vooruzhennyix_sil_polshi.html
http://www.pzl.swidnik.pl/en/w-3/0,-p,15,202
http://mport.bigmir.net/war/1524982-Pol-skij-ubijca--novyj-vertolet-dlja-desanta