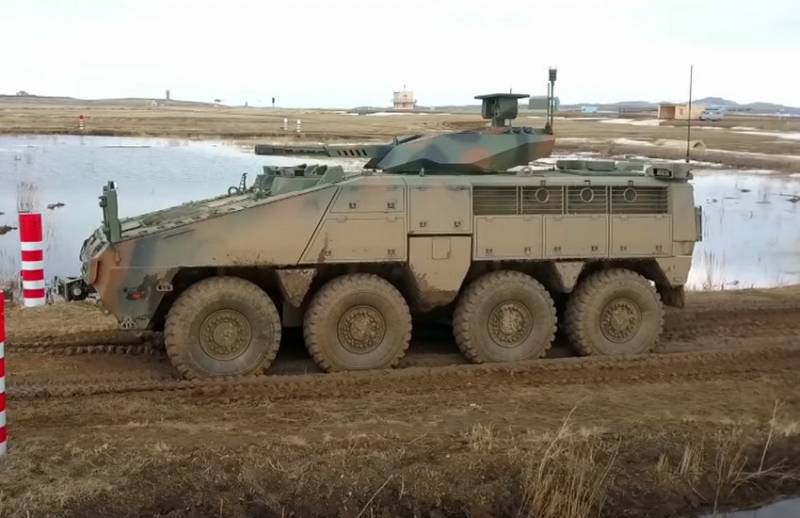 The multipurpose armored vehicle "Barys" 8x8, which has completed state tests, is not ready for adoption by the Ministry of Defense of Kazakhstan, since it has a number of major design flaws, according to the Kazakh web resource Ulysmedia.kz.
According to the portal, the four-year tests of the combat vehicle have ended, judging by the statement of the Ministry of Defense of Kazakhstan, without comment, "Barys" is ready to be put into service. However, the vehicle has numerous shortcomings identified in the testing process and they are reflected in the acts of military tests. However, the High Command of the Ground Forces prohibits their disclosure.
According to the available information, the car is still "damp", often breaks down, and its repair is very expensive. Claims are made to the chassis, in particular to the suspension, the combat module, which is unable to fire with full ammunition, as well as the software. At the last stage of testing, all this was recorded, but representatives of Kazakstan Paramount Engineering, who developed Barys 8x8, carefully hide this. They need the Ministry of Defense of Kazakhstan to take the vehicle into service and place an order for further production. It is reported that without a government contract, the company will face bankruptcy.
"Barys" 8x8 is designed specifically for the Kazakh army, positioned as a multipurpose armored vehicle equipped with advanced technologies, capable of performing the functions of both an armored personnel carrier and an infantry fighting vehicle. The declared characteristics: length - 8 m, width - 2,8 m, height on the roof - 2,4 m. Combat weight, depending on the configuration - up to 28 tons. Max. speed - 100 km / h, cruising range - 500 km. Crew - 2-3 people, landing - 8 people. A remotely controlled combat module Ansar, developed in Kazakhstan, is installed as a weapon. The module is equipped with a 2 mm 72A30 automatic cannon, a PKT 7,62 mm coaxial machine gun, and smoke grenades. Provided for the installation of ATGM.
The end of the Barys 8x8 state tests was reported in mid-October 2021.