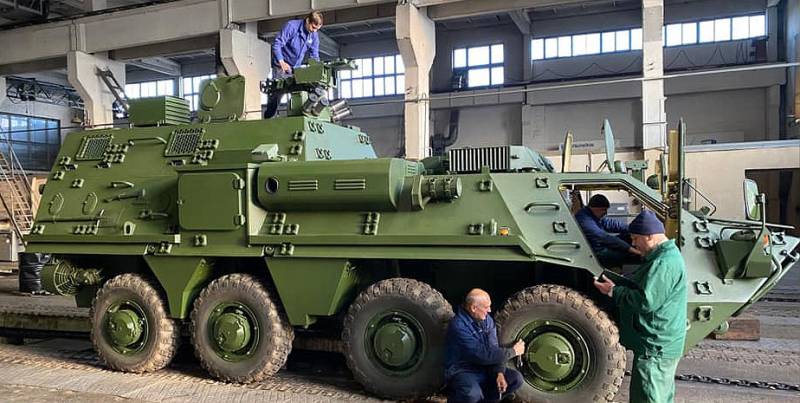 Ukraine has completed the development of a new command and staff vehicle for Thailand, a prototype KSHM BTR-4KSh assembled at the Kiev Armored Plant. Reportedly, the development of KShM based on the Ukrainian armored personnel carrier BTR-4V was ordered by the Royal Thai Navy.
Kiev hopes that the Royal Thai Navy will purchase Ukrainian command and staff vehicles based on the BTR-4KSH. According to the press service of the developer, the new product will be presented to the customer on November 12, and the shipment is scheduled for early December. When assembling the KShM, technical documentation was used, developed in 2020 by the specialists of the Kiev BTZ.
Details of the development have not been disclosed, it is reported that the new BTR-4KSh is equipped with a combat module "Iva-M", a combat control system, a video surveillance system and driver assistance. The department of management and communications is designed to accommodate eight people.
Note that earlier Thailand purchased from Ukraine only the BTR-3 armored personnel carriers, developed on the basis of the BTR-80. In total, under three contracts in 2007, 2011 and 2013, Thailand contracted a total of 244 BTR-3E1s of various modifications. For the Thai Ground Forces, a KShM was also developed on the basis of the BTR-3 - BTR-3KSh (BTR-3CS) or ACPC-01.
Royal
the fleet
Thailand, Ukraine has offered a KShM based on the BTR-4, this is not the first time Kiev is trying to attach this armored personnel carrier. Earlier in Ukraine, they created a version of the BTR-4M for the Indonesian marines, but the Indonesians refused it after a series of tests, preferring to negotiate with Russia on the purchase of the BT-3F. Instead of a batch of 50 vehicles, Kiev managed to sell only an initial batch of five vehicles.