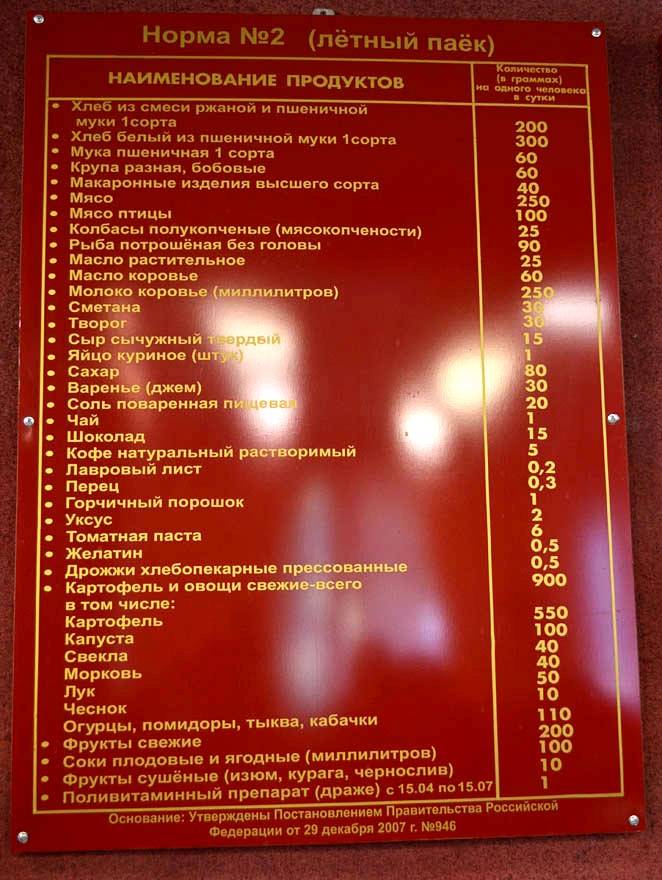 Food is a very important part of military service.
The order of food intake in the army is regulated by the Charter, and the content of food is regulated by the order of the Minister of Defense, where the range of food and its amount are written down to the gram.
There, in this order, all types of food are prescribed, for all military personnel, including even such exotic ones as deer. Moreover, in this example, "deer" is not a characteristic of a soldier, but the name of a war animal. So, according to the order, a military deer is given 6 kilograms of lichen moss per day. I brought this example so that everyone would understand that the army takes food very seriously.
I'll try to tell you about the flight crew's food.
Why are they fed?
The pilots are fed very well, perhaps the best in our army. In terms of the quality of food, the ration of submariners is approaching the flight ration, but the pilots are fed more varied and, what is most offensive for heroes-submariners, the pilots are served not by sailors-messengers, but by real female waitresses. How!
What do pilots eat?
All the best and most delicious - chocolate, sausage, cheese, eggs, sour cream, various soups (borscht, pea, pickle, milk, kharcho ...), be sure to have meat at every meal (chops, langets, cutlets, schnitzels, rump steaks, beef stroganoff , stew ...), poultry, fish, salads, vegetables, various side dishes (mashed potatoes, rice, buckwheat, horns ...), pies, buns, juices, cocoa, tea and much more, you can't remember everything.
And many do not know that if the flight lasts more than 4 hours, then these gluttons are given on-board rations even during the flight, so that they can fill their womb with stew, biscuits, chocolate, juice during the flight. And if the flight lasts 12 hours, then 3 board rations are given, for one cracking mug ...
And why are these dudes in leather jackets so well fed, while the renowned "special forces" are content with ordinary military rations?
After all, these "flyers" do not carry weights, do not run like moose, do not dig trenches, do not enter into fire contact with the enemy, but simply sit in their cabins, picking their noses, and do not take anything heavier than a pencil in their hands?
An interesting question ...
I answer - it's all about the environment and our bodies.
The pilot's body is in an alien environment, in the air, and also rushes through this air at a speed of about 1000 km / h. Moreover, different factors exert their influence - the mixture that the body breathes, radiation, electromagnetic fields, all kinds of radiation, various, albeit short-term, overloads ...
That is, the pilot's body is constantly in a stressful situation, although outwardly this is not always noticeable. So, from all this combination of factors, the body begins to eat its own body. To prevent the body from devouring the entire body, the body has to be constantly rebuilt, since the process of devouring occurs all the time, even on earth.
That is why the pilots are so fed.
All this was established by military doctors, they also developed a special diet, well, you yourself understand, our Motherland is not so generous to feed its military for just so tasty food.
The explanation is very primitive, but I'm not writing for doctors of science either.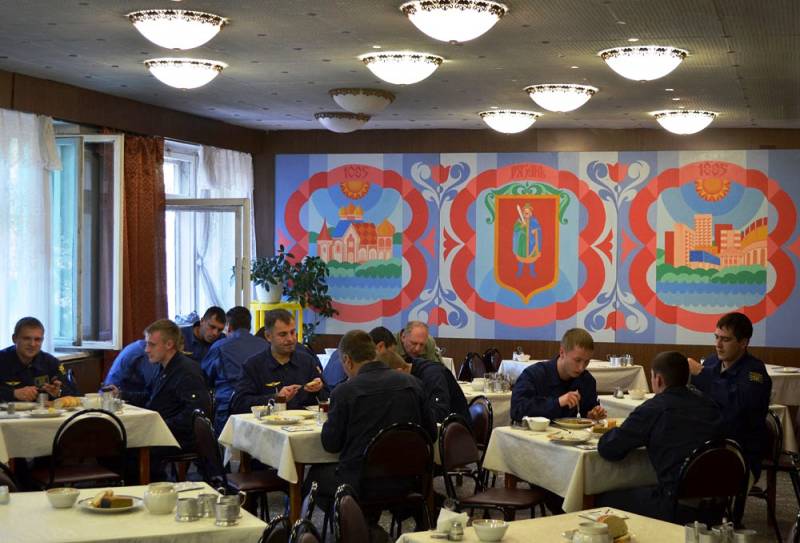 Special dining room
The pilots take food (eat, eat, eat and even devour) in the dining room of the flight and technical personnel.
Usually this is a nondescript structure with 1-2 dining rooms, a brewhouse and utility rooms.
The canteen is a large and complex public catering enterprise, with a round-the-clock cycle of work, with a large number of employees. More than 100 people worked in the canteen of our garrison, the whole business was headed by a senior warrant officer - the head of the canteen, usually female. The canteen employees were subdivided into cooks, waitresses and support staff, the team was female, only a few of the auxiliary workers were men.
The usual work schedule of the canteen:
- breakfast 07: 00–09: 00;
- lunch 13: 00-15: 00;
- Dinner 18: 00-19: 30.
At this time, everyone who does not participate in flights takes food.
Those who are busy on flights take food at a convenient time for them, and the canteen works at the request of the chief of staff of the regiment, that is, our canteen worked almost around the clock to provide flights of three regiments.
I have already told you what pilots eat and where they eat.
How pilots eat
Now on to the fun part - how do these pilots eat?
If you ask the pilots themselves about this, the answer is obvious - culturally, calmly, accurately, as officers with higher education should behave. The waitresses have a different opinion, a very short one - like eating pigs.
The truth, as always, is somewhere in the middle.
Usually, about 250 pilots and the same number of technicians are packed into the dining room for lunch in one room. There are no named tables, everyone is seated upon arrival, and service is in the order of arrival, but everyone arrives at the same time, and everyone wants to eat instantly and run home for an afternoon nap.
In short, if you did not get into the dining room "for the first scoop", then you can sit for an hour.
Hence the nervousness and inadequate demands on the waitresses. This is also where the vulgar joke about a pilot who "looks at the instruments for half his life, and at the waitress's ass for half his life."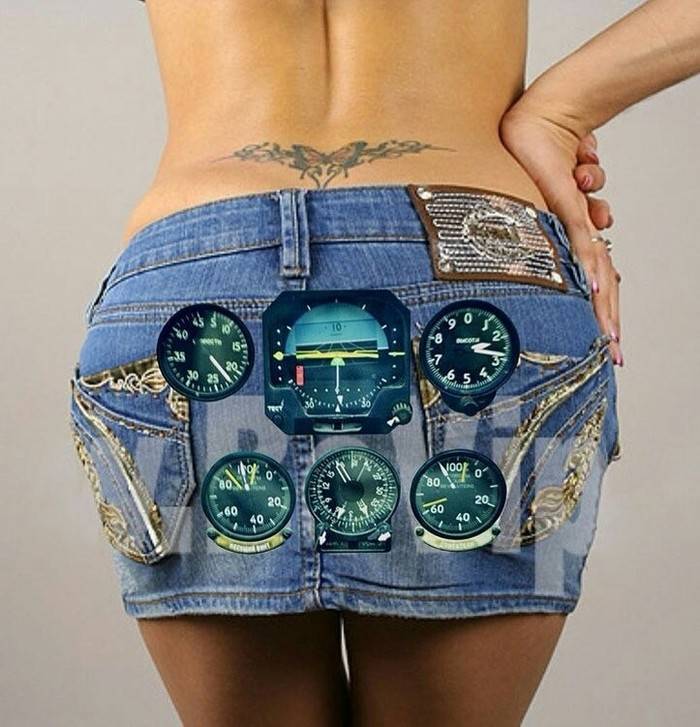 Yes, there is not much to look at ...
Mainly adult women work as waitresses, exhausted either by their drunken husbands or by children who are brought up alone, and if you bring such an aunt to white heat with your nagging, then you can get a tray in the head, there have been attempts. Young and beautiful girls rarely appear, and lieutenants quickly take them as their wives.
I was lucky, the circumstances were such that no matter what table I was sitting at, I was always served out of line.
And my comrades always tried to get at the same table with me, because then they will be lucky, because the waitress cannot serve only one person at the table, they will bring food to everyone. And the evil envious people, who had to wait for their turn for another forty minutes, culturally shouted the common phrase: "What, whoever sleeps next to him, has meat?". To which I replied modestly: "Yes, that's the point."
And the fact was that it was my wife, a senior warrant officer, who served as the head of the flight and technical canteen for more than ten years.
And, of course, not immediately after arriving at our garrison from the resort city of Yalta, she became the head of the canteen. At first she served as a sailor in the taiga, then became a warrant officer, head of the apartment maintenance service, and only then she was entrusted with the management of this "grain" place.
Embezzlement
So, smoothly, we approached the issue of stealing food from the canteen, and here you will receive information, one might say, first-hand, I just ask you to take into account that everything that you read below is my personal speculation.
I say right away - all the employees of the canteen are bringing home products that are intended for pilots and technicians. ALL.
But, if you organize the theft process correctly, then everyone will be full: the pilots, the robbers, and the sniper chef will not have to cut the sausage and cheese so thin that they become transparent.
How exactly this process is organized, I will not tell you in detail, but if you analyze the visit to the canteen, you can find out that about 20% of officers sleep and do not come to breakfast, 20% do not go to lunch either, and 50% do not come to dinner. standing on allowance. From here, surpluses are generated.
There are different subtleties in the theft of products, but I will not delve into this issue, you are not going to steal anything, as far as I understand?
A question may arise about my attitude to theft. Negative! And my wife was brought up in the same spirit, so when I bought sugar in the store, everyone laughed at me.
But it is impossible to stop embezzlement on a global scale, otherwise there will be no one to work, because they do not go to work there for a meager salary. Well, you know ...
It seems that I have revealed the most important issues of logistics support for pilots, I don't want to write more about the rear, there are many nuances, and the pilot is always a loser. Everyone knows about this, but no one fights against it, well, as is customary everywhere.
Alcohol
Incidentally, in
aviation
everyone has the same ration: that of a general, that of any warrant officer, and generals are not supposed to have any cognac.
Do the generals drink alcohol in the dining room?
It happens.
In this case, alcohol is provided by the boss to whom this general flew.
In case of an emergency, the head of the canteen always had a supply of alcohol in his office, usually from my personal reserves, but I don't remember a case when a general flew in with his bottle and gave it to my wife, they say, give my husband a favor.