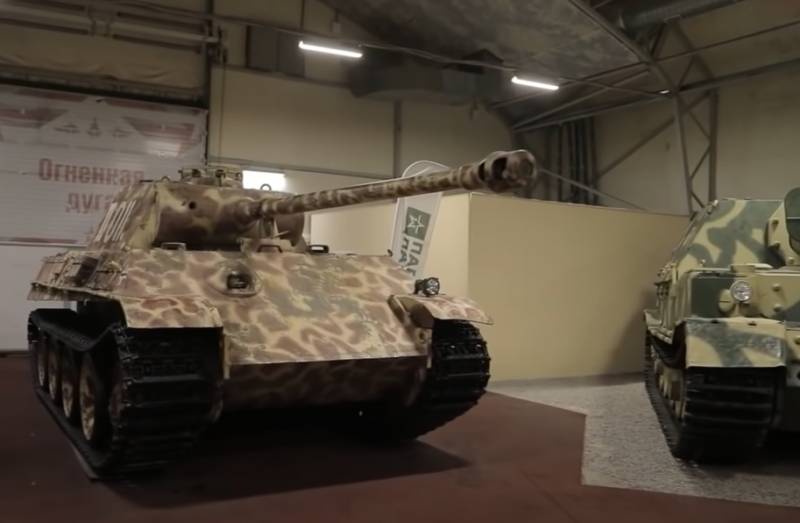 Panzerkampfwagen V Panther - the famous Wehrmacht tank, "Panther". The peculiarity of creating this
tank
for the Nazi troops is that it (the tank) was positioned as a response to the presence of the T-34 in the Red Army. By and large, in Nazi Germany it was perceived precisely as the destroyer of Soviet "thirty-fours" - in the version of a medium tank weighing about 44-45 tons. In the domestic classification "Panther" can be classified as heavy.
On the territory of our country, this tank, released at one time in Germany for military operations against the Soviet Union, can be seen in the Patriot park near Moscow.
The dimensions of the German armored vehicle are impressive. These dimensions can be explained, among other things, by the fact that it was necessary to comfortably accommodate a crew of five people in the tank (as this concept was perceived during the war years), and in addition to place an impressive ammunition load.
An expert specializing in the repair and restoration of equipment from the times of the Great Patriotic War, note that all the talk about problems with the chassis of the "Panther", including
stories
with lumps of frozen mud and jammed rollers due to stones - to a large extent can be attributed to how the tank was operated and maintained by the crew.
The presented video from Tactic Media on Dmitry Puchkov's channel tells about the Panther, how the tank ended up in a museum near Moscow, and the characteristics and maintainability of a German tank. Information about the tank is provided by expert Evgeny Moskalev, with whom Mikhail Timin spoke.