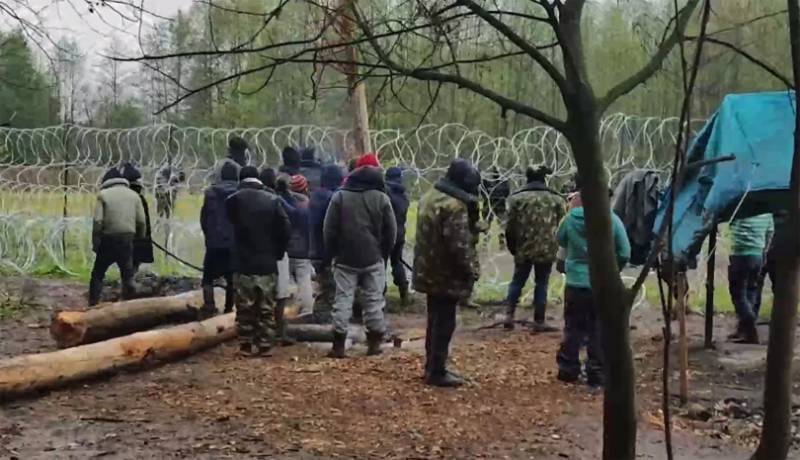 The NATO headquarters said that "they are closely monitoring the situation on the eastern borders of the alliance." The functionaries of the western military bloc stated that one of the most "worrisome" areas is the border of Poland with Belarus. And the reason for NATO's concern in this regard is connected, as it turns out, "with a hybrid
weapons
Alexander Lukashenko ".
NATO calls the "hybrid weapon" of the Belarusian president the migrants who have accumulated near the borders of Poland. Brussels is confident that official Minsk "is deliberately heating up the situation on the eastern borders of NATO, using refugees from Africa and the Middle East for this."
Press Service of the North Atlantic Alliance:
We are watching a wave of migrants who are trying to get to the territory of the allies through Belarus. We are closely following the situation in which our allies in Poland, Lithuania and Latvia are directly pressured by the Lukashenka regime. The use of migrants as a hybrid tactic, hybrid weapon against NATO countries is unacceptable.
It is reported that the governments of the aforementioned NATO countries have requested urgent consultations with Secretary General Stoltenberg. For his part, he promised "not to stop providing assistance to the ally." At the same time, neither Poland nor the Baltic States have understood what exactly this assistance is.
Earlier it was reported that servicemen from other countries of the alliance were deployed to Poland and Lithuania, who will help local border guards in protecting the borders. However, then several units were recalled back, as stated, in connection with the need to "finalize the deployment program on the eastern borders of the alliance." According to some reports, Warsaw and Vilnius were unable to distribute responsibilities between their border guards and the troops who arrived from Germany, the Netherlands and other NATO countries.