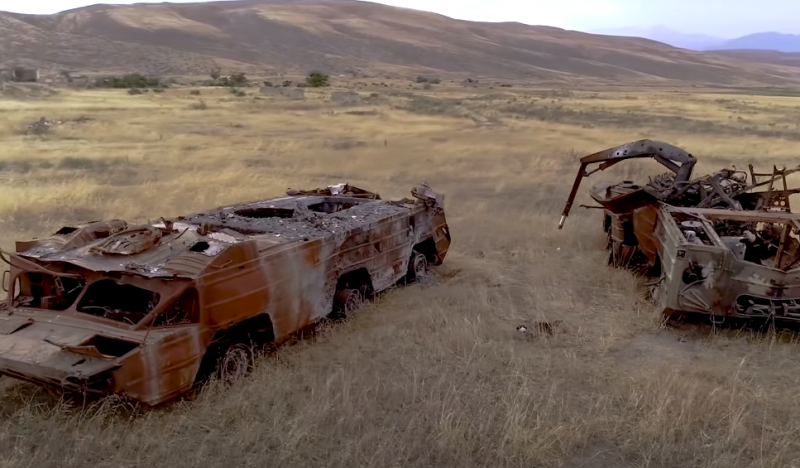 In the early days of the military conflict in Nagorno-Karabakh, the Azerbaijani army managed to suppress up to 60% of the anti-aircraft complexes included in the Armenian air defense system. This was achieved during a special operation called "Karabakh casket".
Before the outbreak of hostilities in Nagorno-Karabakh, the Azerbaijani Ministry of Defense developed an operation codenamed "Karabakh Box". As the Deputy Minister of Defense, Commander of the Air Force of Azerbaijan, Lieutenant General Ramiz Tairov, explained, within the framework of this operation, several diversionary maneuvers were carried out, which made it possible to open the air defense of Armenia.
According to the general, the Air Force of Azerbaijan at the initial stage of hostilities conducted several imitation
aviation
attacks, the purpose of which was to force Armenian anti-aircraft gunners to waste Tor-M2KM missiles and to reveal the positions of anti-aircraft systems. This was achieved by launching An-2 planes filled with explosives into the affected area, the pilots of which jumped out with a parachute, as well as reconnaissance drones.
After opening the positions of the Armenian air defense, a blow was struck with the use of the entire available arsenal of weapons, which made it possible to destroy up to 60% of the anti-aircraft systems.
Later, the Azerbaijani army, using various drones, including kamikaze drones, managed to inflict significant damage on the defending army of Armenia. The lack of air defense systems did not allow the army of Nagorno-Karabakh to "close" the sky, while the enemy was able to strike at positions even in the depths of the defense.
According to data from open sources, at the time of the start of hostilities, the air defense system in Nagorno-Karabakh included 24 Osa-AK (M) air defense systems, 6 Tor-M2KM air defense systems, one S-300PS division, 2 Krug air defense battalions, 3 divisions of the "Kub" air defense missile system and one division of the C-125 air defense missile system.
Despite the destruction of most of the air defense, Armenian anti-aircraft gunners managed to shoot down 260 different enemy drones, including over 10 Turkish Bayraktar TB2s. Such data were presented by the Ministry of Defense of Armenia.