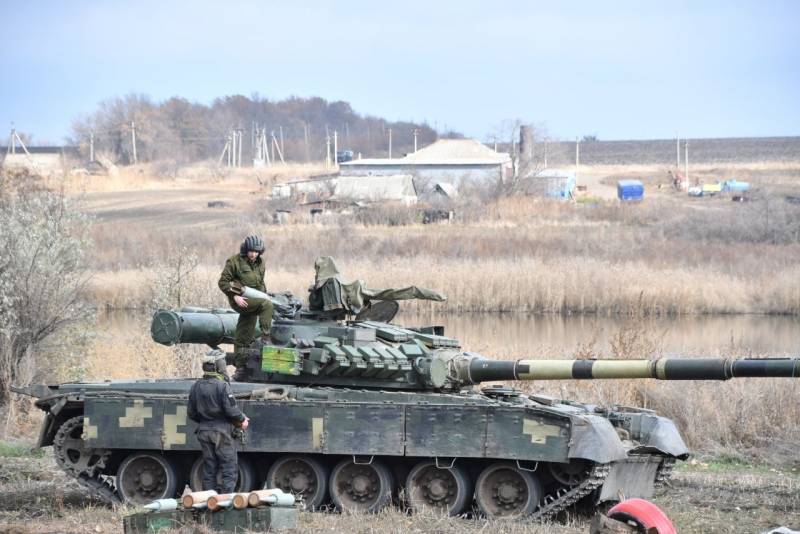 Against the background of accusations against Russia of allegedly transferring
tanks
to the Ukrainian borders, the Ukrainian troops themselves are methodically engaged in building up forces and assets in the area of ​​the demarcation line in Donbass. Moreover, this is done quite openly, as well as the use of heavy weapons prohibited by the notorious Minsk agreements.
In the last 2-3 days alone, the Ukrainian Armed Forces transferred at least 25 tanks to Donbas, including the T-72 and other modifications. Among the heavy equipment transferred to the conflict zone there are 7 Gvozdika self-propelled guns of 122 mm caliber.
The transfer of most of this equipment by the armed forces of Ukraine to the regions of Donbass, surprisingly, found the strength and courage to record the OSCE Special Monitoring Mission (SMM).
Heavy equipment arrived in Donbass by rail. Unloading has already been carried out in Konstantinovka - to the north-west of Gorlovka, after which the tanks and self-propelled guns were withdrawn to the positions of the Ukrainian troops.
Since the beginning of November, at least 22 infantry fighting vehicles and armored personnel carriers of the Armed Forces of Ukraine have been sent there, unmanned aerial vehicles have been deployed to military airfields adjacent to the zone of armed conflict. Among them are not only reconnaissance UAVs, but also shock ones.
Against this background, the statement of the commander of the so-called joint forces of the Armed Forces of Ukraine, Lieutenant General Alexander Pavlyuk, attracts attention. According to him, "Ukraine is ready for military escalation." Pavlyuk added at the same time that the Armed Forces continued "active reforming of the army's transition to NATO standards." The Ukrainian commander said that such standards "help make the army stronger and move forward on the path to NATO membership."