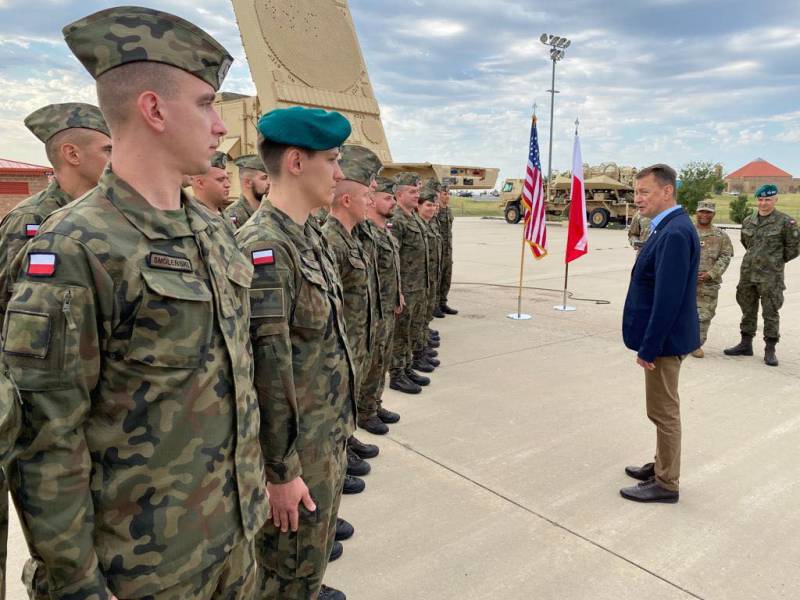 The Polish political elite and political science circles continue to exercise in terms of rhetoric about the need for confrontation with Russia. The other day it was announced that Poland is one of those EU states that are in the hands of the severance of diplomatic relations between NATO and the Russian Federation. Now the same author, Witold Jurash, writes that it is extremely important for Poland to achieve an increase in the NATO military contingent on its territory and mutual understanding with Western partners.
The Polish observer writes that the chairman of the ruling Law and Justice party in the country, Jaroslaw Kaczynski, together with Defense Minister Mariusz Blaszczak recently presented a new bill called "On Defense of the Motherland." The main message of this bill is a significant increase in the number of Polish troops.
From the bill:
Poland must strengthen the projection of its power in the region.
At the same time, the Polish journalist, commenting on the new concept of Polish security, writes that "to counter Russia will have to significantly increase the cost of updating military equipment." According to him, today only a third of military spending goes to such needs.
At the same time, the Polish observer in the Onet edition writes that today only political scientists and geopoliticians can seriously talk about the war with Russia. Military experts, as Yurash writes, "understand the seriousness of the threat emanating from the Russian Federation, but at the same time they do not exaggerate its scale so much that it is necessary to endlessly arm itself if tomorrow is war."
The author writes that today Jaroslaw Kaczynski is under the influence of geopoliticians who paint him pictures of the "terrible Russian threat."
The material also points out that due to its geographical position, Poland cannot act "against Russia" alone. But the problem is that Warsaw trusts the West less and less. Affected primarily by the crisis in relations with Brussels.
From the material in the Polish press, which notes that the level of trust has decreased in recent years:
If Poland was betrayed by the EU, will NATO betray us ...
Further, the author examines the power component of the Polish army, noting that it is still dubious. According to him, "for the first time since 1931, Poland does not have a single normally functioning submarine."
The Polish author emphasizes that the ruling forces of Poland trust the West less and less and are trying to rely more solely on themselves. But, as already noted, the geographical position of Poland is such that support is indispensable.