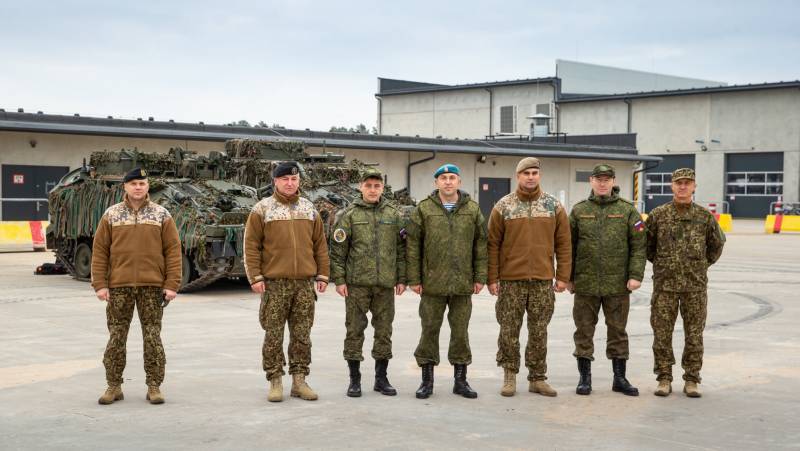 Among the Baltic nationalists, a photo taken the other day at the NATO military base of Adazi (Latvia), which in recent years has been actively used for joint military training operations of NATO forces, caused a harsh reaction. In this photo, together with the Latvian military personnel, officers of the Russian Armed Forces are captured. This shot sparked discussion in the Baltics, forcing local nationalists to talk about the "shortsighted policy of the Latvian Ministry of Defense."
How did the Russian military end up at a military facility in NATO's Latvia?
The fact is that the officers of the RF Armed Forces were part of the arms control mission, which is supervised by the Organization for Security and Cooperation in Europe (OSCE).
The Latvian Ministry of Defense, after the fact, informed fellow citizens that Russian officers made a monitoring visit and conducted an acquaintance with the equipment and personnel of the motorized rifle brigade of the Latvian Land Forces. The Latvian military department annually sends information about this brigade to the OSCE on the basis of the Vienna Document of this organization.
The Latvian Defense Ministry tried to explain that representatives of monitoring groups can represent various OSCE member states, and that Riga has committed itself to open its activities in the format of an organization. However, the notorious Russophobes were clearly not satisfied with this explanation. The Latvian Defense Ministry is now accused of "transmitting information to Russian troops" itself. The fact that Russia is acting just as openly in the format of observing OSCE norms does not seem to worry these critics too much.
Adazi is a military base located northeast of Riga, not far from the Gulf of Riga.