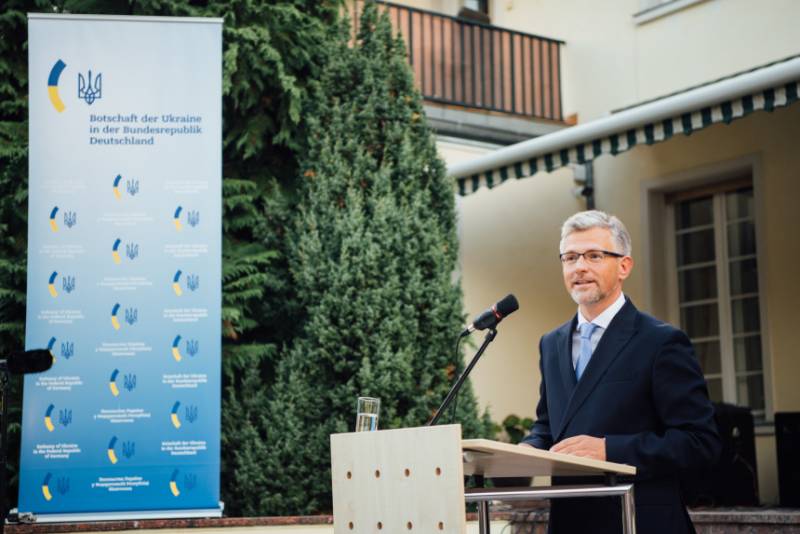 The diplomatic representative of Kiev Andriy Melnyk considered the statement of the German authorities about the actions of the Armed Forces of Ukraine, which used the unmanned
Aviation
to strike at the positions of the People's Militia of the DPR. The diplomat said that Ukraine is dissatisfied with the reaction of Berlin to the use of the APU shock
drone
Bayraktar TB 2 in Donbass and even "strongly rejects" the statement of his colleague from Germany.
The Ukrainian ambassador to Germany said this to the German newspaper Bild.
Melnyk noted that by striking from the air, Ukraine exercised its "legal right to self-defense." He considers the German expression of concern unnecessary. Instead, according to the ambassador, Berlin should attach all the conditions for organizing a meeting in the "Normandy format" in order to "put Russia in its place."
Such was the reaction of the Ukrainian diplomat to the statement of the representative of the German Foreign Ministry Andrea Sasse. She said Berlin knows about the use of drums
drones
in the Donbas and places responsibility for it on both sides of the conflict.
This is another manifestation of the fact that the representatives of Kiev are trying to teach their Western partners how to act. At the same time, Ukrainian politicians and diplomats are seriously confident that they have every right to do so.
Earlier, the Ukrainian media reported that the Armed Forces of Ukraine used the Bayraktar TB2 strike drone for the first time in Donbas. Soon this information was confirmed by the General Staff of Ukraine. At the same time, the Minister of Defense of Ukraine suddenly backed down, announcing that "the information was misinterpreted." Misinterpreted by whom? By the minister himself or by the chief of the General Staff of the Armed Forces of Ukraine? ..