Gascon king of Sweden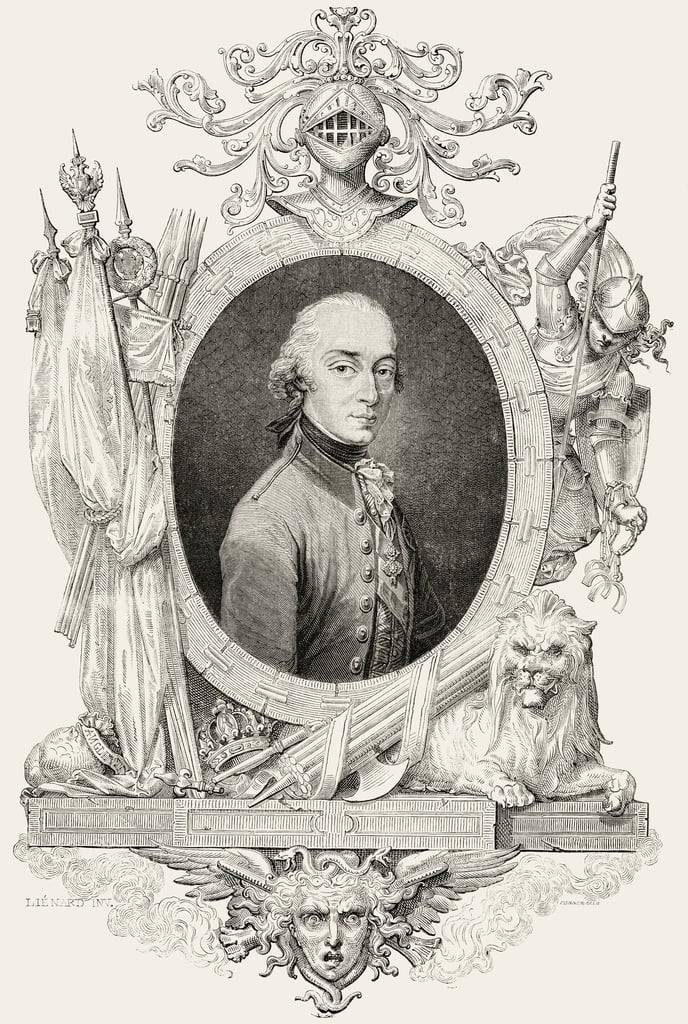 Bernadotte on an engraving by Pannemaker
Napoleon did not skimp on high titles for his marshals, but only two of them were destined to become kings. The first is the famous Joachim Murat (Joaquim Murat), who received the throne of Naples through his marriage to the emperor's sister, Caroline Bonaparte.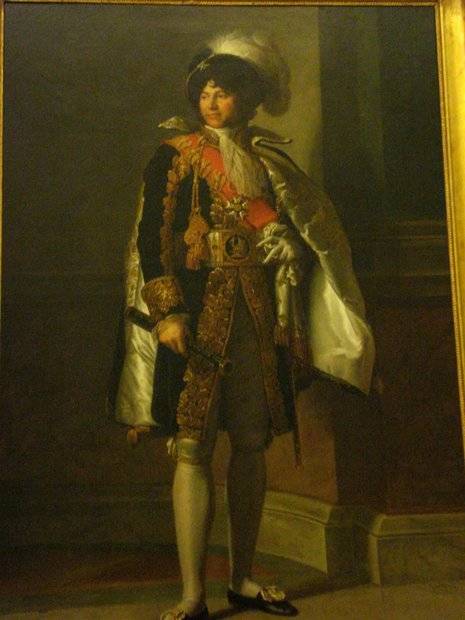 Francois Gerard. Ceremonial portrait of King Joachim
I must say that this couple had a chance to keep the throne.
Murat (with the full approval of his wife) betrayed his benefactor on time. As early as January 17, 1814, he published an appeal "To the peoples of the Apennine Peninsula", which actually became a declaration of war on the "French emperor". Thus, the Kingdom of Naples unexpectedly became part of the VI anti-French coalition.
No less decisively betrayed her brother and Caroline, who, trying to keep the Neapolitan throne for herself and her husband, desperately intrigued, acting through Metternich's former lover. This rather successful game was confused by the sudden return of Napoleon from Elba.
Once again believing in the "star" of the emperor, Murat broke off the negotiations and declared war on Austria, which he quickly lost, and fled to Cannes. An attempt to repeat Napoleon's "flight of the Eagle" failed, and Murat was shot - on October 13, 1815.
The second marshal to receive the crown was Jean-Baptiste Bernadotte. But, unlike Murat, he became king to a certain extent by accident and practically without the help of the powerful emperor of France.
Murat has already been described in two articles (
Joachim Murat. Hero who became a traitor
и
Two "Gasconades" by Joachim Murat
).
Today we will talk about Bernadotte.
The first years of the life of the Gascon king of Sweden
Jean-Baptiste Bernadotte (Bernadotte) was born on January 26, 1763 in the south of France - in the Gascon city of Po. His family did not belong to the privileged nobility, but they did not particularly live in poverty. His father was engaged in law practice, but his son Jean (the youngest of five children) preferred military service.
In September 1780, he entered the Béarn Infantry Regiment, which was intended for operations outside mainland France and was therefore called the "Marine". With this regiment, he ended up on the island of Corsica, served in Ajaccio, Bonaparte's hometown. In 1784 he was transferred to Grenoble, where the future republican had to take part in suppressing the anti-government rebellion (in 1788). Shortly before this, Bernadotte received the rank of sergeant.
The way up to him, like many others, was opened by the French Revolution. It was then that, by the way, he took another name - Jules: in honor of Julius Caesar.
In February 1790, Bernadotte received his first officer's rank and was assigned to the 36th Infantry Regiment, which was part of General Custine's Rhine Army.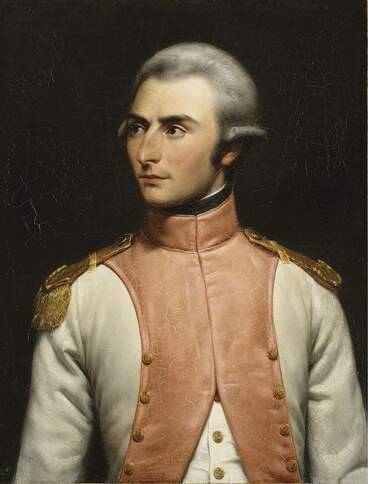 Louis-Felix Amiel. Portrait of Lieutenant Bernadotte
In 1793 he went from captain to colonel. In 1794 we see him as a brigadier general, but at the Battle of Fleurus (June 6) he commanded a division. And on October 22 of the same year, Bernadotte was officially promoted to divisional general.
Bonaparte, Bernadotte and Desiree Clari
Until 1797, Bernadotte successfully fought in Belgium and Germany. And then he is ordered to go to Italy at the head of the support corps of Bonaparte's army.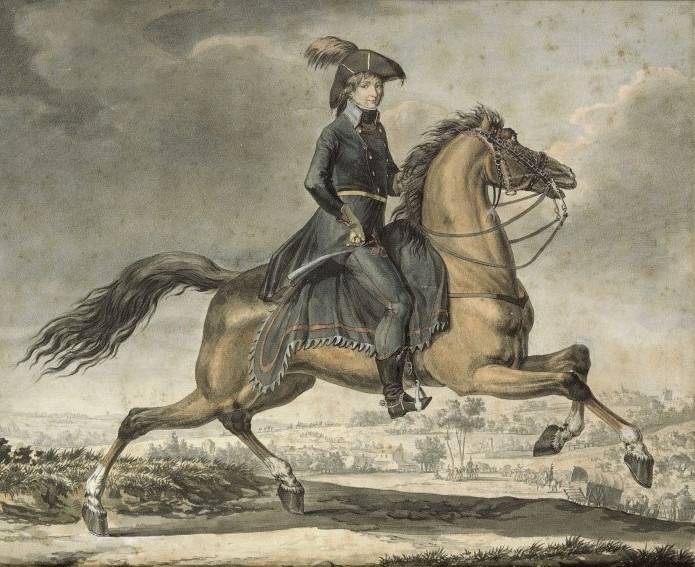 Joseph-Francois Schwebach. General Bernadotte during the Italian campaign
It was here that Bernadotte met for the first time this "wide-striding" Corsican (who was 6 years younger than him).
At first he developed friendly relations with Napoleon. Bonaparte then once said about Bernadotte:
"Head of a Frenchman, Heart of a Roman."
In the same 1797, Bernadotte met Désiré Clari. This daughter of a Marseilles shipowner and silk merchant was previously considered Napoleon's bride. And Desiree's older sister, Julia (Marie-Julie), became the wife of his brother, Joseph Bonaparte.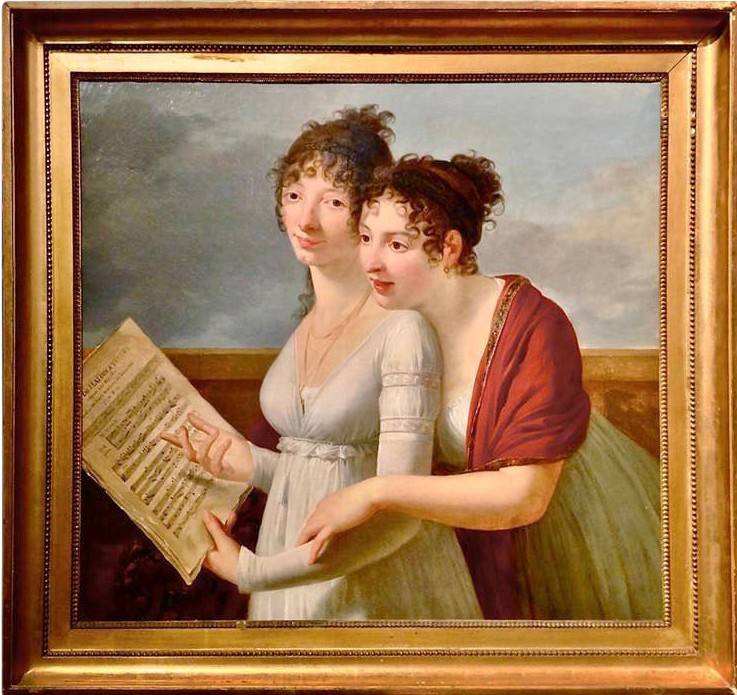 Robert Lefevre, portrait of Julia and Désiré Clari, 1805
Napoleon had known this girl since 1794. Why the relationship between Bonaparte and Desiree was upset is not known for certain. Probably, the initiator of the break was still Napoleon, who was carried away by Josephine Beauharnais. By the way, he retained the warmest feelings for his former bride (or felt a sense of guilt in front of her). But she never forgave him this betrayal.
In January 1798, Bernadotte was appointed ambassador to Vienna. He went to the capital of Austria from Milan, without even bothering to correct the relevant documents. And he threatened the bureaucrats-border guards, who did not want to let him into Austrian territory, with the outbreak of hostilities.
In general, Ambassador Bernadotte turned out to be little better than Augereau, who turned everyone against him in Lisbon. In August of the same year, Bernadotte was recalled, and he was able to marry Desiree Clari. He was then already 35 years old, Desiree - 22 years old.
So Bernadotte, having married the younger sister of Napoleon's brother's wife, became in fact a member of the Bonaparte family (Jerome Bonaparte's brother-in-law), and family relations for the Corsicans is a sacred thing.
But Bernadotte and his wife were not Corsicans. Some researchers believe that it was thanks to the influence of Desiree that Bernadotte became such a firm and consistent enemy of Bonaparte. At least, she herself, when asked why she married Bernadotte, somehow answered:
"Because he was able to resist Napoleon."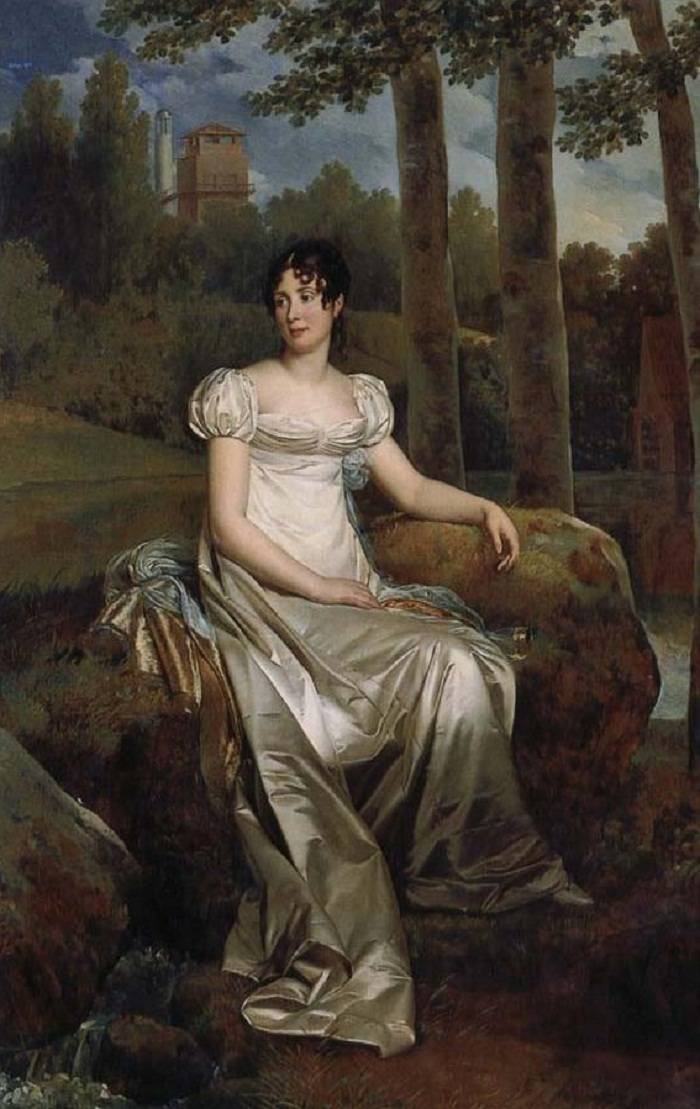 Anthony Van Dyck. Portrait of Desiree Clari
This confrontation began almost immediately. Already in 1799, Bernadotte defiantly refused to meet with Bonaparte, who had returned from Egypt, cynically declaring:
"I don't want to catch the plague."
Numerous attempts by Julia Bonaparte (sister of Desiree, wife of Napoleon's brother Joseph) to smooth the situation, undertaken by her in different years, were unsuccessful.
A year later, Desiree gave birth to a son, Oscar (full name - Joseph-Francois Oscar), who was destined to become a Swedish prince and king.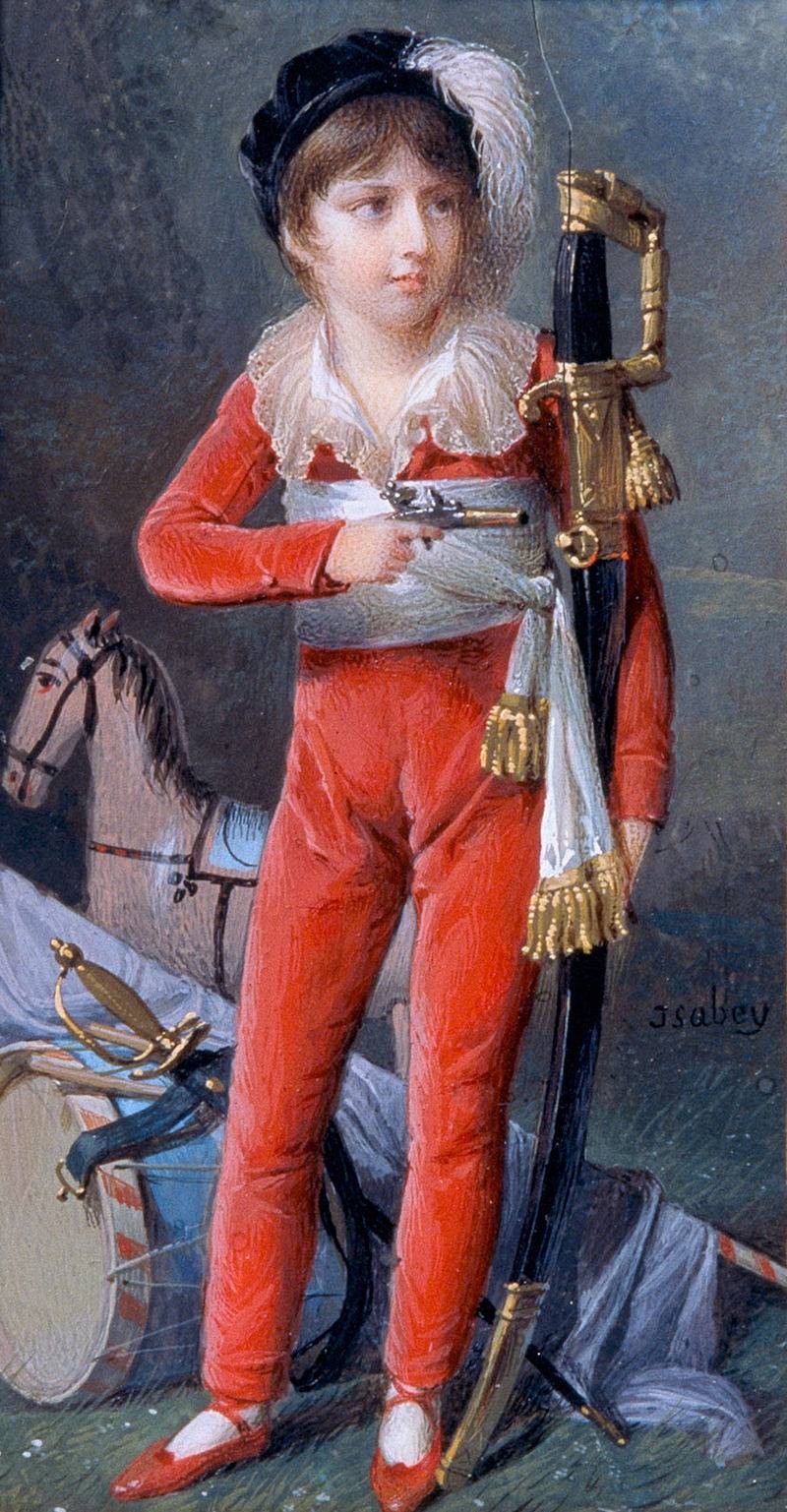 Oscar Bernadotte as a child, portrait by Jean-Baptiste Isabe
But let's not get ahead.
Military career of General Bernadotte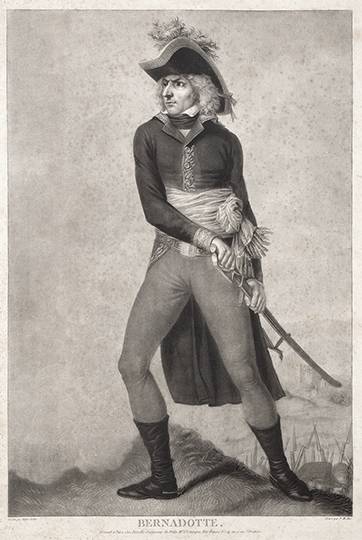 General Jean-Baptiste Bernadotte. Etching by Pierre Michel Alix
In 1799, Bernadotte became Minister of War for a short time (he held this position from July to September).
In the coup d'état of 18 Brumaire (November 9, 1799), as a result of which Bonaparte became First Consul, he did not participate, but did not oppose him in any way.
In this illustration by Henri Felix Emmanuel Filippoto, General Bernadotte flatly refuses to support Bonaparte.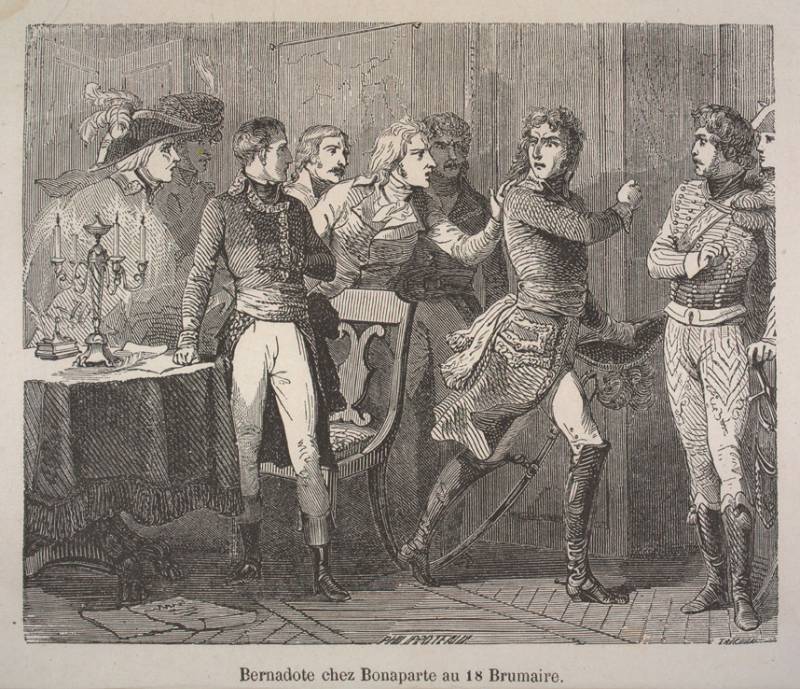 However, Napoleon no longer considered Bernadotte a "Roman". Then he told the future consul Cambaceres:
"You shouldn't be afraid of him. He will grimace, make a speech about his fiery Jacobin faith and outrage against violators of the law, but will not undertake anything serious against us. "
In 1800-1801, Bernadotte led the army against the rebellious Vendée, crushing the last pockets of resistance.
In 1802, he was suspected of participating in the so-called Rennes conspiracy of generals and senior officers. And in the future, his name periodically "surfaced" during the investigation of republican conspiracies. But, as we remember, Bernadotte was a member of the Bonaparte family and the husband of Napoleon's first bride. And therefore, these accusations had no consequences for him.
Marshal Bernadotte
In 1804, during the coronation ceremony of Napoleon, Bernadotte carried the chain of the Legion of Honor, and his wife carried Josephine's headdress (which did not give Desiree the slightest pleasure).
The next day, Bernadotte was included among the first marshals, and then received the post of military governor of Hanover.
In 1805, Bernadotte commanded the I Corps of the Grand Army, which took part in the battles of Ulm and Austerlitz. Under his leadership, this corps occupied Ingolstadt and Salzburg. As a result of this campaign, Bernadotte received the title of Prince of Pontecorvo.
In 1806, Bernadotte's corps, located between the troops of Napoleon and Davout, defeated the Prussian units of General Blucher that were opposing him at Halle. He pursued them as far as Lubeck, forcing them to surrender (November 7).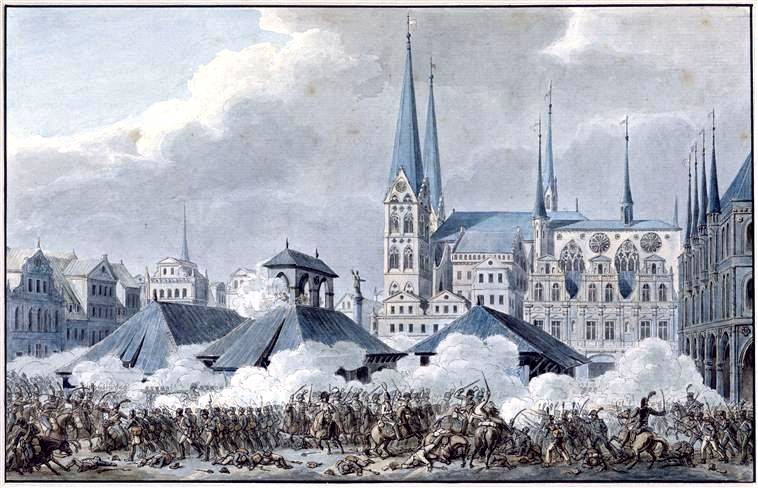 The Battle of Lübeck, 7 November 1806. In a drawing by an unknown artist, Prussian and French troops are fighting on the Market Square in front of the Town Hall
It was here that Bernadotte captured about a thousand Swedes, led by Colonel Merner. The gentle and humane treatment of them later played a big role in his fate.
In January 1807, Bernadotte's formations took part in the vanguard battle with the Russian troops at Moruagen. Here he lost the secretary who was captured and the indemnity collected from the Prussian cities, but gained time to concentrate his troops in Osterode and the approach of Bonaparte's main forces.
After the conclusion of the Tilsit Peace Treaty, Bernadotte was appointed commander of the troops in Northern Germany and Denmark, and then - the governor of the Hanseatic cities.
In 1809, in the battle of Wagram, the IX corps headed by him acted unsuccessfully and did not achieve much success, while losing from a third to half of its personnel.
Then Bernadotte managed to repel an attack by the British on the Dutch island of Walcheren.
On the way to the throne
Meanwhile, a dynastic crisis was brewing in Sweden, caused by the absence of heirs from the ruler of this country, Charles XIII (in the Russian-Swedish war of 1788-1790, he commanded
fleet
, became king of Sweden only in 1809 at the age of 61).
The mental and physical condition of this monarch did not leave hope for a successful resolution of this issue. And then in Sweden they remembered the humane prince Pontecorvo - Jean Baptiste Bernadotte.
The most curious thing is that in this way the Swedes intended to establish friendly allied relations with Napoleon. With the help of the French emperor, they hoped to get Finland (which was part of the Russian Empire) and Norway (which was part of the Danish kingdom). So, if he wanted, Napoleon could easily end this intrigue, and there would be no Bernadotte dynasty in Sweden now.
Carl Otto Merner, who was just leaving on a diplomatic mission to Paris, undertook to "probe the soil".
According to another version, entering into such negotiations, Merner acted at his own peril and risk. One way or another, in Paris, he met both Napoleon and Bernadotte, who reacted very favorably to his proposal. The emperor, however, tried to take from Bernadotte a written commitment not to fight against France, but, encountering resistance, did not insist. Apparently, Bonaparte decided to rely on the patriotic and family feelings of this marshal.
A very beautiful combination was outlined: the husband of one of Clary's sisters, his brother Joseph - the king of Spain, the husband of the other, Bernadotte - governs Sweden. In the Netherlands, at first, another brother of Napoleon, Louis, was planted by the king, and then this country was completely annexed to France. Bonaparte Murat, married to Caroline, is sitting in Naples. The King of Denmark is an ally of France. Russia, according to the Tilsit Peace Treaty, must comply with the terms of the Continental Blockade. And Britain has closed almost all entrances to the continent.
To facilitate the election of Bernadotte, the emperor dismissed him from the French service, but later honored him with the title of baron of the empire.
But Bernadotte had his own plans, and he secretly met with Colonel Chernyshev, who represented Alexander I. In a conversation with him, in exchange for agreeing to see him as heir to the Swedish throne, he promised to abandon his anti-Russian policy.
After Merner's return to Stockholm, a Diet was convened in Sweden (in Erebro) to elect the heir to the throne. Here, on July 23, 1810, an official decision was made to transfer the crown to Bernadotte, subject to his acceptance of Lutheranism. The former Marshal, who had recently been known as a fiery republican, immediately agreed to become the Lutheran king and went to Stockholm.
Crown Prince and Regent of the Kingdom of Sweden
On August 21, 1810, Bernadotte was elected Crown Prince.
October 20 - converted to Lutheranism, October 31 - was presented to the meeting of Swedish government officials. Finally, on November 5, 1810, he was adopted by the reigning monarch, Charles XIII. After that, Bernadotte, declared regent, actually began to rule Sweden. Already on November 17, 1810, he formally declared war on England, and also issued a decree on Sweden's annexation to the Continental Blockade.
But friction with Napoleon began almost immediately - over the continental blockade, of course. Bernadotte said with irritation that he did not want to be "prefect or officer of the customs guard at Napoleon." However, what is there to be surprised if the continental blockade was secretly violated by the Neapolitan king Murat, married to Napoleon's sister, and by Bonaparte's brother Louis, whom the angry emperor even deprived of the crown of the Netherlands in 1810.
Bernadotte finally took offense at Bonaparte after French troops occupied Swedish Pomerania in January 1812. Napoleon, however, offered him to enter the war with Russia, promising after the victory Finland, Mecklenburg, Stettin and monetary compensation, but Bernadotte did not believe him.
In early April 1812, he went to sign a secret agreement with Russia behind Bonaparte's back. And in August, during a personal meeting with Alexander I in Abo (Turku), an agreement was concluded, according to which Sweden was to enter the war against France in exchange for a guarantee of the annexation of Norway (at that time it belonged to the allied France of Denmark). As an advance, Bernadotte received the Russian Order of St. Andrew the First-Called. But, of course, he was in no hurry to fight France, and then he did not show much zeal - not out of patriotic and sentimental motives, of course. Pure and unclouded pragmatism.
In March 1813, Bernadotte signed a treaty of alliance with England (and received British subsidies). Then he signed allied treaties with Austria (March 13, 1813) and with Prussia (April 22, 1813).
In Sweden, a corps of up to 28 thousand people was formed, which landed in Pomerania. Here Bernadotte led the one hundred thousandth allied Northern army, in which there were more Prussians and Russians than Swedes. Together with her, at the Battle of Großberen (23 August 1813), he defeated 4 corps of Marshal Oudinot, not allowing him to capture Berlin and establish contact with Davout, operating near Hamburg.
However, it should be said that the former Napoleonic marshal did not at all strive for battles, his slowness and indecision infuriated the allies. The awarding of Bernadotte with the highest military orders of Russia, Austria and Britain did not help either.
To the personal representative of Alexander I, Count Rochechouar, he explained his behavior as follows:
"My friend, think for yourself, in my position the greatest caution is needed ... I need to maintain my fame, I must not abuse it: my fate depends on the battle, if I lose it, no one in all of Europe will lend me a single ecu ".
Then Bernadotte took part in the Battle of Leipzig. Then he attacked Denmark. Already on January 14, 1814, he signed the Kiel Peace Treaty with the Danes, exchanging the former Swedish Pomerania for Norway. After that, leaving his troops in Holland, he went to Paris, already occupied by the allies.
Here at this time there was a big game of different parties, the stake in which was the royal throne of France. Various candidates were considered, including Eugene Beauharnais and Bernadotte. However, the victors eventually gave the throne to the Bourbons. As you know, nothing good came of it. And already in 1830, the French finally got rid of this dynasty.
The right to live according to their own understanding was then denied not only to the French, but also to the Norwegians.
On May 18, 1814, a Constituent Assembly was convened in Eidsvold, Norway, which drafted a constitution and proclaimed Danish prince Christian Friedrich as king of Norway.
Of course, the "Great Powers" were not going to endure such "impudence". With their consent, Bernadotte's Swedish army invaded Norway. On August 14, 1814, the Norwegians were forced to conclude an agreement of personal union between Sweden and Norway, and on November 4, Bernadotte was recognized as king of Norway.
But there were also more powerful predators: on June 7, 1815, the Swedes were forced to give Pomerania and the island of Rügen to Prussia.
Bernadotte - King of Sweden and Norway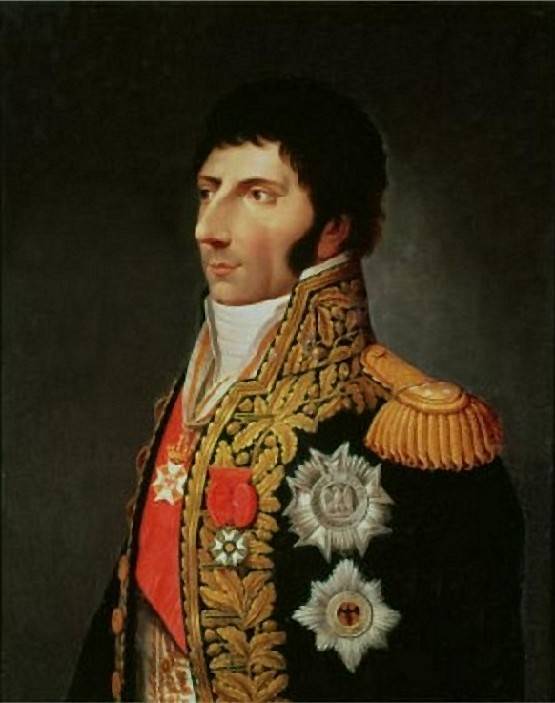 J. Ya. De Lose. Portrait of Karl XIV Johan
On February 5, 1818, the nominal king Charles XIII died. The Swedish throne (more precisely, the thrones of Sweden and Norway) was ascended by Karl XIV Johan - that was the coronation name of Bernadotte. And in Norway, Bernadotte is known as Karl III Johan.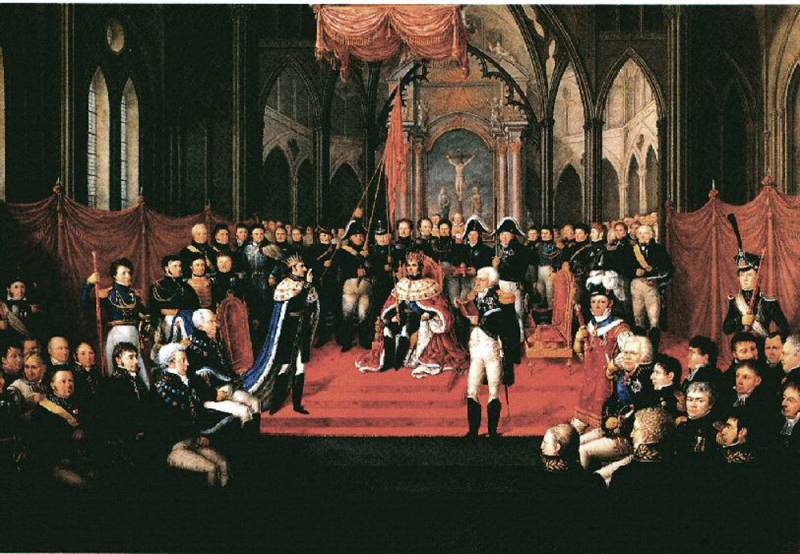 Jacob Munch. Coronation of Crown Prince Bernadotte by King of Sweden and King of Norway at Nidaros Cathedral (now Trondheim)
Emile Mascre, Karl XIV Johan
Bernadotte never learned the Swedish language; he treated the cuisine of his kingdom with contempt, making an exception only for baked apples. The food for him was prepared exclusively by French chefs. At official dinners with Swedish cuisine, a boiled egg was placed on a stand in front of the king - he could not eat anything else.
At the end of his life, the former marshal was often ill and was very lazy: he practically did not get out of bed, earning the nickname "bed monarch" in Europe. Perhaps that is why, under Bernadotte, Sweden finally moved away from an active foreign policy. After 1828, the new king entrusted almost all state affairs to his Riksmarshal, Count Magnus Brahe.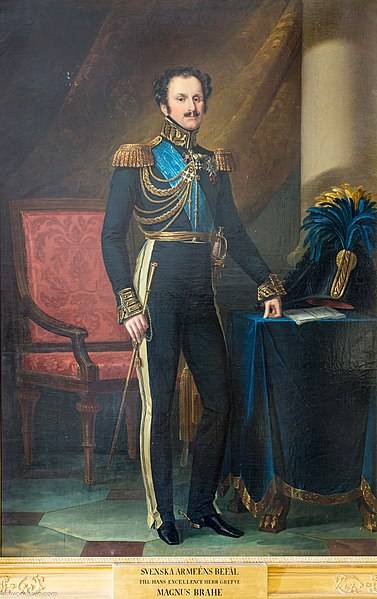 Magnus Brahe. Portrait by an unknown artist
Did not like Sweden and Queen Desideria (Desiree Clari), who tried to spend as little time as possible in her kingdom.
"Don't tell me about Stockholm, I catch a cold as soon as I hear this word",
- she said to her friends in Paris.
In 1829, the reign of the former Napoleonic marshal was overshadowed by a bloody crackdown on a demonstration in Christiania (Oslo).
The fact is that on May 17, the Norwegians decided to celebrate the anniversary of the adoption of the Constitution of 1814 (which has been prohibited since 1827). The Swedish governor-general Balzar von Platen ordered the troops stationed in the city (including cavalry) to disperse the people. In the dump, many people were trampled by horses or stabbed with bayonets (the exact number of victims is unknown), and more were injured and injured. V
history
this incident came under the title "The Battle of the Grand Place".
After that, riots broke out in Norway in many other cities, also brutally suppressed.
In 1836, Bernadotte (who in 1833, in a conversation with the historian Jean-Jacques Ampere, the son of the famous physicist, modestly called himself "the only republican among the monarchs of Europe") and completely dissolved the Norwegian parliament, which demanded more rights for his country.
Bernadotte died on March 8, 1844 at the age of 81. There is a well-known legend that in preparation for the embalming of the body of the deceased Bernadotte, a tattoo was found on his chest with the inscription: "Death to kings!"
In fact, the tattoo was on the arm and, according to a more reliable version, the inscription was different: "Long live the republic" (Vive la Republique).
Oscar's son succeeded to the throne. By the way, he was married to the eldest daughter of Bonaparte's stepson Eugene Beauharnais - Josephine.
In this painting, painted in 1837 by Fredrick Westin, we see the royal family: the former Marshal himself, Desiree, their son and wife, grandchildren and granddaughter: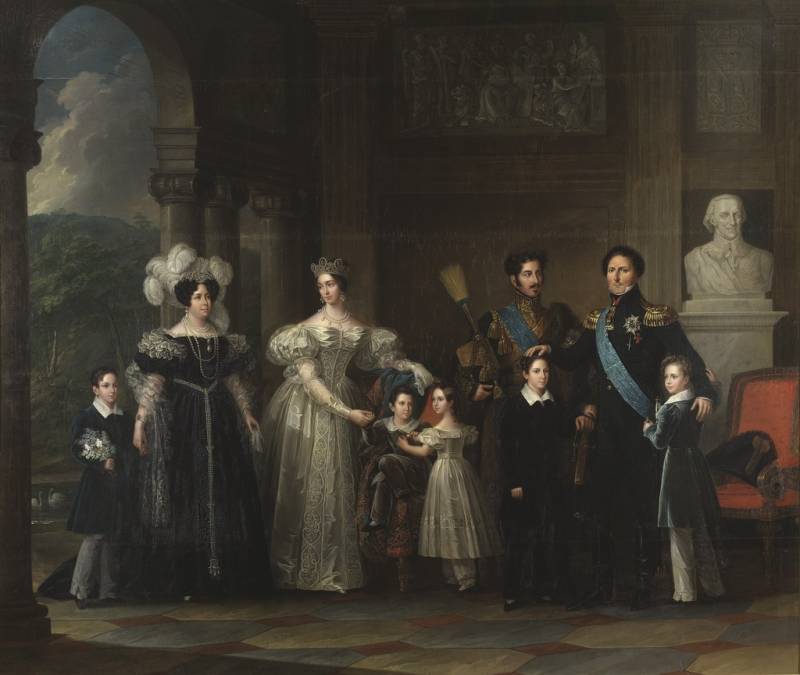 Currently, the seventh member of the Bernadotte dynasty is the king of Sweden.