They are again working with Soviet-style equipment: a modernized BMP-1M infantry fighting vehicle was presented in Ukraine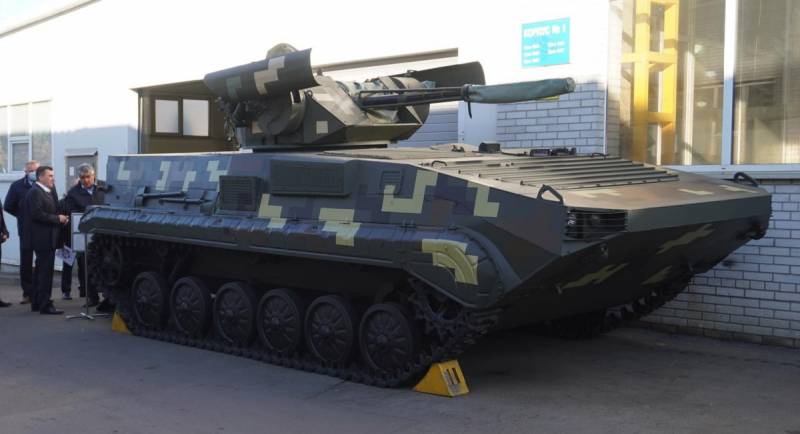 In Ukraine, they continue to develop options for the modernization of Soviet technology, trying to create modern weapons on its basis. A presentation of new developments based on the BMP-1 and BTR-60 was presented by the Kiev company "Praktika", which is a manufacturer of special automotive equipment.
The new developments were shown to the head of the National Security and Defense Council of Ukraine, Alexey Danilov, who visited the enterprise. Of the samples presented, attention is drawn to a new infantry fighting vehicle developed on the basis of the Soviet BMP-1 with "a radical rethinking of the original concept."
As stated, the new BMP received a different troop compartment with landing seats located along the sides, the rear doors-fuel tanks were replaced with a folding ramp, and the height of the vehicle was also increased. The main difference from the Soviet BMP is the installation of a new module "Spear-Sintez" of Ukrainian design. The armament of the module includes a 30-mm automatic cannon, a 7,62-mm machine gun, a 30-mm automatic grenade launcher, an ATGM Barrier with two missiles and six 81-mm launchers of smoke aerosol grenades.
In addition, Danilov was shown a modernized BTR-60M called "Khorunzhiy". As stated by the developers of the armored personnel carrier, this vehicle is a "deep modernization" of the BTR-60. The car retained its "native" suspension, but the engine was replaced. Instead of two engines, one Deutz diesel engine with an Allison automatic transmission is installed, and in the front of the car. The airborne compartment has been increased, and it is also announced that the armor and mine protection will be increased.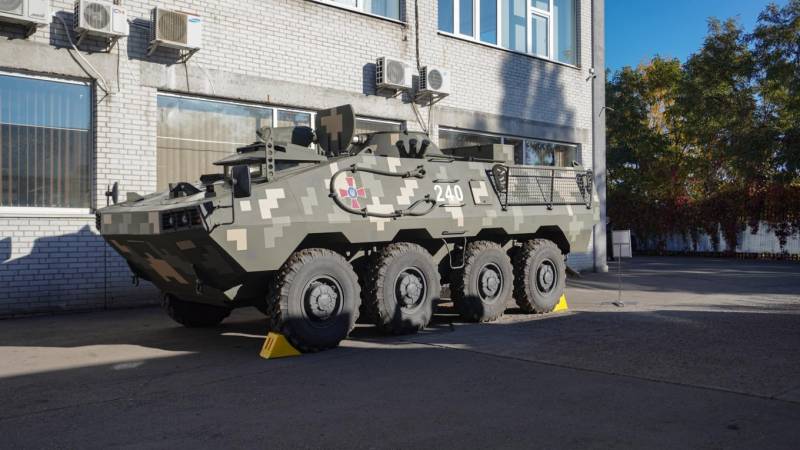 Well, for a snack, the Ukrainian armored vehicle "Kozak 2M1" was presented with a Turkish-made SARP NSV Aselsan remotely controlled combat module installed.