Released as part of state tests of the Knyaz Oleg submarine, the Bulava ICBM hits a target in Kamchatka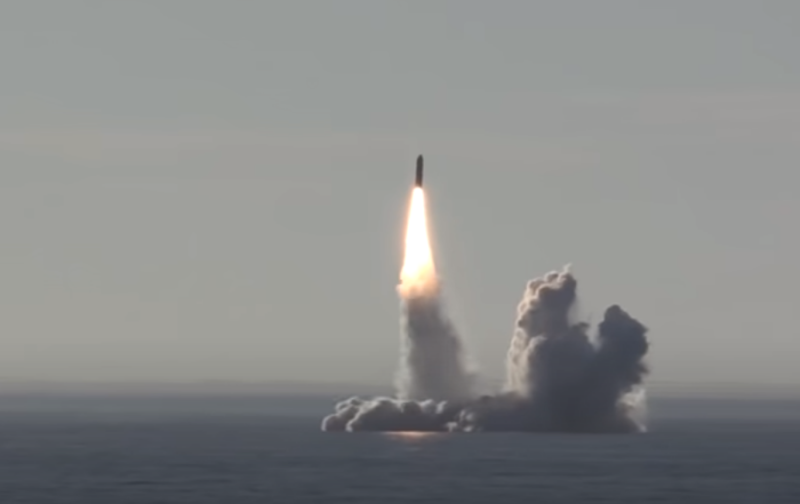 The first serial nuclear-powered strategic missile cruiser of the upgraded Borey-A project, Prince Oleg, fired a Bulava ballistic missile. According to the Ministry of Defense, the missile launched as part of state tests hit a target in Kamchatka.
The submarine was fired as part of state tests. APRKSN "Prince Oleg", being at one of the sea ranges of the Northern
fleet
in the White Sea, launched the Bulava ICBM at the Kura training ground in Kamchatka. The rocket was launched from a submerged position.
As reported in the military department, the missile warheads "arrived in the specified area" at the estimated time. The defeat of the target is confirmed by the data of objective control.
Judging by the published data, the state tests of the submarine missile carrier are a little ahead, since earlier test firing was planned for November and was supposed to be carried out from the water area of ​​the Barents Sea.
The first serial "Borey-A" "Prince Oleg" entered the factory sea trials at the end of May. As previously announced at "Sevmash", the transfer of APRKSN "Knyaz Oleg" is scheduled until the end of the year. According to reports, the submarine missile carrier will become part of the Pacific Fleet, although earlier it was planned to leave it in the North.
After joining the Navy, Knyaz Oleg will become the fifth submarine missile carrier of the Borey project, joining the strategic missile cruisers of Project 955 Yuri Dolgoruky, Alexander Nevsky, Vladimir Monomakh and Project 955A Knyaz Vladimir.