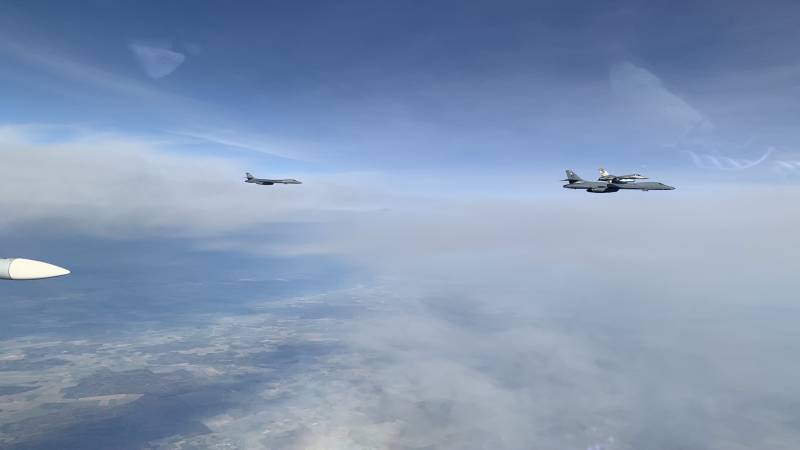 American strategic bombers B-1B Lancer continue overflights near the Russian border, this time by a pair of US Air Force strategists trying to practice striking near Crimea. According to the National Defense Control Center, Russian fighters were taken into the air.
A pair of American strategic bombers B-1B Lancer flew over the Black Sea. According to the European Command of the US Air Force, in some areas of the flight, the bombers were accompanied by fighters of the Air Forces of Romania, Poland and Canada, as well as two KC-135 air tankers.
According to a post on the official Twitter page of the US Air Force Command, the bombers were "on a mission" of anti-ship operations, ie. practiced striking enemy ships. The ships and vessels of the Black Sea region acted as a conditional target for American strategists.
fleet
who went to the exercises in the waters of the Black Sea. According to available data, up to 40 ships of the Black Sea Fleet participate in them.
The approach of air targets to the Russian border was detected by air defense systems of the Black Sea Fleet, for their identification a pair of Su-30SM naval fighters was raised into the air
aviation
Black Sea Fleet. Russian fighters forced the crews of American strategists to change course and go the other way.
According to the press service of the Black Sea Fleet, the Russian SU-30SMs safely returned to their home base, without violating the state border. It is not known whether the Americans managed to complete the "mission", there are no official reports from the US Air Force command in Europe.
The Ministry of Defense emphasized that recently the number of flights of strategic bombers of the US Air Force near the Russian borders has significantly increased. As previously stated in the Pentagon, the task of the bombers' crews is to study a possible theater of operations.