Unmanned aerial vehicles "Orion" and "Forpost-R" are able to find important objects deep in enemy positions, transmit coordinates and illuminate targets with a laser - the rest of the task is performed by artillerymen, inflicting effective damage with precision warheads. The Krasnopol armor-piercing projectile and the Gran 'high-explosive fragmentation mine are practically invulnerable to the air defense system: they cannot be intercepted or neutralized by means of electronic warfare.
The effectiveness of the interaction method
drones
with artillery units was tested in the conditions of combat missions in Syria. On December 31, 2017, militants launched a mortar attack on the Khmeimim air base. In response to the location of the aggressor, Krasnopol projectiles were sent by an unmanned aerial spotter. In the future, according to the principle of "One target - one shot", high-precision armor-piercing shells in Syria destroyed underground bunkers and other point targets.
Now the proven practice of using UAVs to help artillerymen begins to be introduced everywhere in the course of performing training tasks. So, in August this year, during the exercises of the Central Military District, camouflaged armored targets were destroyed from self-propelled howitzers "Msta-S" with the help of drones and "Krasnopolye". The shooting was carried out at a target range of 10 to 16 kilometers.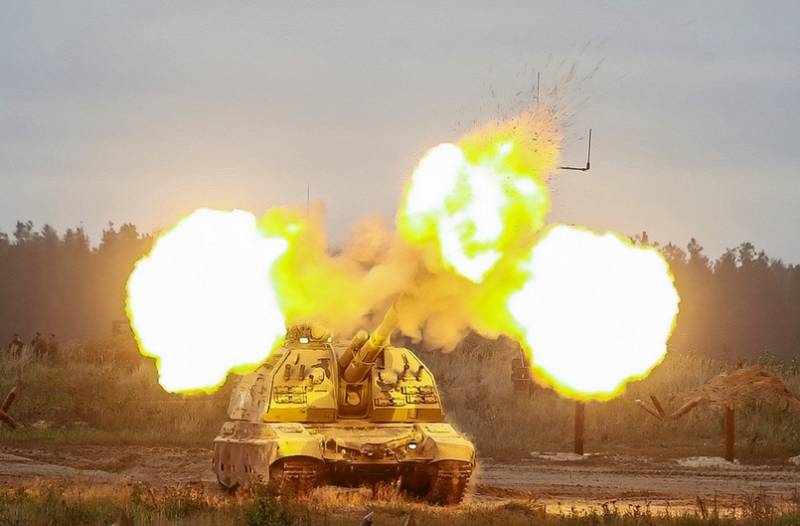 The Forpost-R Orion devices in September of this year were
involved
while practicing strikes with high-precision ammunition "Krasnopol" and "Gran" at the "Mulino" training ground. The flight of an armor-piercing projectile directed to the target along the laser mark is corrected with the help of rudders at the end of the trajectory. The Gran 'ammunition, designed for firing from 120-mm mortars, has a built-in laser homing head.
According to experts, the characteristics of the UAV and the use of laser technologies, coupled with the impact potential of a high-precision
weapons
capable of qualitatively changing the capabilities of modern artillery. The drones of the Orion and Forpost-R models can stay in the air for quite a long time, and the corrected high-precision ammunition hit right on target. With proper use, such a bundle will allow you to more effectively decide the outcome of the battle in your favor.