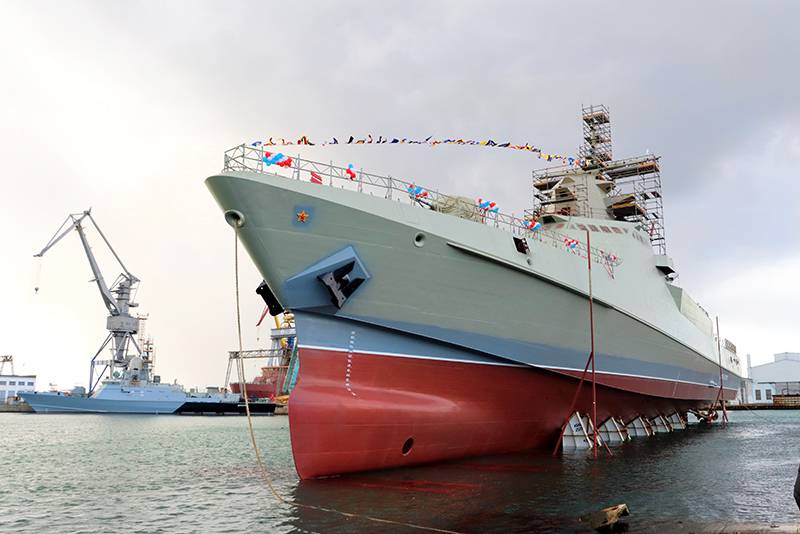 The Russian Ministry of Defense announced the timing of admission to the Black Sea
fleet
the fourth patrol ship of project 22160 "Sergey Kotov". The ship is being completed at the Zaliv shipyard in Kerch.
According to the press service of the military department, at present "Sergei Kotov" is preparing to undergo factory sea trials, which will begin in the near future. Prior to this, the ship was completed and passed the stage of mooring tests. Factory running gear will smoothly turn into state ones, after which the patrol ship will be transferred to the Black Sea Fleet.
Reportedly, "Sergei Kotov" will become part of the ship formation of the Novorossiysk naval base by the end of the year. The exact date of the ceremony of raising the Andreevsky flag is not given.
The patrol ship "Sergei Kotov" was named in honor of the Hero of the Soviet Union, participant in the defense of Odessa and Sevastopol, the liberation of Novorossiysk and Crimea, Rear Admiral Sergei Kotov. It is the fourth ship of Project 22160 and the third production ship in a series of six ships. Laid down on May 8, 2016, launched on January 29, 2021. The entire series is intended for the Black Sea Fleet, the first three ships are already in service, two more are being completed in Zelenodolsk.
Project 22160 patrol ship (corvette) has a displacement of 1700 tons and is capable of speeds up to 30 knots. Cruising range - 6000 miles, autonomy - 60 days. The crew is 80 people. On board, the Ka-27PS helicopter is based. As standard weapons, the corvettes are equipped with a 76-mm artillery mount, anti-aircraft missile system and machine guns. A place is provided for the placement of various modules (RCC, missiles, electronic warfare, etc.), depending on the tasks performed.