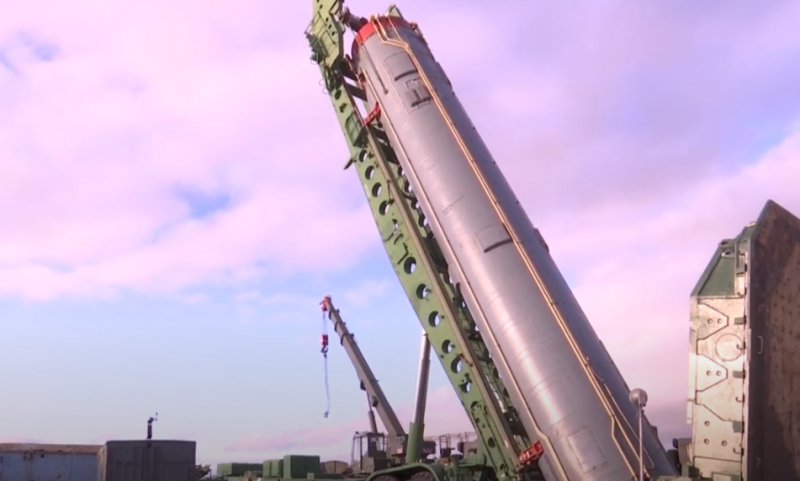 Soviet-made intercontinental ballistic missiles UR-100N UTTH (RS-18B, according to the US classification - SS-19 Stilleto Stiletto) will remain in service with the Strategic Missile Forces at least until 2023. Alexander Leonov, general director, general designer of NPO Mashinostroyenia, said that the service life of the ICBM has been extended.
The fact that Russian specialists intend to extend the service life of the UR-100N UTTH ICBM was reported in April this year. As Leonov said at the time, work to extend the service life of the missiles is carried out annually and the Stilettos will be kept on alert until they are completely replaced with modern missile systems.
It is emphasized that the UR-100N UTTH ICBMs have been on alert for a very long time. At present, the Stiletts are being routinely replaced by the Yars complexes. In the spring of 2021, the Strategic Missile Forces had 50 UR-100N UTTKh ICBMs out of 150. It is the RS-18B that are carriers of the Avangard hypersonic units, later they will be replaced by the new Sarmat ICBMs, the first of which will be on alert at the end of next year ...
The UR-100N UTTH missiles already have the longest periods of being on alert. To date, these terms have been extended over 37 years, which ensures the operation of the complex in accordance with the plans of the Strategic Missile Forces
- leads
RIA News
words of Leonov.
It should be noted that the UR-100N UTTKh ICBMs being removed from service are not disposed of; they are used as launch vehicles for launching a little more than 2 tons of payload into orbit. On the basis of this ICBM, the Khrunichev Center has developed the Rokot rocket - a liquid-propellant three-stage light-class launch vehicle. The first launch of "Rokot" took place from the Plesetsk cosmodrome on May 16, 2000. The last one is August 30, 2019. At present, it is planned to resume the Rokot flights; the missile received a Russian control system instead of a Ukrainian one.