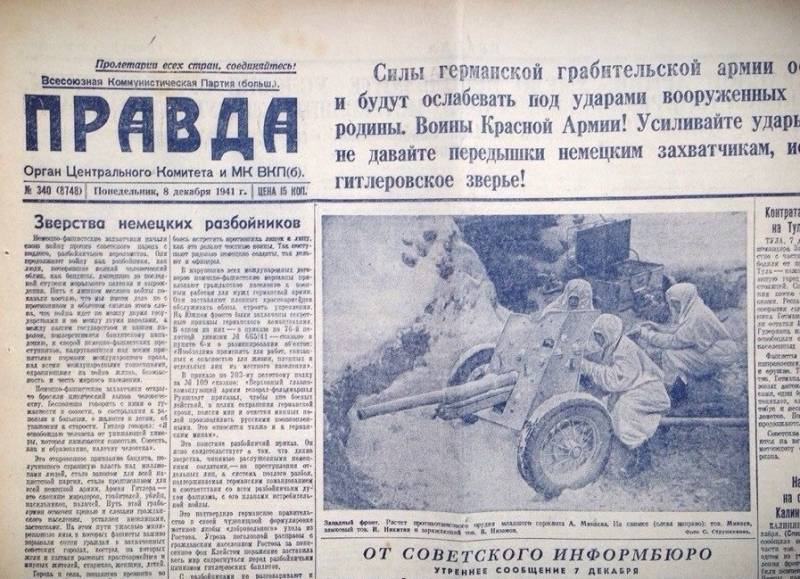 [right] Let as a witness confirm by right:
Yes, victory was not easy for us.
Yes, the enemy was brave.
All the more our fame.
K. M. Simonov [/ right]
Numbers stories War.
Not so long ago, VO published an article by Roman Ivanov "Soviet
Tanks
at war". And, as always, it sparked widespread controversy. Including the data on the losses of the sides in tanks. For what else, if not the data on losses, make it possible to judge both the quality of the material part itself, and about the military skill of those who use this material part, and about the capabilities of the war industry of the parties involved in the war?
Usually, participants in such discussions use the most accessible - the resources of the Internet system and, in order to quickly respond to an opponent, refer to facts from various "living journals" and publications, the authors of which often do not even cite references in their books. Although there are, of course, examples of the opposite, and data from archives.
[Center]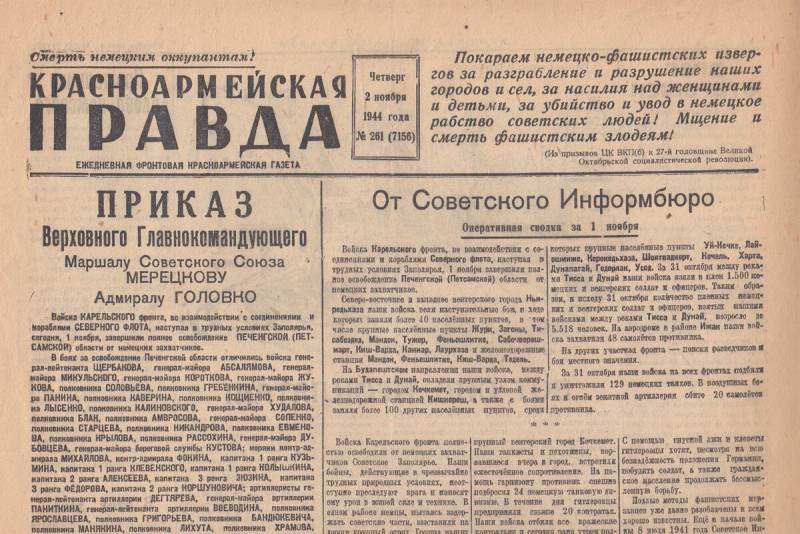 That is, no matter what newspaper you open, it would necessarily contain a message from the Soviet Information Bureau ...
However, the most interesting source for some reason was ignored in our country for a long time.
What is the source?
Well, the newspaper Pravda, the propaganda organ of the Central Committee of the All-Union Communist Party (Bolsheviks), was absolutely official and very authoritative in its time. Almost from the very beginning of the war, messages from the Soviet Information Bureau appeared in it. His materials were also transferred to
the news
on the radio, and all the newspapers in the country were reprinted regularly.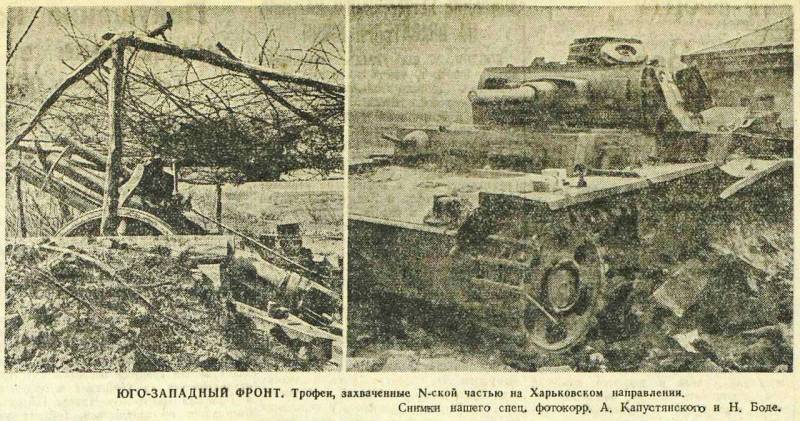 The newspapers printed very important photographs from the point of view of information visualization, although they clearly should have been given more!
Here a very important question must be resolved: is it possible to trust them, after all, propaganda is propaganda?
However, before starting to sweep aside the credibility of this source, one should nevertheless read the Pravda newspaper. And not even from June 22, 1941, but, say, from the beginning of the Spanish Civil War.
When reading it, it is impossible not to notice the peculiarities of the presentation of the material: here they smashed a convoy, here - 200 Francoists surrendered, and so many rifles and a machine gun were captured. And then, like a tub of cold water: Republican troops left Santander.
Tanks "Matilda" near Moscow. Large photo on the front page. Meaning: "We are not fighting alone, even the British help us"
The Soviet Information Bureau also constantly informed that the Red Army was beating the Germans here and there, about the Germans who surrendered or captured in the very first days of the war, captured trophies, and only then it was reported: "Our troops left Kiev." Here is an example of one such message: "On June 22 and 23 we captured about five thousand German soldiers and officers" (Izvestia, June 24, 1941, No. 147, p. 1).
However, here involuntarily our people had questions: after all, if we beat them there and beat them here, and there they surrendered, flew over to us by plane, then why are we retreating?
Although, of course, no one dared to ask such questions out loud. Well, what can we do if our journalists did not yet know how, and even now they do not always know how, "to observe innocence and enjoy it", and either they were not taught this, or they themselves (and "above") then considered that for the most part our people will do well.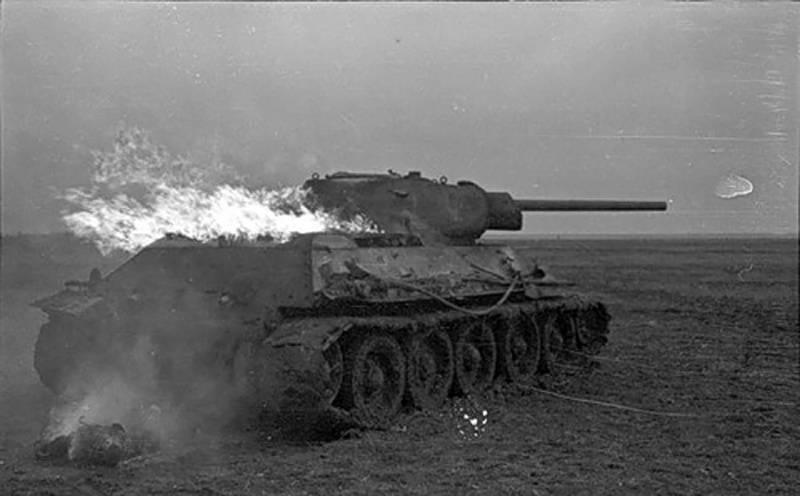 And here are the losses. Ours ... "thirty-four" is burning. Someone likes to write that diesel tanks "did not burn". They were burning, and how ...
Numbers are another matter.
It was dangerous to lie here, because German newspapers and publications of neutrals (and allies!) Could easily catch you on gross exaggerations, which would give them the opportunity to write about ... the "unreliability of Soviet propaganda" in general.
And it's quite one thing to write about a fight that ended in our victory, invented by one idle journalist - there were thousands of battles, who will check it? And another thing is to report the wrong number of tanks and aircraft lost in battles. Both we and they have loss logs. And although, of course, discrepancies will be inevitable, the figures are the most reliable thing that was published in our newspapers at that time.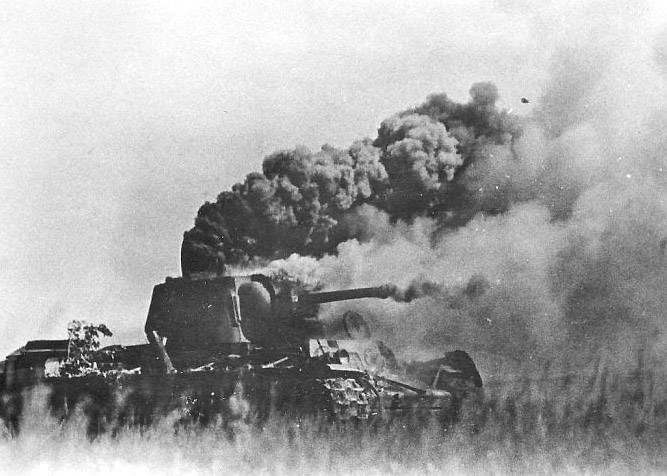 Heavy tank KV, which an enemy shell turned into a real crematorium
After all, the role of numbers is very clear.
It was not for nothing that on July 10, Pravda pounced on the Nazis so vehemently in its article: "Arabian Tales of the German High Command or Six-Week Results of the War" (Pravda, No. 218, p. 1). You, they say, report about 895 killed, wounded and captured ... Where is this from ?! What are the 000 13 thousand tanks, 145 10 guns and 380 9 aircraft lost by our army? You Germans actually lost 082 tanks, and we only lost 6!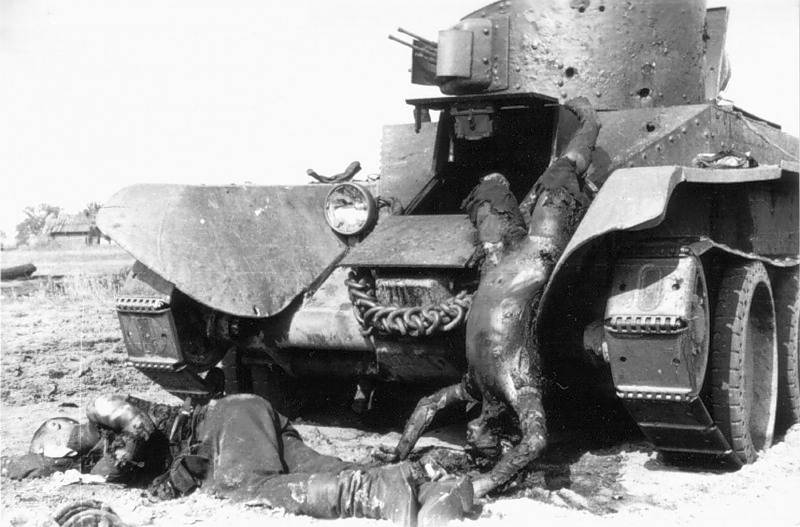 And this is also our "tank", and these are also our burned-out tankers ... That is, "this" was still in use in 41, and "this" was still used to fight successes! Although, most likely, they fought for a very short time ...
Meanwhile, there was no need to write such a thing at all. It is impossible, categorically impossible to give comparative information, and even more so to argue with the numbers given by the enemy. The enemy always lies unambiguously! This logic of propaganda should have been present among journalists.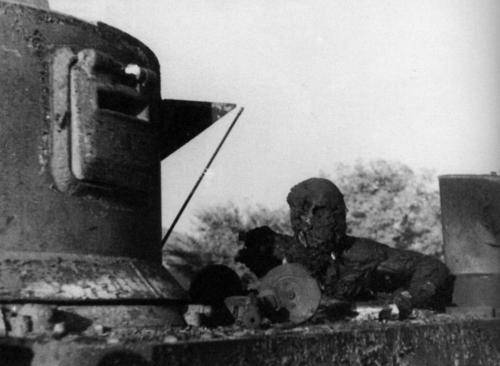 But this tanker fought in the Lend-Lease M3 "Stuart" tank. I wanted to escape from it, but did not have time ...
Elementary, isn't it?
Only here Pravda, with a tenacity worthy of a clearly better application, continued to "denounce the Germans" and give comparative information - this is with us, and this is with them.
For example, on Saturday, August 23, in No. 233 on its very first page, she reported that the Germans, they say, write that the losses of the Red Army amounted to: 14 guns, 000 tanks, 14 aircraft, 008 million soldiers killed and wounded and 11 million prisoners. In fact, our losses are as follows: 000 thousand killed, 5 thousand wounded, 1 thousand missing (it was impossible to write this, because it opened the way for the most negative conjectures), that is, only about 150 thousand were out of action, and still lost 440 tanks, 110 guns and 700 aircraft. Here, they say, how they lie! Meanwhile, after the shapkozakidatelnyh articles and slogans of the 5s, and these figures seemed simply monstrous.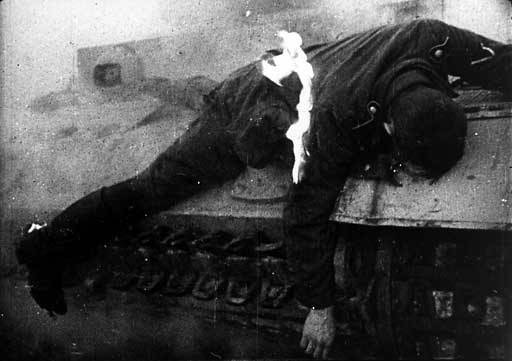 But this is a German tanker who burns out. Well, after all, no one invited him to visit us!
At the beginning of the war, several materials appeared about the German pilots who flew to us, who even called ... their addresses.
Have they forgotten everything about the Gestapo?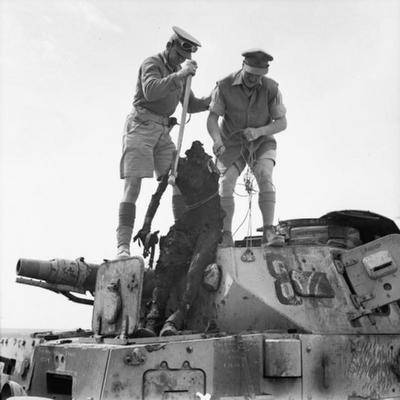 The British in North Africa removed the German tankers from the burned-out vehicles with these. However, we, and our allies, and our opponents had to do a similar job of cleaning up destroyed vehicles.
Taking into account the vicissitudes of the war, it was foolish to write that "Kiev is and will be Soviet", that our "Odessa is an impregnable fortress", that is, again, the nature of the impact of information in the style of "positive and then negative" was not taken into account by our journalists ...
But the numbers of losses, moreover, by day, should have been given. That was absolutely correct. And then let the people themselves count!
And it is clear that you could and should have underestimated your losses a little, but the enemy's losses, again, a little, but increase. But it turned out that way, of course. Someone honest gave truthful information from the front, someone underestimated or exaggerated. And on average, it turned out something close to the truth.
And it so happened that back in 1989, within the framework of the research work, my students worked with the materials of the Pravda newspaper for all 1 days of the war, and they wrote out all the data of the Soviet Information Bureau. There are final figures, there are intermediate ones, there are "day after day", which are also very interesting, but there are too many of them.
Therefore, we will focus only on the data for the month.
So, the figures for the losses of the German army in the first month of the war are as follows: 296 aircraft and 360 tanks.
July: 1 aircraft and 577 tanks. August: 918 aircraft and 580 tanks. In September: they lost 658 planes, and 1 tanks. In October: 033 planes, and 156 tanks. In November: 725 planes, but already 855 tanks. Finally, December: 566 destroyed planes and 1 tanks.
That is, according to the Sovinformburo, from June 22 to the end of December 1941, the losses of the Wehrmacht amounted to 5 aircraft and 380 tanks, respectively. In the same year, L. Gogolev's book about combat vehicles was published, and there were other figures: 5 tanks and 191 armored personnel carriers, destroyed during the same time.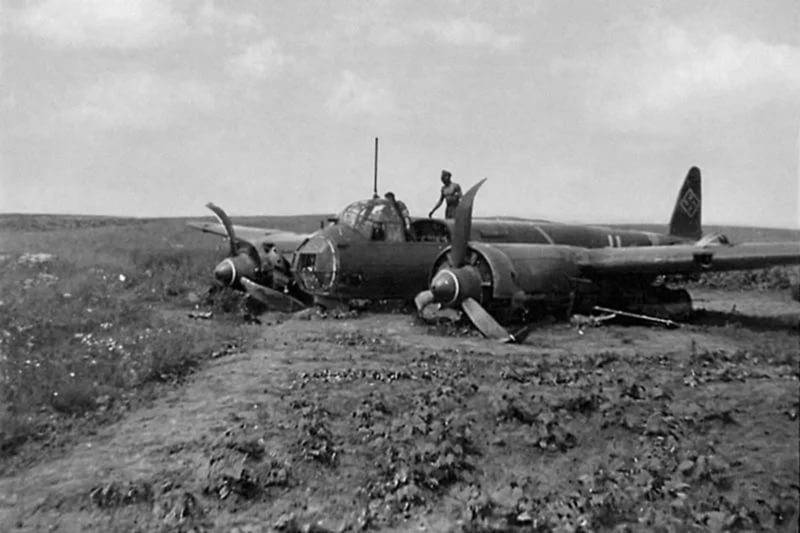 This Fritz was lucky at least in that he did not crash into the ground, but sat down on it!
In January 1942: 817 enemy aircraft were shot down, and tank losses amounted to 680 vehicles. February - 599 aircraft and 303 tanks. In March - 927 and 200; in April - 975 and 156; in May - 1 and 311; in June - 857 and 346; in July - 1 071 and 1 407.
In August, the loss figures were respectively: 641 and 755; in September (through October 3) 1 and 648; in October - 378 and 569; in November - 217 and 401. And December ended with a total of 178 and 756.
In total, in 1942, the Germans were destroyed: 10 401 aircraft and tanks - 7 024.
January 1943: 719/114. February: 614/555. March: 818/531. April: 1 205/638. May: 1 058/602. June: 1 864/835. July: 812/1 318. August: 2 727/2 736. September: 1 432/1 642. October: 1 806/2 762. November: 654/2 979. December: 621/2 077.
As you can see, in 1943 the figures increased significantly: 12 330 aircraft were destroyed, and 16 789 tanks were destroyed.
January 1944: planes - 1, tanks - 124, February - 2 and 792, March - 982 and 2, April - 383 and 1, May - 295 and 1, June - 456 and 1 416, July - 1 and 349, August (turned out to be very productive for tanks) - 1 and 229 tanks (!), September - 1 and 081, October - 967 and 1 912, November - 1 and 265, December - 2 and 177.
In total, in 1944, the Wehrmacht lost: planes - 13 and tanks - 259.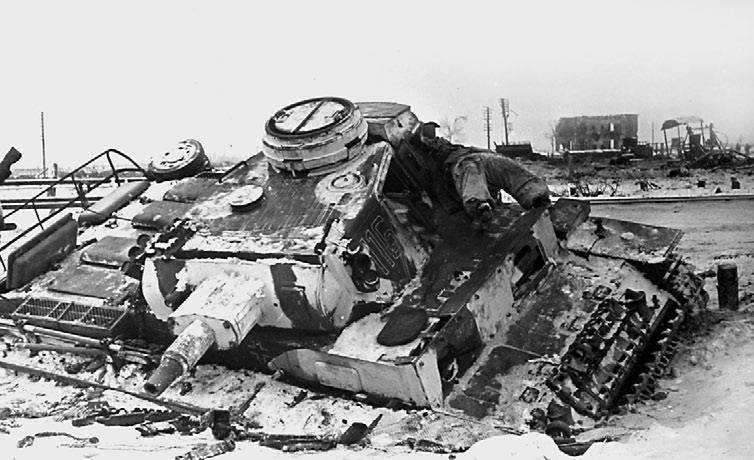 German Quartet near Moscow.
January 1945: 976 aircraft were destroyed, 2 tanks, February 818 and 1 (!), March 085 and 3, April 712 and 1.
Finally, the victorious May came, but in May we continued to destroy the enemy's equipment: 34 aircraft, 146 tanks!
In total, 1945 aircraft and 5 tanks were destroyed in 251!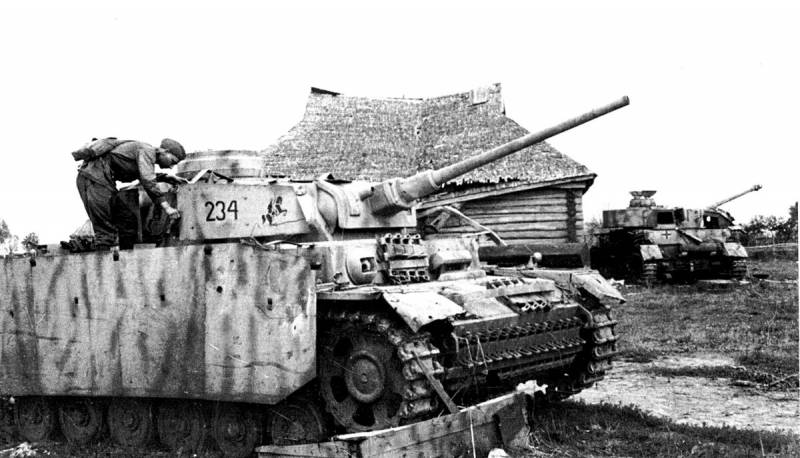 But this tank was not even saved by the armor screens! A Soviet soldier examines an abandoned German tank Pz.III Ausf. J. 1943
The most interesting thing is that no one forces anyone to trust these figures.
But you can take and independently compare them with figures from open sources, including memoirs and Internet resources.
It is important what kind of information this information had during the war years. On the other hand, it was necessary to calculate all these figures again after the war and give the final data on losses. And if they found a strong discrepancy with newspaper material, just say - "There was a hard war. Well, someone made a mistake, someone counted twice or ... did not count! " "Yes, it was not easy for us to win, the greater our glory." And that's it!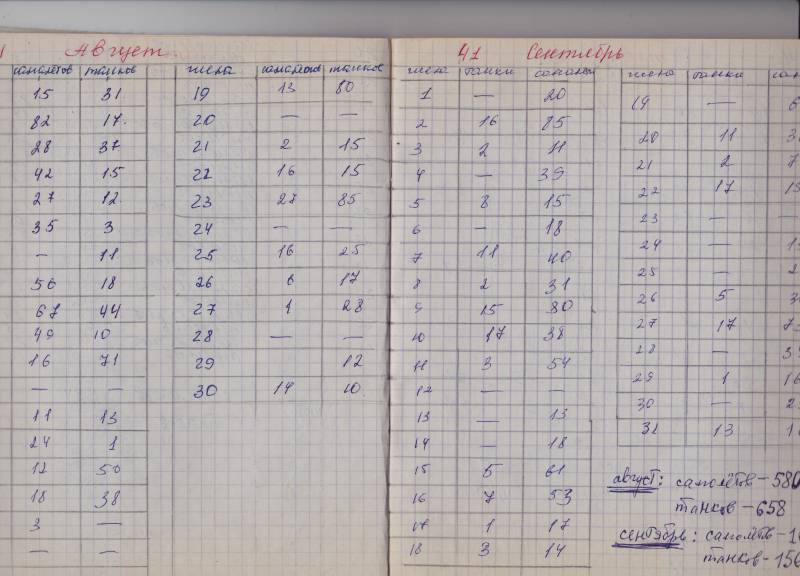 Here are the pages from the notebook, which contained data on the destroyed German tanks and aircraft, taken from the messages of the Soviet Information Bureau, recorded day after day. It is not necessary now to "shovel" all 1 newspapers!
And now the time has come for comparative information.
When I was preparing for publication the book "Tanks of the era of total wars of 1914-1945" (publishing house "Polygon", 2003), then, naturally, I cited on its pages the official figures of our losses in tanks during the war years.
And now, according to these official data, in 1941 (from June 22 to December 31), the Red Army lost 20 armored vehicles; in 500 - 1942 thousand; 15 - 1943 thousand; 22,4 - 1944 thousand; 16,9 (from January 1945 to May 1) - 10 thous.
Let's compare them with the data of the Soviet Information Bureau, which hardly made sense to underestimate the data of German losses. From June 22 to December 31, 1941 - 5 tanks and self-propelled guns; for 191 - 1942; 7 - 024 1943; 16 789; 1944 (January to May) - 22!
Thus, only in 1944 we destroyed more tanks from the Germans than we lost ourselves, and this fact speaks volumes.
We did not have fewer tanks than the Nazis, as our Supreme Commander-in-Chief IV Stalin stated more than once. We had more of them. But the ability to use them did not come to our military immediately.