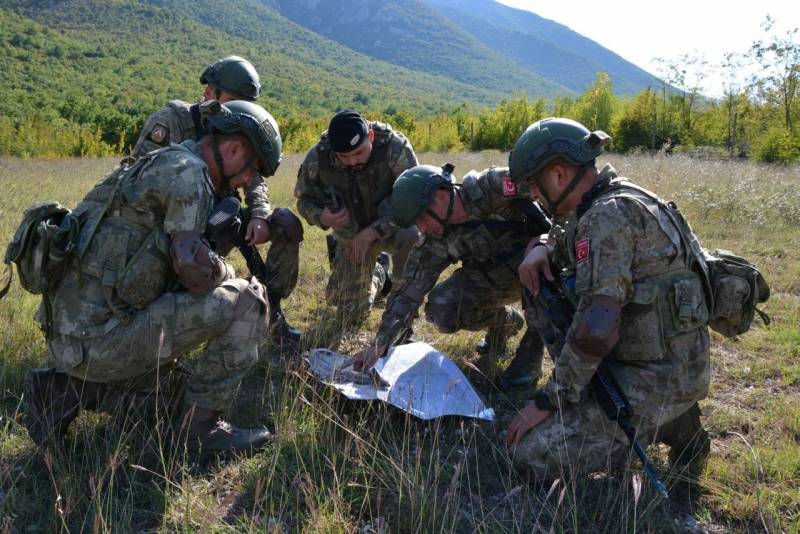 Turkish troops, together with controlled militants from the so-called "Syrian Free Army", continue shelling the territory south of the city of Azaz. The main directions of attacks are on both sides of the important route No. 214.
On the eve of "Voennoe Obozreniye" reported that Turkish armored vehicles made an attempt to advance (after artillery preparation) in the area of ​​the Milkia settlement to the west of the Minak military airfield. This airfield is under partial control of the Syrian army. However, the advance (offensive) did not last long, and was stopped.
If Turkish troops and FSA do not stop strikes in the Aleppo province, then for the Kurdish formations there is a serious risk of losing one of the major zones of control. It is a zone of control in the Tal Rifat area - north of Aleppo city. The loss of Kurdish control over this territory will automatically lead to the fact that the pro-Turkish militants will gain control of several thousand square kilometers of Syrian territory with a section of the mentioned (214th) highway, which connects Aleppo with the Turkish border.
Ankara will thus be able to expand the so-called buffer zone in the Syrian territory adjacent to its borders. Also, the Syrian military contingent, which is located in the area of ​​the Minak airfield, may find itself in a difficult situation.
Earlier, Turkish troops increased their concentration in northern Syria, and Erdogan threatened the Kurdish armed groups in the SAR with a full-scale military operation with "the complete destruction of the threats emanating against Turkey."
At the same time, Ankara is already facing a problem with Minak. Perhaps the operation in the Tel Rifat area would have been more full-scale than it is now, but in this case it would have to face not only Kurdish troops, but also the Syrian regular army, supported by Russia. That is why the offensive was stopped. And not at all because of the activity of the Kurdish detachments.
In Ankara, the inability to "cleanse" the territory of Kurdish militias due to the presence of the SAA is irritating. And in such a situation, the Kurds who control Tal Rifat can only hope that the Syrian troops will continue to be in the area, otherwise they (the Kurds), without support, will be swept away by Turkish troops and controlled militants.