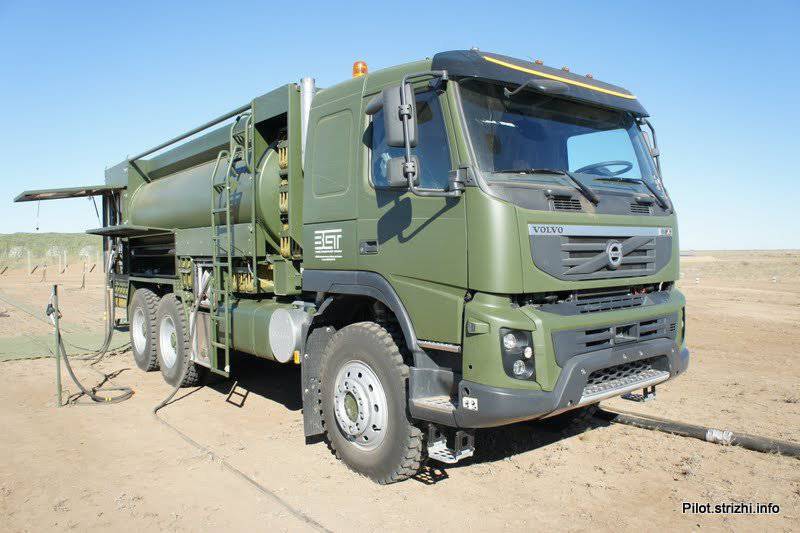 Passed tests in the Armed Forces of Russia automobile refueling complex 12-10FMX40 on the chassis of the Volvo FMX
The Vedomosti newspaper, citing the statement by Russian Deputy Minister of Defense General of the Army Dmitry Bulgakov, reports that the Ministry of Defense plans to purchase the newest universal car refueling complexes (ATZ) 12-10FMX40 on the chassis of Volvo FMX cars (the article talks about four-axle chassis, but more probably meant triaxial).
These tankers will begin to flow to supply the Armed Forces of Russia from the end of 2012 onwards. "Yes, they will arrive by the end of this year. Now they pass military trials. After these exercises, they move to the stage of state tests, and this is exactly 45 days, "said Bulgakov.
The new ATZ 12-10FMX40 machine allows you to refuel up to 10 units of equipment at the same time (the tankers in service are only two units). New fueling complexes are created on the basis of the Volvo FMX series cars. The service life of the engine is 2 million km, its service life is at least 30 years. In addition, the tank installed on the car, the repair is almost not needed, since it is made of stainless steel, said Bulgakov.
The new complex automatically cleans and prepares the tank within 10 minutes. This technology allows in the shortest time to prepare a tank for the transportation of different types of fuel. The purchase and entry of a new complex is included in the state armaments program until 2020.
We add that the assembly of these ATZs is likely to be carried out at Volvo Vostok, CJSC - the Volvo assembly plant in Kaluga, operating from 2009 of the year. We point out that in accordance with the order number 380 of the Ministry of Industry and Trade of Russia from 5 May 2009, the products of Volvo Vostok, manufactured at the Volvo plant in Kaluga, are recognized as domestic and included in the approved list of motor vehicles and municipal equipment for procurement by Russian entities Federation using subsidies.
The ATZ1210FM400 fueling complex itself, mounted on the Volvo FMX chassis, was manufactured by CJSC Plant of Special Vehicles (Mtsensk, Oryol Region).