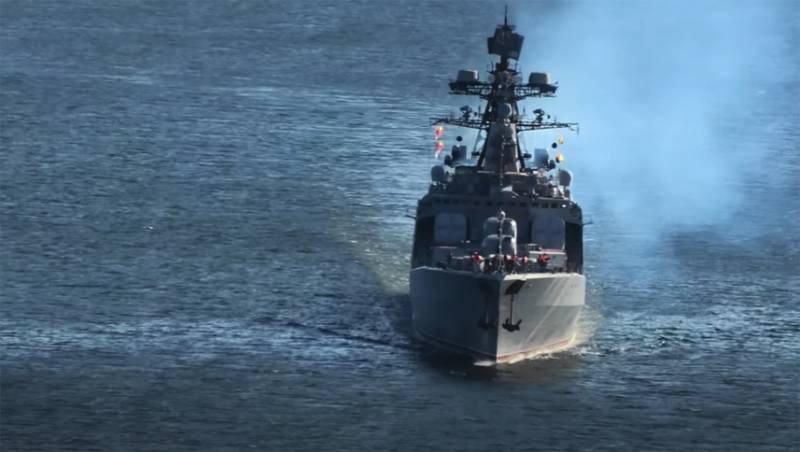 The Russian Ministry of Defense recently circulated a report about an incident involving the US Navy destroyer USS Chafee in the Sea of ​​Japan. The statement says that an American warship has attempted to violate Russia's maritime borders. The crew of the Chafee destroyer was repeatedly warned by Russian sailors about the inadmissibility of such actions. It was also reported that the area of ​​the water area is closed for navigation in connection with the conduct of the Russian Navy exercises with live firing.
At one point, the distance between the US Navy destroyer and the Russian large anti-submarine ship (BOD) of the Pacific Fleet Admiral Tributs was no more than 60 m. For two large warships, this is a really small distance.
"Admiral Tributs" took all measures to prevent the entry of USS Chafee into Russian territorial waters.
After these statements, representatives of the American Pacific Command took the floor.
fleet
... The release stated that the instruction by the Russian side to attempt to violate the Russian sea borders "does not correspond to reality." It is stated that the American destroyer was sailing in "international waters" - "where it does not contradict international law."
The exact location of the "contact" between the crews of the Russian anti-submarine ship and the US Navy destroyer is not reported at the moment.
For reference: USS Chafee (DDG-90) is one of the many Arleigh Burke URO destroyers with guided missile weapons. It was put into operation in October 2003. The total displacement of this ship is about 9,6 thousand tons, the largest draft is 9,4 m. The ship is equipped with Kevlar hull protection in several of its sections. The maximum speed is 32 knots. For comparison: the maximum speed of the anti-submarine ship of the Russian Navy "Admiral Tributs" is about 29-30 knots.
On this basis, the United States, commenting on the case with the ships in the Sea of ​​Japan, said that the Russian BOD Admiral Tributs "simply would not have caught up with the destroyer USS Chafee if it had been about attempts to physically obstruct the course." At the same time, the logic is not entirely clear: why would the Russian BOD need to catch up with the American destroyer, if it had already crossed its course, blocking further advance - in fact, "catching up", and even in the presence of weapons and other Pacific Fleet ships patrolling in the same area of ​​the water area ...