Zelensky: You can defend the fatherland without body armor, but with a spirit of steel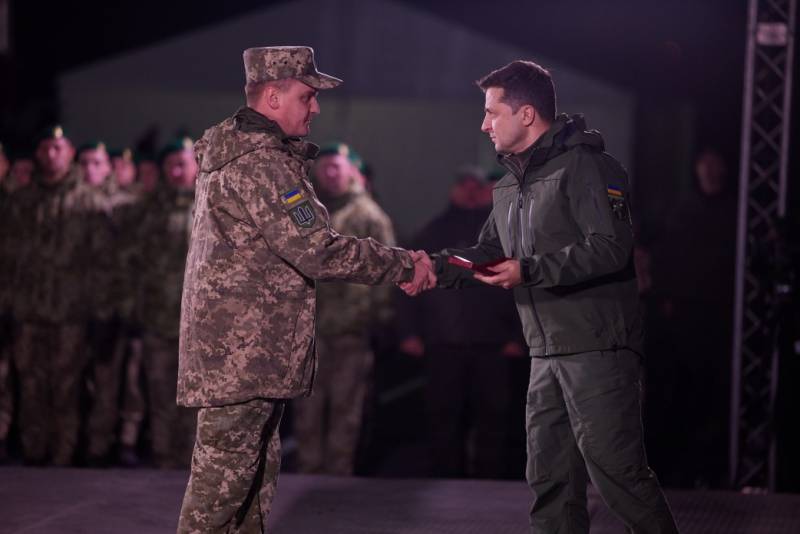 In Ukraine and abroad, the statements of President Volodymyr Zelenskyy made during his visit to Donbass are being discussed. Recall that the Ukrainian president visited the part of the region controlled by Kiev on Defender of the Fatherland Day, which has recently been postponed from February 23 to October 14. With such a transfer, Kiev once again tried to emphasize that they "parted with the Soviet past."
During his speech, Zelensky decided to recall the words of the Western historian Jean-Benoit Sherer, who described the Cossack life in his writings. According to Zelensky, Scherer was "inspired by the Zaporozhye Cossacks."
Zelensky:
He wrote in his chronicles that the Zaporozhye Cossacks are like Spartans who are used to fighting, and like the Romans, but not striving to conquer foreign territories. They could not come to terms with the lack of freedom.
In his tirade, the Ukrainian president pointed out that the modern Ukrainian army "must follow the glorious traditions of the Zaporizhzhya Sich."
At the same time, Zelensky did not specify the glorious traditions of which period of the Sich's existence modern Ukrainian servicemen should follow: when, together with the Polish interventionists, they supported False Dmitry I and went to Moscow, or the period after the Pereyaslav Rada in 1654, which in historiography is often called the reunification of Ukraine and Russia.
At the same time, Zelensky said that "Russian aggression" can be resisted not only with
weapons
in hand. According to the Ukrainian president, this can be done "without armor (bulletproof vests - approx. VO), but with a spirit of steel."
Zelensky:
Ukrainian defenders of the fatherland are also those who have expressed a desire and readiness to defend their native land from Russian aggression, even with a stick, even with bare hands.
After that, Ukrainian users once again indirectly asked the head of state the question: and the desire to achieve the transit of Russian gas should also be attributed to the opposition to "Russian aggression"? ..
website of the President of Ukraine