Sources reported the decision of the Ministry of Defense to rename two corvettes under construction for the Russian Navy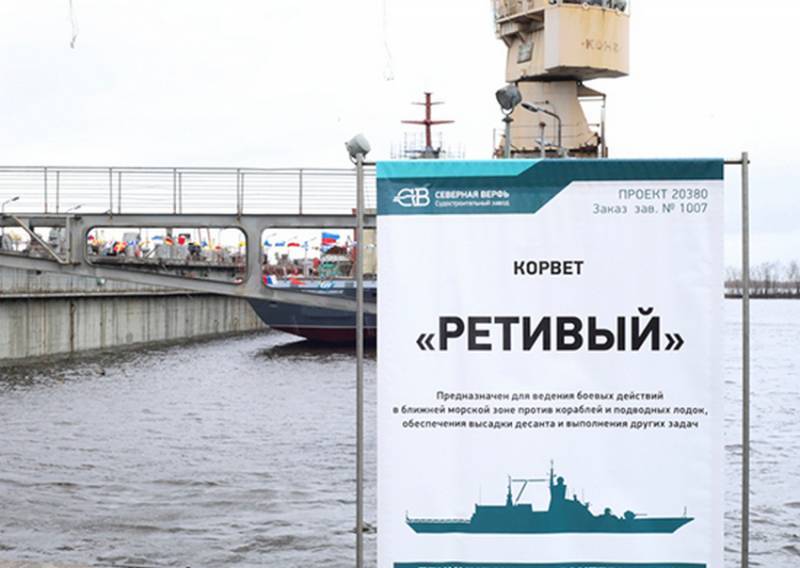 The Ministry of Defense renamed two under construction for the Russian
fleet
corvette. The decision was made in the main command of the Russian Navy.
According to information from several sources in the shipbuilding industry, referred to by
TASS
, the project 20380 corvette "Zealous", built for the Black Sea Fleet and the lead corvette of the project 20386 "Mercury", was renamed. According to the decision of the military, "Zealous" became "Mercury", and "Mercury" - "Daring", the name under which it was founded was returned to it.
Note that the information is not official, the military department does not report anything about the purpose of renaming the ships, the Ministry of Defense does not comment on publications on this topic. At least so far there have been no official announcements.
Corvette "Zealous" project 20380, it is now "Mercury", according to the sources, was built at the "Severnaya Verf" for the Black Sea Fleet. Currently, the ship is undergoing mooring trials and is expected to join the fleet by the end of the year. It is the fifth project 20380 corvette built at Severnaya Verf. Displacement standard 1800 tons, full 2220 tons. The maximum length is 104,5 meters, the width is 13 meters, the maximum draft is 7,95 meters. The maximum speed is 27 knots. Cruising range up to 4000 miles.
Corvette "Mercury", renamed "Daring", is the lead corvette of Project 20386, a series of ships of which is intended to replace the frigates of Project 11356. Laid down on October 28, 2016 at Severnaya Verf the superstructure was delivered to the plant. Nothing is known about the date of delivery of the ship.