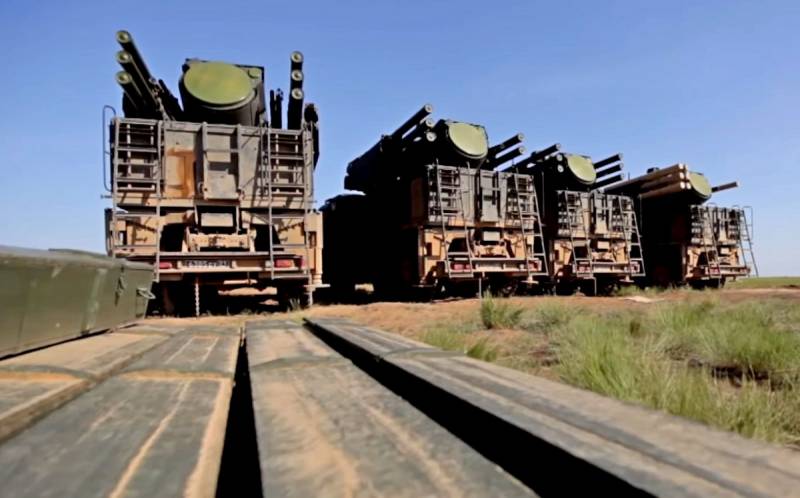 The Russian Defense Ministry has deployed Pantsir-S anti-aircraft missile and cannon systems to Serbia. ZRPK will be deployed on the territory of the Serbian military airbase in Batainitsa. This was reported by the press service of the military department.
According to the report, the Pantsir-S ZRPK battery was delivered to Serbia by military transport aircraft of the Russian Aerospace Forces. Russian anti-aircraft complexes will take part in the joint Russian-Serbian military exercises of air defense "Slavic Shield-2021". The battery is deployed at the Batainitsa airbase, where it will be part of a mixed air defense group.
As explained in the Ministry of Defense, within the framework of the exercises, Russian and Serbian servicemen will work out the air defense of the protected area.
Note that it is not the first time that the Russian military have brought their equipment to Serbia for exercises. In 2019, the Ministry of Defense transferred not only the Pantsir-S air defense system to the airbase in Batainitsa, but also the S-400 Triumph anti-aircraft system. The deployment of the S-400 in the center of Europe caused panic in NATO as the Russian system tracked all flights
aviation
alliance next to Serbia.
It was the Slavic Shield exercises that pushed the Serbs to purchase the Pantsir-S air defense missile system and start saving money for the purchase of the S-400 air defense system. At least this was previously stated by the Serbian President Aleksandar Vucic.