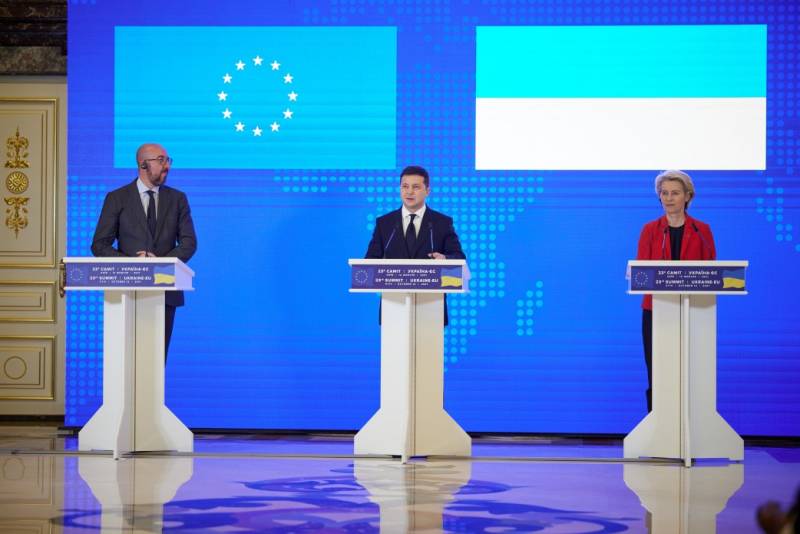 Ukraine does not intend to lose two billion "legal" dollars received annually for gas transit. This was stated by the President of Ukraine Volodymyr Zelensky.
Speaking at a joint briefing with representatives of the European Union after the Ukraine-EU summit, Zelensky said that Kiev intends to maintain the transit of Russian gas through Ukrainian territory, since it does not want to lose "legitimate income" in the amount of $ 2 billion.
According to the Ukrainian president, Kiev considers the loss of transit "dangerous" and therefore is considering various options for maintaining gas transit, including a complete blocking of the Russian-built Nord Stream 2 gas pipeline. Zelensky stressed that he discussed during the summit the introduction of sanctions against the gas pipeline, as well as the application of a third energy package to it. He recalled that Ukraine stands for the energy security of Europe.
Earlier in Kiev, a special working group was created, which is only looking for ways to preserve gas transit.
Recall that Russian President Vladimir Putin asked Gazprom not to stop gas transit through Ukraine within the framework of the contract valid until 2024, although the company intended to completely minimize it by paying fines to Kiev. At the same time, Putin stressed that Moscow does not intend to increase pumping through the Ukrainian GTS, as this will lead to losses.
Earlier in Ukraine it was stated that they do not receive gas from Russia, but that they import exclusively European gas - by reverse deliveries.