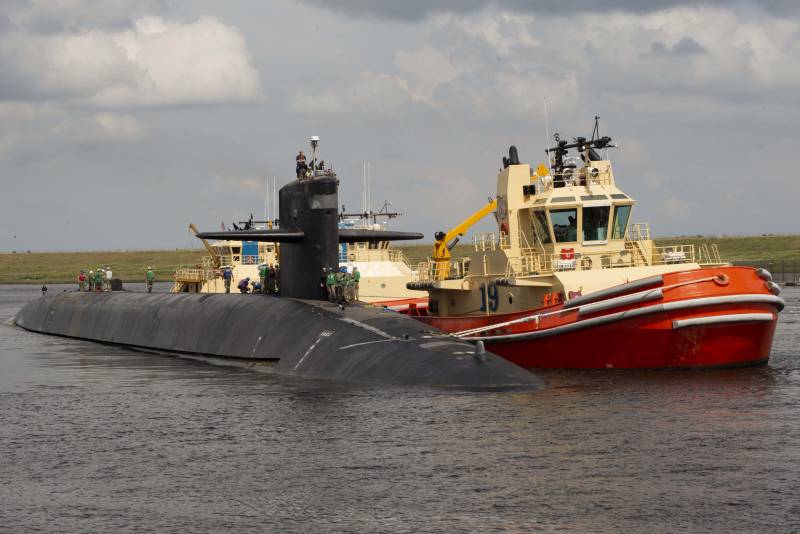 The US Navy has released the second strategic nuclear submarine on alert duty, which is armed with Trident ballistic missiles, equipped with nuclear warheads with a reduced charge yield. The nuclear submarine USS Tennessee (SSBN-734) was supplemented by the nuclear submarine USS Alaska (SSBN-732).
In total, Ohio-class nuclear-powered strategic submarines carry up to 20 Trident-II D5 ICBMs with 76 kiloton W1-100 and 88 kiloton W475 nuclear warheads. Since 2020, according to the new doctrine, ICBMs with a W76-2 nuclear warhead with a capacity of 5 to 8 kilotons will be added to the arsenal of submarines. As previously reported, the USS Tennessee has two such missiles, it is likely that the USS Alaska has the same number.
The decision to adopt ICBMs with a low-yield nuclear warhead was made during the administration of Donald Trump. For some reason, Washington believed that it was precisely such warheads that would help contain Russia. In the opinion of the US military, the use of tactical charges will allow winning a conflict with the enemy, but at the same time avoiding a global nuclear war.
However, not everything is as simple as they think in Washington. Moscow has already announced that it does not matter with what charge any missile will be sent to Russian territory, with low power or not, the answer will follow immediately. The Russian Defense Ministry warned that, according to Russian military doctrine, any ICBM launched towards Russia is the basis for a nuclear response.
Recall that strategic nuclear submarines of the "Ohio" type have two shift crews on duty in turn.