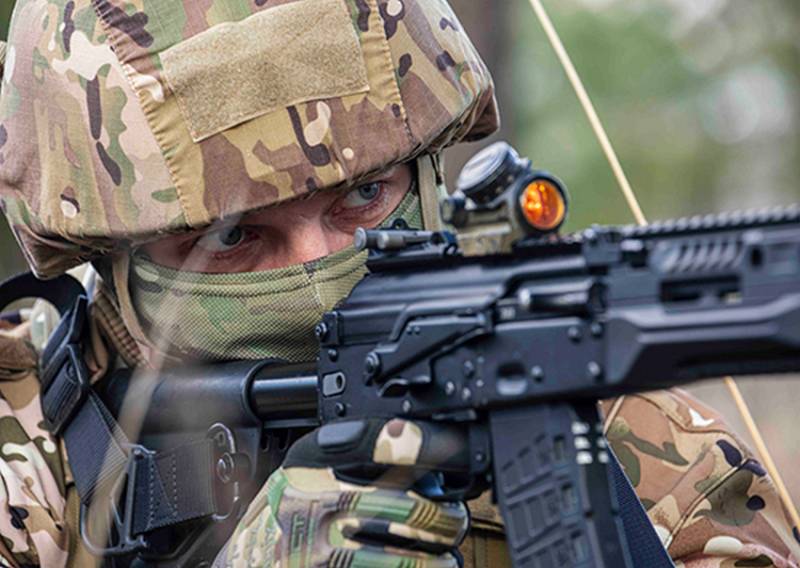 Russian peacekeepers are being re-equipped with new AK-12 Kalashnikov assault rifles, the corresponding decision was made by the Ministry of Defense.
The military department decided to re-equip the peacekeeping units with a new machine gun, with the replacement
weapons
has already started. The first AK-12 assault rifles were received by servicemen of the 15th separate motorized rifle brigade located in the Samara region. As they write
"News"
with reference to military sources, the brigade received more than one and a half thousand new machine guns.
The next will be re-equipped with AK-12 peacekeeping battalions of the Airborne Forces and marines, as well as medics and sappers. The timing of rearmament is not named, most likely they are associated with the planned arrival of new machine guns in the troops.
As a result, Russian servicemen will carry out peacekeeping operations with new small arms.
According to military experts, this rearmament is aimed not only at providing peacekeepers with reliable weapons, but also at the image of Russian peacekeeping units performing their tasks abroad. Russian servicemen on the territory of other states must be equipped appropriately, since they represent the Russian army. The new AK-12 assault rifle is the best fit for this, according to the Ministry of Defense.
The AK-12 assault rifle was developed as part of the Ratnik program and is included in it as one of the elements of a promising complex for equipping fighters of the RF Armed Forces. It has increased accuracy of fire, barrel survivability and improved ergonomics. It has three firing modes: single, automatic and burst with a two-shot cut-off. A removable muzzle brake-compensator is installed on the weapon, it is possible to install a low-noise and flameless firing device. The buttstock is foldable, adjustable in length, there is a Picatinny rail on the receiver. A 40-mm grenade launcher is installed on the machine.