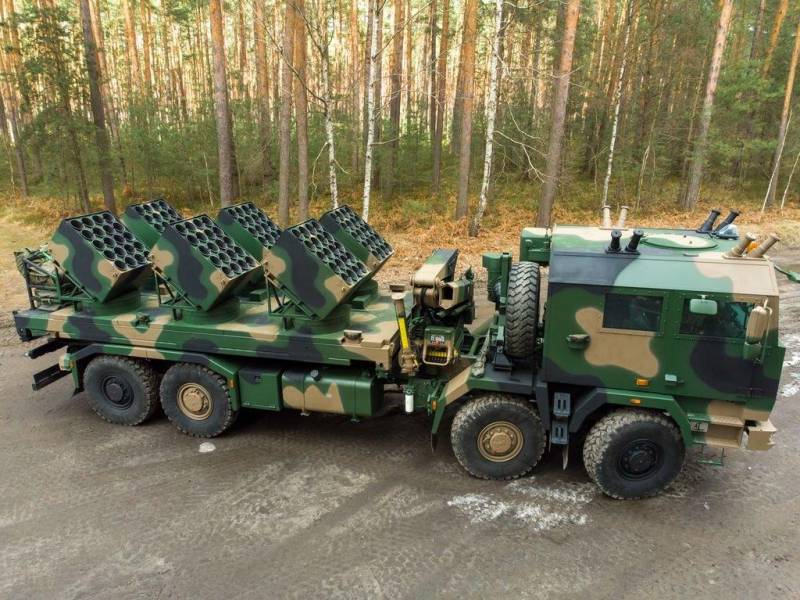 Against the background of the appearance in Russia of a new means of remote mining "Agriculture", the Polish defense industry presented a similar system "Baobab-K", created by the company Huta Stalowa Wola (HSW). This development has remained in the shadows over the past years, and only now its final characteristics have become known.
It can be safely called one of the most cost-effective products that can reduce the disparity between the potential of the Polish armored forces and a potential enemy.
- noted in the publication Defense24.
The first prototype of the new Baobab-K remote mining product was unveiled in September at MSPO 2021. It completed factory testing in March, and military qualification tests are expected to begin, which are scheduled for completion in January 2022. This will be followed by the preparation of a new product for serial production.
Baobab-K comes from the early 1990s, when the Polish Ministry of Defense launched a program to create the TMN Kroton system, designed for the rapid construction of anti-tank minefields. It was housed on the SPG-2 platform, structurally related to the MT-LB chassis, mass-produced by HSW. Allegedly, Kroton, operated by a crew of only two people, could remotely establish a 15 by 20 m rectangular minefield of 60 MH-600 cumulative anti-tank mines, capable of penetrating the bottom of any modern combat vehicle ("piercing" 400 mm of steel armor).
This is enough to stop or slow down the attack of the armored formations. The enemy will be forced to conduct long-term reconnaissance and demining or bypass minefields. Without this, the execution of dynamic operations by armored forces becomes paralyzed.
- explained in the Polish edition.
Already in 1995, the prototype Croton successfully passed qualification tests, but the planned delivery of 81 vehicles did not take place - in total, by 2007, less than 10 units were transferred to the military. Since then, HSW has developed its project on the basis of a wheeled chassis (based on the Jelcz 662D.43 and Jelcz P662).
The Baobab-K was eventually housed on a Jelcz chassis with an armored cab from the 882,53 8x8 line, which allows speeds up to 85 km / h. The weight of the new product is 31 tons. There are 600 mines on the platform. It takes him less than 20 minutes to automatically plant a minefield. The equipment with a crew of two fighters is equipped with an on-board computer, a visualization terminal with a digital map, a GPS system and an odometer, a VHF radio station and a FONET communication system. For self-defense, 8 81-mm smoke grenade launchers are used. In the final form, the transfer of the system from the traveling position to the combat position does not require manual control due to the presence of an electric drive.
The Ministry of Defense seeks to get this class of equipment as soon as possible [according to unofficial data - 30-50 vehicles]
- indicated in Defense24.
TTX Baobab-K: