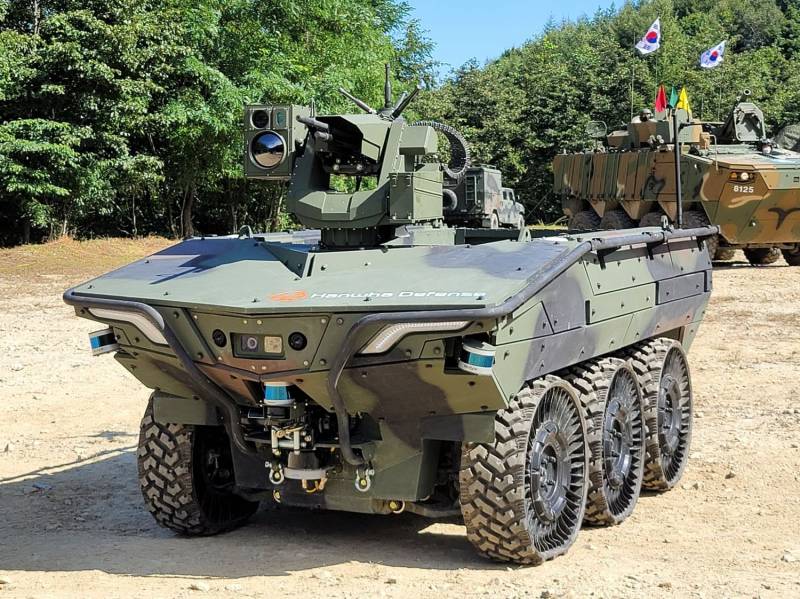 The South Korean army began testing ground
Robot
Intelligence Intelligent UGV. Testing of new items will take place at the training ground of one of the infantry divisions. This was reported by the press service of the developer company Hanwha Defense.
The fact that the South Korean army plans to adopt a robot for ground reconnaissance was reported at the end of April this year. At that time, the robot was at the stage of creating a prototype, the tests were planned for July this year, but for some reason unknown to him, they were postponed to the fall.
The Intelligent UGV robot is a 6X6 wheeled platform weighing 2 tons, capable of carrying a payload of 500 kg. The power plant is electric, one charge allows you to overcome up to 100 km. The control is carried out by the operator, there is also an autonomous mode in which the robot can bypass obstacles, control the path and independently move along a pre-planned route.
Intelligent UGV is designed for reconnaissance and transportation of small loads, including the evacuation of the wounded. It can participate in close combat, for this a module with a machine gun is installed on the platform.
The armed forces of South Korea are experiencing a significant shortage of personnel due to the rapid decline in the country's population and the lack of a sufficient number of people willing to serve. In this regard, back in 2018, it was announced the adoption of a program to replace some of the military personnel with robotic systems. By 2024, the Ministry of Defense of the republic, within the framework of this program, will begin the formation of mixed units, consisting of both military personnel and robots.